Rumble
Waynesville Sunrise Rotary Club's 3rd Annual 5k Turkey Trot
Wednesday, September 13, 2023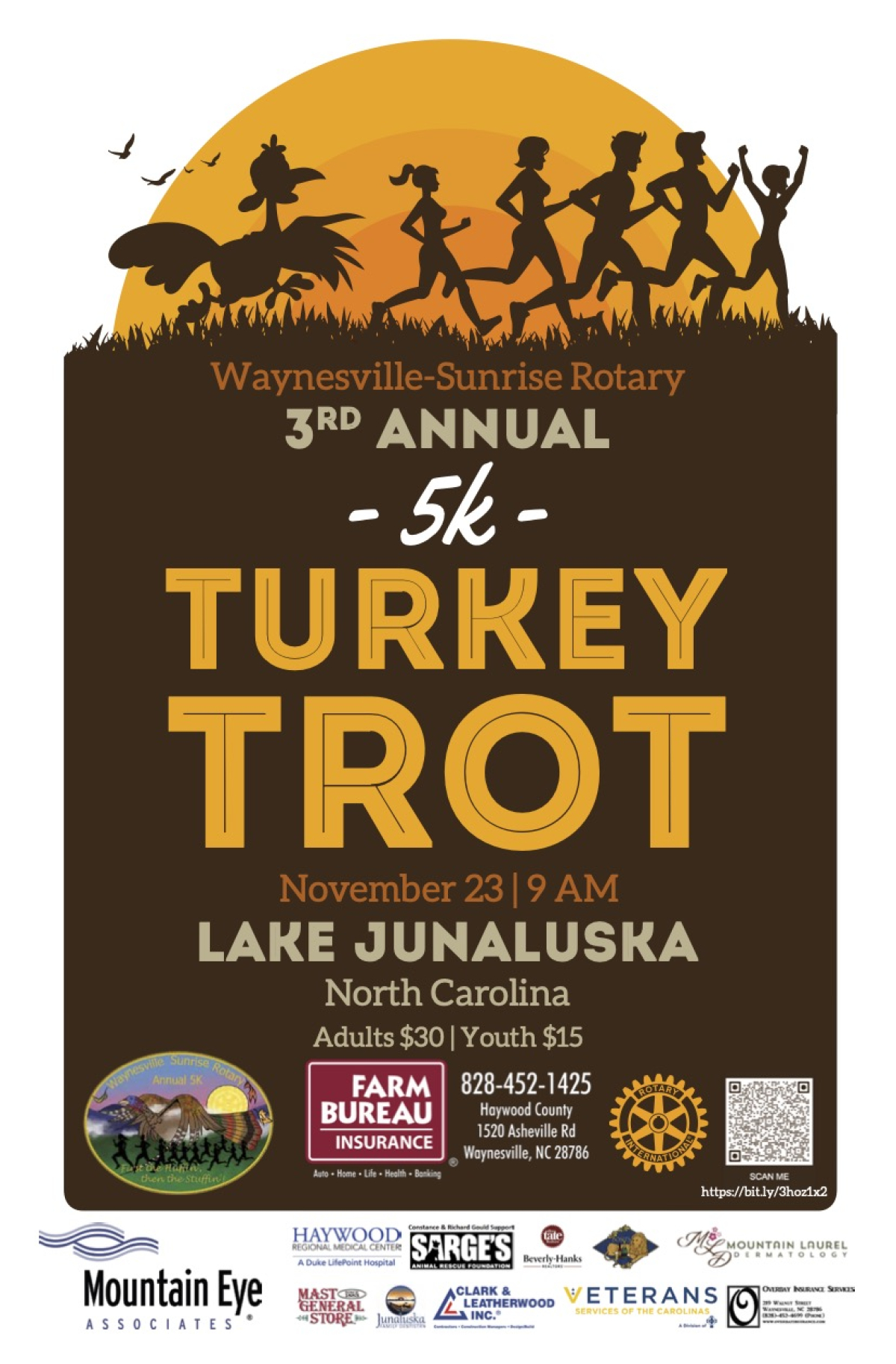 "First the huffin', then the stuffin'" is the motto for the Waynesville Sunrise Rotary Club's 3rd Annual 5k Turkey Trot being held at 9 a.m. Thursday, Nov. 23, at Lake Junaluska Conference & Retreat Center.
"Last year far exceeded our expectations and was a huge success with more than 500 participants and 2023 is going to be even bigger and better with more huffin and hopefully more stuffin!" said Rotary Club race organizer Lane Perry. "Walk, jog, run, or pursue a personal best, whatever you prefer — this is the day to achieve it. Lake Junaluska on Thanksgiving Day is the perfect host and backdrop to take pause, reflect, and be thankful."
The race entry fee is $30 for adults (13 and older) through November 1 (increase to $35) and $15 for youth under 13. Each race participant will receive an unforgettable family friendly experience, a race T-shirt and a moment to reflect on all that there is to be thankful for in the community. The racecourse meanders safely through Lake Junaluska's beautiful grounds. We will have dozens of Traffic Turkeys around the course to cheer you on and keep you on track!
With the race logistical support of Glory Hounds Events, the Waynesville-Sunrise Rotary is ready to go. "We are thrilled to partner again with this annual event and to be working with the Waynesville-Sunrise Rotary," said Greg Duff, with Glory Hound Events. "The excitement and energy they bring, along with the novelty of running at beautiful Lake Junaluska to begin the Thanksgiving holiday, will make for a fantastic race and morning."
Proceeds will support local community development projects and service work. Past projects funded by the Rotary Club include Haywood County Schools projects (e.g., Elementary Battle of the Books, Tuscola Athletics, Waynesville Middle School Student of the Month Program, School's Bus Camera Program, etc.), Pathways' Holy Cow Food Truck and Myr-Ken Women & Children's Shelter Technology space, Broyhill Children's Home Computer Program, and most recently three Haywood Habitat for Humanity building programs.
The fundraiser race is made possible by the generosity of sponsors and runners, walkers, and trotters like you:
• The Big Tom ($2,500): Farm Bureau Insurance
• The Gobbler ($1,250): Mountain Eye Associates.
• The Jakes & Jennys ($750): Mountain Laurel Dermatology, Clark & Leatherwood Inc., Junaluska Family Dentistry, Overbay Insurance Service, Mast General Stores, Veterans Services of the Carolinas, Allen Tate/Beverly Hanks Realtors, Bosu's Wine Shop, The Gould's Support Sarge's Animal Rescue, and the Haywood Regional Medical Center.
• The Friends of the Flock ($200): Bruce Kingshill, Wendolyn Forbes, GraphicFX, Bruce and Cat Golson, Prescott and Pennon Perry, Randy Rogers, Rick and Marylin Shaw of Shaklee Wellness, George and Sondra Shepherd, and Michael and Ashley Zande.
For information, visit www.gloryhoundevents.com/event/waynesville-sunrise-rotary-turkey-trot/ or contact Perry at This email address is being protected from spambots. You need JavaScript enabled to view it..