Rumble
Q & A with Soul Sisters Depot
Wednesday, August 23, 2023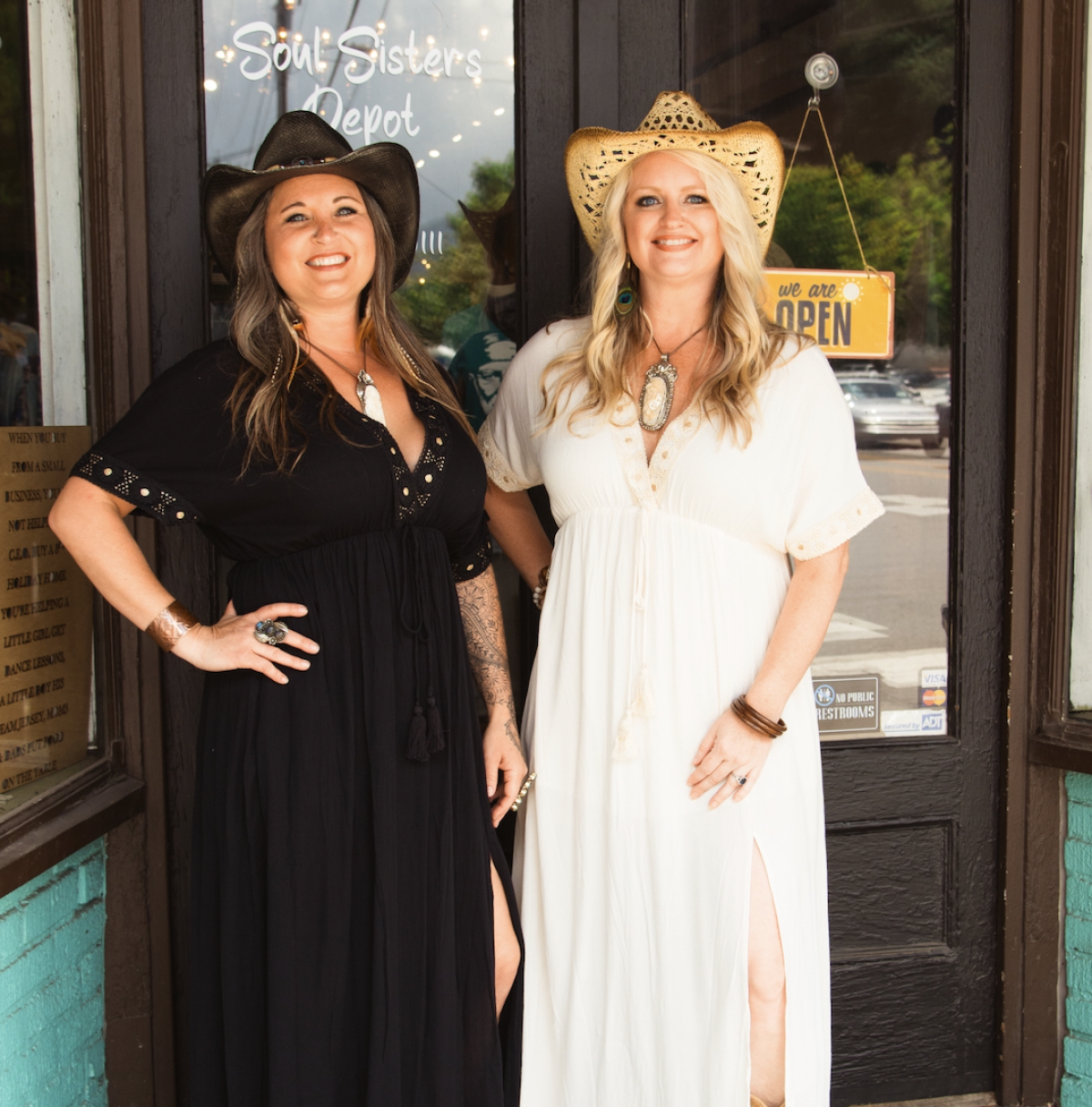 Sisters-in-law Chelsea Ramsey and Haley Ramey are two creative spirits who had a dream to open a storefront, after several years of operating pop-up markets. They wanted a place where they could sell their own items as well as fashion, accessories, home goods and products from other local artists. Originally located in Clyde, Soul Sisters Depot moved to 240 Depot Street in the Historic Frog Level District of Waynesville in April of 2022. Rumble recently sat down with co-owner Chelsea to learn more about the origin and evolution of this popular store.
Rumble: What was the inspiration for opening Soul Sisters Depot?
Soul Sisters Depot: We both have a huge drive for creativity and repurposing items we find to put new life into them. We individually started crafting unique items and participating in local markets. I, (Chelsea) started a small business making jewelry out of leather, feathers, gemstones and other earthy elements. Haley also started her own small business with her curated line of soy-based candles and vintiques. She purchased a 1960 Shasta camper and converted it into a mobile boutique which enabled her to start offering clothing and home goods. We would set up at the same markets with the help of our family and gained a really great following but always dreamed of having a storefront together. We were geared up and ready for festival season in early 2020 when the pandemic hit and all our shows had to be cancelled. When things started to open back up we happened upon a great little space in Clyde, NC and jumped head first into the unknown world of retail! In early 2022, we were forced to move from our Clyde location because the building was sold. We were thrilled to find this space in Frog Level.
Rumble: Do you have a background in fashion/retail?
Soul Sisters Depot: We've both been in the retail and design industry in the past. Having knowledge of inventory management and processing orders definitely helped us with building our business.
Rumble: Tell us a little about the vibe and inventory at the store. How did you come up with the name?
Soul Sisters Depot: We are a very unique shop featuring hippie, boho and Western apparel, jewelry, gifts, and home goods. We pride ourselves on holding a welcoming, relaxed and positive environment for our customers. We have ladies that pop in on their lunch break just to unwind and enjoy the energy here. We try to resource all of our items as locally as possible, so we feature lot of local maker's items including soaps, macrame, graphic t-shirts, tumblers and much more. We carry Haley's line of candles and my jewelry so we still get to feed our creative outlets. We have been sisters-in-law for over 20 years, Haley was married to my brother, Wes. We've always been close but when he passed away in 2017 it brought our entire family closer together. Her and I say he brought us together for so many reasons and that we are soul sisters because of him. It just made sense to name our shop in honor of that.
Rumble: What do you love about what you do?
Soul Sisters Depot: We absolutely love our connection with our clients. We love helping them step a little out of their comfort zone and finding items that make them feel confident and beautiful in their own skin. We have made so many friendships with people and enjoy when they come in to share their stories, shop for weddings, concerts and important events going on in their lives.
Rumble: Your store is in such a cool building. Do you have any information on the history of the building?
Soul Sisters Depot: Our building is super unique and yields itself perfectly to our vibe and what we offer. It was built in 1925 and our walls are actually the exterior walls of the buildings next to us, we technically don't have interior walls. They were plastered over when the floors and roof were built and years later some of the plaster had deteriorated to expose the original mural from a leather goods store on one wall which is still visible today. We fell in love the minute we stepped foot in the door!
Rumble: Do you enjoy owning a local business?
Soul Sisters Depot: We truly do. We enjoy being part of such an amazing community and supporting other local businesses as well. One of the best things that came out of the pandemic is having people realize how important it is to support each other and be mindful of shopping close to home. We try to be more than just a retail shop by participating with fundraisers, charities and school contributions.
Rumble: What advice would you give other women who are considering opening their own business?
Soul Sisters Depot: Go for it! Stay true to who you are and follow your passion. We recommend using resources like the Small Business Center at Haywood Community College for help and support. It's a huge learning process but it's totally worth it.
To learn more about Soul Sisters Depot, follow them on Facebook and Instagram.