Rumble
Emily Sampson & Patchwork Meadows
Wednesday, April 19, 2023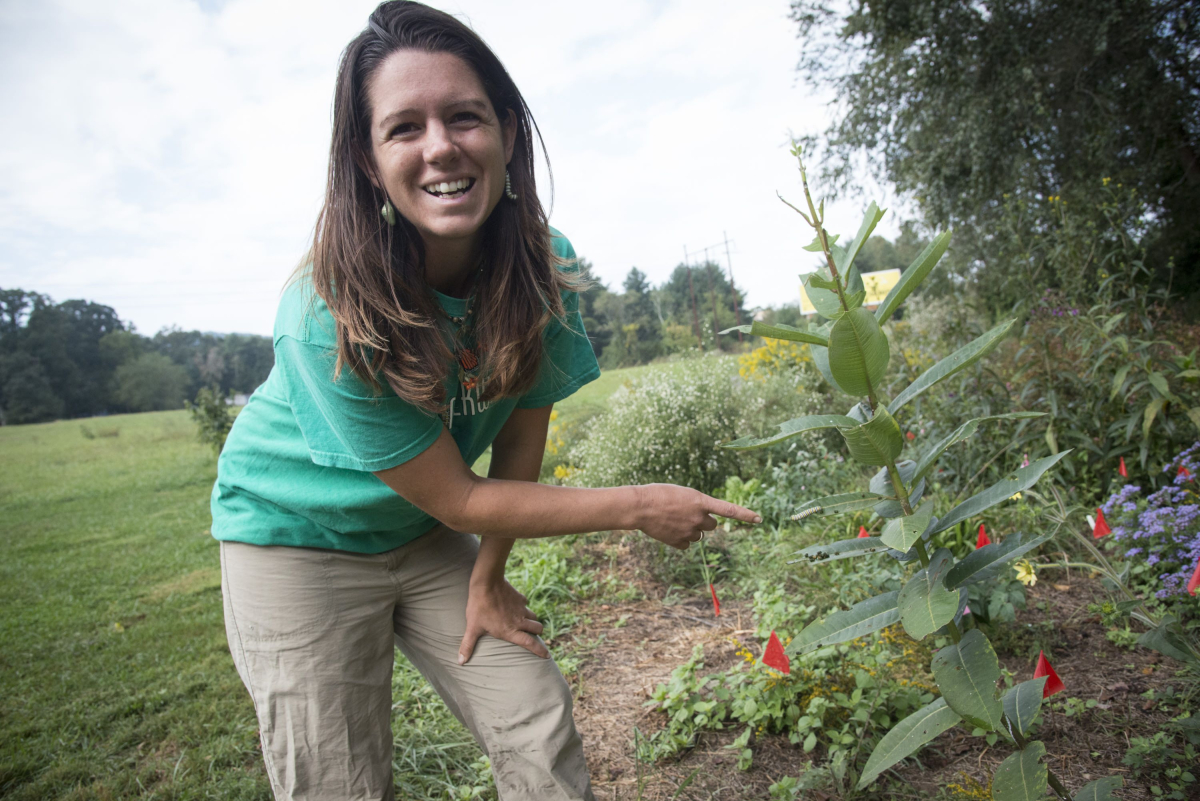 Patchwork Meadows embodies a new way of conceptualizing landscaping. Founder Emily Sampson and her team partner with clients to grow and install native plants that encourage pollinator habitats. Their goal is to convert parcels of residential or commercial land into beautiful wildflower meadow patches that benefit butterflies, bees, birds, and other wildlife.
Unlike traditional landscaping which mostly focuses on aesthetics, Sampson's team chooses from a list of plants that are well suited for specific conditions and have the greatest benefit to pollinators. When Sampson moved from South Florida to Western North Carolina at the age of 11, she fell in love with the natural world around her. Smoky Mountain Living sat down with Sampson to learn more about her story and the overarching goal of Patchwork Meadows.
Rumble: How did you initially get involved in greenhouse work and landscaping?
Emily: One of my earliest experiences working with plants was as a high school student in the Youth Conservation Corps. I had the rare opportunity to conduct a survey of local flora along the Blue Ridge Parkway with botanist Chris Ulrey. In the years following, I continued to learn about native plants through my horticulture internships at the WNC Nature Center and the Botanical Gardens of Asheville. During this time, I was also working on a degree in ecology and evolutionary biology at the University of North Carolina at Asheville. After graduating, I worked for a small local native plant nursery and for North Carolina State University at the Mountain Horticultural Crops Research & Extension Center. I also had my daughter Calia, who I named after a genus of native meadow wildflower.
Rumble: Tell us about your early career in the industry.
Emily: In 2009, I moved from Asheville to Black Mountain and began a career in greenhouse growing as the head grower and production manager at Painters Greenhouse, located in Old Fort, North Carolina. Over the next 8 years there I was a driving force that shaped the focus of their business on growing natives and pollinator plants. Additionally, I worked as a grower at Banner Greenhouses also in McDowell County, NC; a wholesaler of plant material for Metrolina Greenhouses and Lowes. Since 2015 I have volunteered to create and maintain pollinator spaces along the Black Mountain Greenway. In 2018 I was hired as the pollinator garden coordinator. In this part-time role for Black Mountain Recreation & Parks, I develop and care for pollinator gardens and meadow spaces.
Rumble: When and why did you start Patchwork Meadows?
Emily: In the spring of 2020, I started Patchwork Meadows so I could create pollinator habitats for private landowners, in addition to the public spaces I create and maintain for the town. My inspiration for the work I do was largely influenced by University of Delaware Entomologist Doug Tallamy. His books Nature's Best Hope and Bringing Nature Home are great resources for understanding the importance of creating functional habitat for pollinators and birds, along with knowing which native plants have the greatest benefit in each region.
Rumble: What's the difference between a garden and a meadow?
Emily: You might think the only difference is size. Although a meadow is larger than your typical garden bed, that isn't the only difference. A pollinator garden is a well-tended space that is generally mulched between individual plants. A meadow is a more naturalized space that is not mulched and the space between wildflowers is filled with native grasses. Additionally, the methods of site preparation and the planting and seeding process are different for a garden versus a meadow.
Rumble: Does a yard or natural space need certain characteristics for it to be a good pollinator habitat?
Emily: If you are using native plants in the landscape, you are providing pollinator habitat. This includes planting meadows and pollinator gardens, but even more so, landscaping with native trees and shrubs. Meadows and gardens with native plants allow us to enjoy pollinators up close and are far superior to traditional lawns in terms of pollinator habitat, but native trees such as oak, black cherry, birch, maple crabapple and hickory are the best at supporting pollinators. When our landscape design needs don't allow for planting trees, a meadow or pollinator garden are great second choices. Though I often focus on full sun spaces for pollinator gardens and meadows, there are native perennial wildflowers for shade that are good for pollinators as well. Replacing any nonnative species on your property with natives is the single best thing you can do to help pollinators.
Rumble: How does the work of Patchwork Meadows contribute to caring for Mother Earth?
Emily: I have found that my way to be of benefit to the world around me is through my knowledge and landscape use of plants to restore habitat. Helping people create a place to connect with nature in their own yard not only helps wildlife but can restore a missing connection in people's lives to the natural world. Being surrounded by a healthy, diverse ecosystem where butterflies bring color to our life and we can watch birds raise a nest of young, is more important for our own mental health and wellbeing than most of us realize.
Rumble: What do you love about what you do?
Emily: I truly love walking through a meadow or garden I have created and watching the bees nectar or observing the changing life stages of a caterpillar or butterfly. I love knowing that they can thrive in the spaces we create for them.
If you're interested in this topic and want to learn more, visit Emily's blog.