Rumble
5 Reasons to Visit Bryson City this Spring
Thursday, January 12, 2023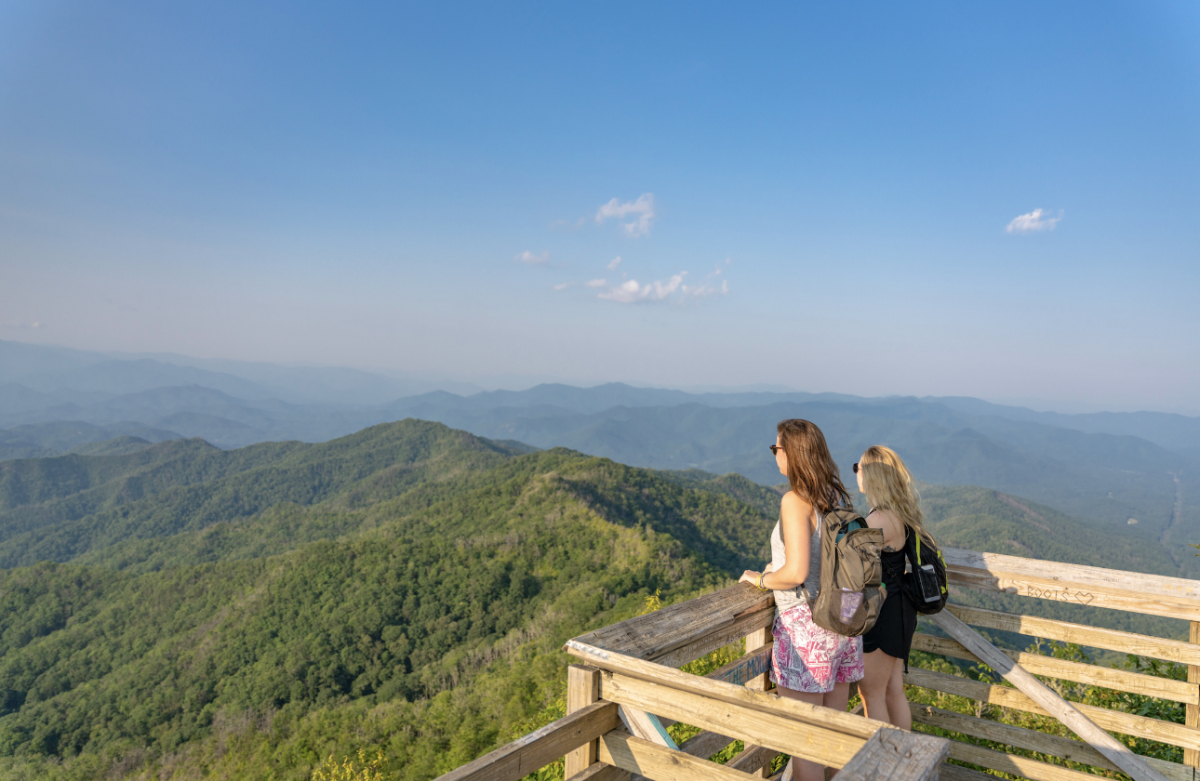 Bryson City is a lovely, quaint town in the mountains of Western North Carolina and is considered the gateway to the Smoky Mountains National Park. It's a beautiful scenic place for well-known attractions such as Fontana Dam and the Polar Express. Even though it's chilly outside, many of us are already planning spring getaways. I'm lucky because Bryson City is only about a 30 minute drive from my house. With a slew of hikers and mountain bikers in our family, we are lucky to live so close to a panacea such as Bryson City.
If you live in the region and you're looking for a fun place for a day trip or if you're traveling to the area from out of town, Bryson City should be top of the list. It's an especially perfect destination for those who appreciate mountain views and outdoor adventures. The Rumble team has curated five of the top reasons to visit Bryson City this year.
Hiking: Forty percent of the Great Smoky Mountains National Park is in Swain County, so many park trails are easily accessible from Bryson City. There are numerous trails from the Deep Creek area. There are trails of all difficulty ranges so no matter your ability level, you'll be able to find a trail that fits your skill level. Trails outside of the park include trails along the shores of Fontana Lake, owned by either the Tennessee Valley Authority or the U.S. Forest Service. Other popular trails are the multi-use trail system at Tsali, which is popular with both hikers and mountain bikers. Hiking in the Nantahala Gorge and surrounding Nantahala National Forest boasts additional trails and unlike the trails in the park, these trails allow pets.
Waterfalls: Few sights are as peaceful and relaxing as a cascading waterfall. Bryson City is known for numerous cascades. Deep Creek offers a stunning trio of waterfalls that includes Tom Branch Falls, Indian Creek Falls, and Juney Whank Falls. This trio of waterfalls is accessed via an easy to moderate 2.5-mile hike within the Deep Creek section of the Great Smoky Mountains National Park. Within a half-hour's drive, you'll find Mingo and Soco Falls in Cherokee as well as the Nantahala Cascades in the Nantahala River Gorge. There are also numerous waterfalls in the nearby towns of Highlands and Cashiers, including Dry Falls, Glen Falls, Silver Run Falls, Bridal Veil Falls, Whitewater Falls, and Cullasaja Falls.
Fishing: If you love to fish or have people in your life who love to fish, Bryson City is a must-stop. The Bryson City area is sought out by fishing enthusiasts from around the globe due to an abundance of pristine fishing streams and rivers, along with the deep cold waters of Fontana Lake.The Tuckasegee River in downtown Bryson City is designated as delayed harvest fishing and stocked fall through spring with trout for anglers who enjoy catch- and-release fishing. Trout are also common in the Nantahala, Oconaluftee, and Little Tennessee Rivers. The Tuckasegee and the Little Tennessee also offer bass, crappie, walleye, and the fierce muskie.
Train rides: The Great Smoky Mountains Railroad historic train depot is in the heart of Bryson City and is a favorite attraction for people of all ages. Although The Polar Express is perhaps the most popular event, there are train rides throughout the entire year. A round trip on the train is a fun and relaxing way to see extraordinary places that you can't access by a vehicle. On a train, one gets a front row view of Fontana Lake, the historic Fontana Trestle, the Great Smoky Mountains National Park, the Nantahala National Forest, the Nantahala and Tuckasegee Rivers, historical structures, and stunning foliage.
Downtown strolling: It's always fun to visit an area known for their outdoor adventuring but also possesses a fun little downtown. The main streets in Bryson City boast numerous restaurants, breweries, antique stores, and retail shops. Whether you're looking for a native craft, a piece of art or a souvenir item, downtown Bryson has it all. It's a great little downtown to rest and relax after an eventful day on the water or hiking and biking.
As you begin to plan your springtime travels, I would suggest putting Bryson City on the list. The outdoor beauty sells itself.