Rumble
Marcus Mumford's '(Self-Titled)' Tour
Wednesday, November 02, 2022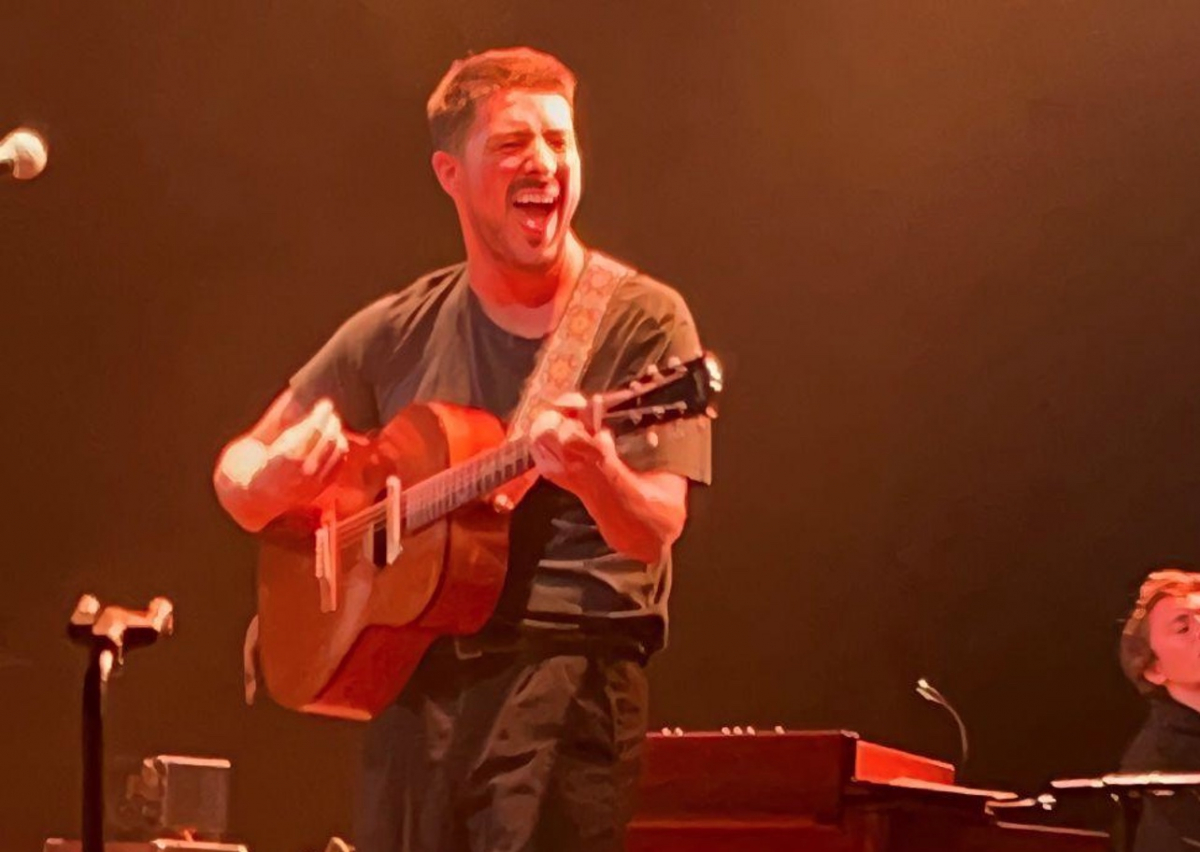 By Daley Hooten • Rumble Contributor | On Tuesday, the 1st of November, I was fortunate enough to see Marcus Mumford, lead singer of the band 'Mumford and Sons,' perform at the Thomas Wolfe Theater for his tour following the release of his solo album "(Self-Titled)." This was an intimate show consisting of crowd conversations, quiet acoustic songs, and laughter.
Mumford started his setlist not with a song, but by recalling his Halloween experience in Asheville. He joked about how friendly the people of Vermont Avenue were, especially when compared to his childhood Halloween's which consisted of neighbors just telling kids to "piss off." Opening with a specific anecdote had the crowd immediately cheering and laughing, grateful that he was enjoying his time in Asheville. He then began to play "Awake my Soul '' and "The Cave" (previous Mumford and Sons tracks) solo with his acoustic guitar. The crowd was so silent that one could hear a pen drop. After opening with the iconic tracks from the album "Sigh No More," he went on to play the entirety of his "(Self-Titled)" album. He was accompanied by a band that rotated playing with him, and leaving him to play his more gentle songs alone. Mumford had an energetic stage presence throughout the set, bouncing along with the music, hyping up his pianist's solos, and interacting with the crowd.
In a break between songs he commented on how much he loved the Thomas Wolfe Auditorium, and how when he envisioned his tour locations, this venue was exactly what he had imagined. When he came out for his encore, he began by singing "I Will Wait" (another Mumford and Sons classic) without any electronics to aid him. It was a surreal experience, having his voice (and later, the crowd's) fill up the room with the faint plucking of his guitar. Mumford ended the encore on an energetic and lively note with "Kansas City" (a track by The New Basement Tapes).
When looking back on the concert, the contrast between the atmosphere of the performance and the subject matter of Mumford's "(Self-Titled)" album is vast. If you dive deeper into the lyrics of songs like "Cannibal," "Grace," and "How," you'll come to find this album is dark, personal, and gut-wrenching. The need for this to be a solo album is evident, for it addresses a traumatic event Mumford experienced in his childhood, how it has affected him, and how he is coming to terms with it. The energy and delight he exhibited on stage show his resilience, and how he has managed to move forward despite the harsh things he's had to endure, much like the ending of his album.
In the end, seeing Mumford perform was an exhilarating experience. The music sounded incredible live, the setlist was tremendous, and the energy was vibrant. I think, if I could take anything away from it, it would be that fearlessness is necessary for helping one grow.
(Daley Hooten is a high school senior, writer, artist and music aficionado living in Asheville, North Carolina. This email address is being protected from spambots. You need JavaScript enabled to view it..)
Leave a comment
1

comment
I'm a fan of his music and loved seeing the Asheville show! Great write up and insight!

Friday, 11/04/2022