Rumble
Herby Chicken Noodle Soup
Wednesday, October 12, 2022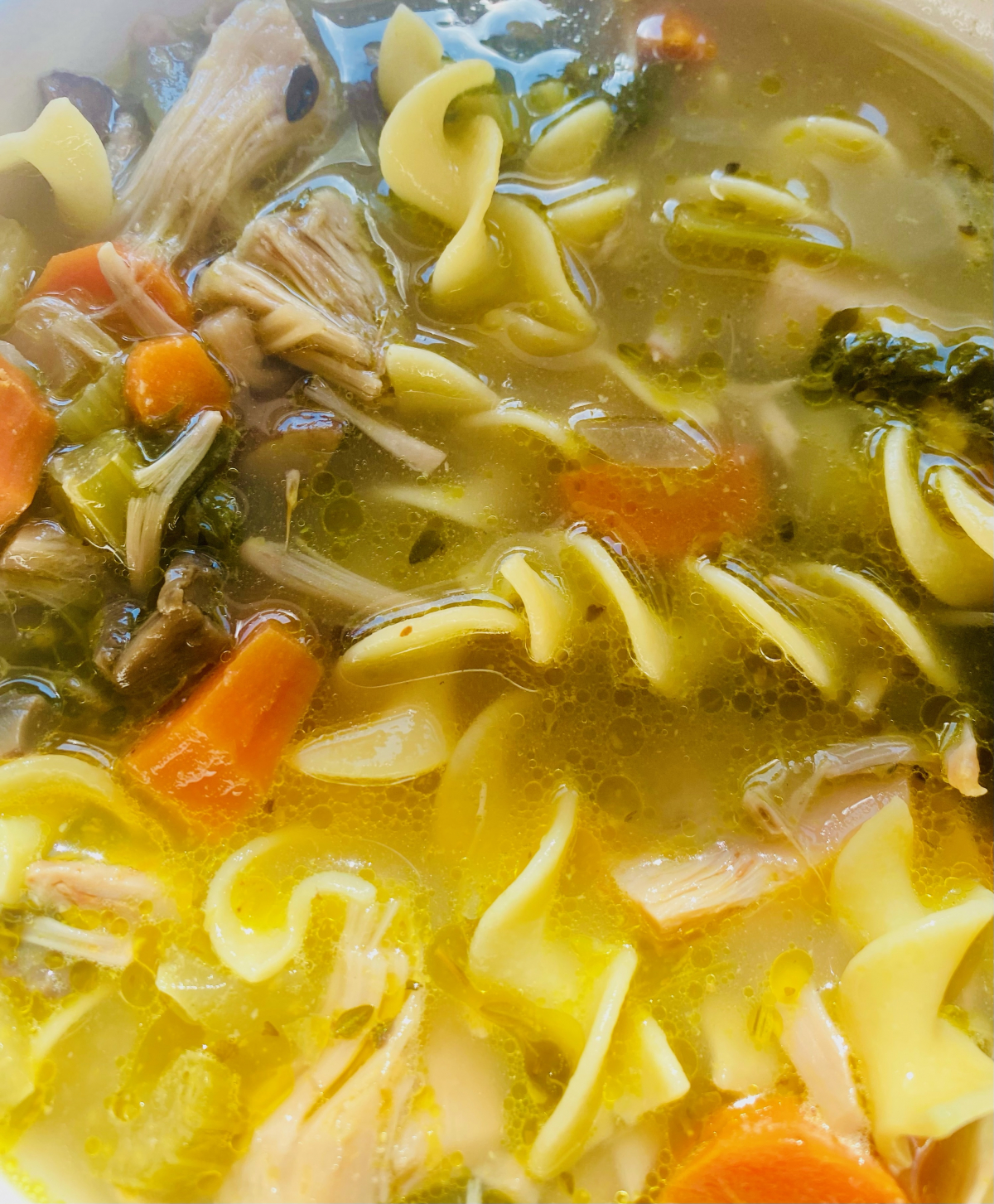 Last week I spent a four days biking across North Carolina with family and friends. It was an incredible chance to challenge the mind and body. We saw the rural areas of the state that are tucked far off our major highways, explored small towns we would otherwise be unlikely to visit and were almost exclusively out of doors for four days and nights — a rare opportunity in this day in age.
We rode past the cotton fields surrounding Albemarle, through the pine forests of the coastal plain, the green swamp preserve and around Lake Waccamaw all the way to Holden Beach. Even through the sweat and exhaustion of 70-mile days, the state dazzled us.
But, by Sunday afternoon we were ready to relax into some comfort food — chicken noodle soup.
When I was growing up my mom made some wonderful soups. Me, my mom, my sister and my grandmother are all soup fiends. With three voracious kids in the house, mom would always make a pot of wide egg noodles on the side that we could add into our individual bowls as we pleased. This is a great way to make soup even heartier and more filling for big eaters.
For this recipe we kept the noodles separate like mom used to, adding in the desired amount with each bowl. We also used canned jackfruit instead of shredded chicken, a great option for vegans/ vegetarians.
Ingredients
1 onion
2 cloves garlic
5 stalks celery
5 large carrots
Couple handfuls of spinach
2-3 chicken breasts shredded
(OR) 2-3 cans of jackfruit
1 thumb ginger
1 bunch sage leaves
1 bunch thyme
1 lemon
2-3 bay leaves
Salt
Pepper
Crushed red pepper (optional)
Bouillon or broth
Directions
1. Boil and shred chicken. If using jackfruit, brown in a frying pan using oil and a bit of bouillon or salt and pepper for seasoning.
2. In the bottom of the soup pot, sauté onion and celery with oil, whole sage leaves and bunch of thyme. When onions are translucent add garlic, carrot, ginger, crushed red pepper and zest of whole lemon. Allow to sauté for 5-10 minutes.
3. Add broth, or bouillon and water to the pot. Bring to a boil.
4. Add shredded chicken, bay leaves and juice of one lemon. Boil until carrots and celery are nice and soft.
5. Once the soup is ready to go, add spinach and remove sage leaves and bunch of time. (Alternatively leave them in and tell people to watch out.)
Serve with egg noodles and enjoy!