Rumble
3 Cantaloupe Recipes
Thursday, August 18, 2022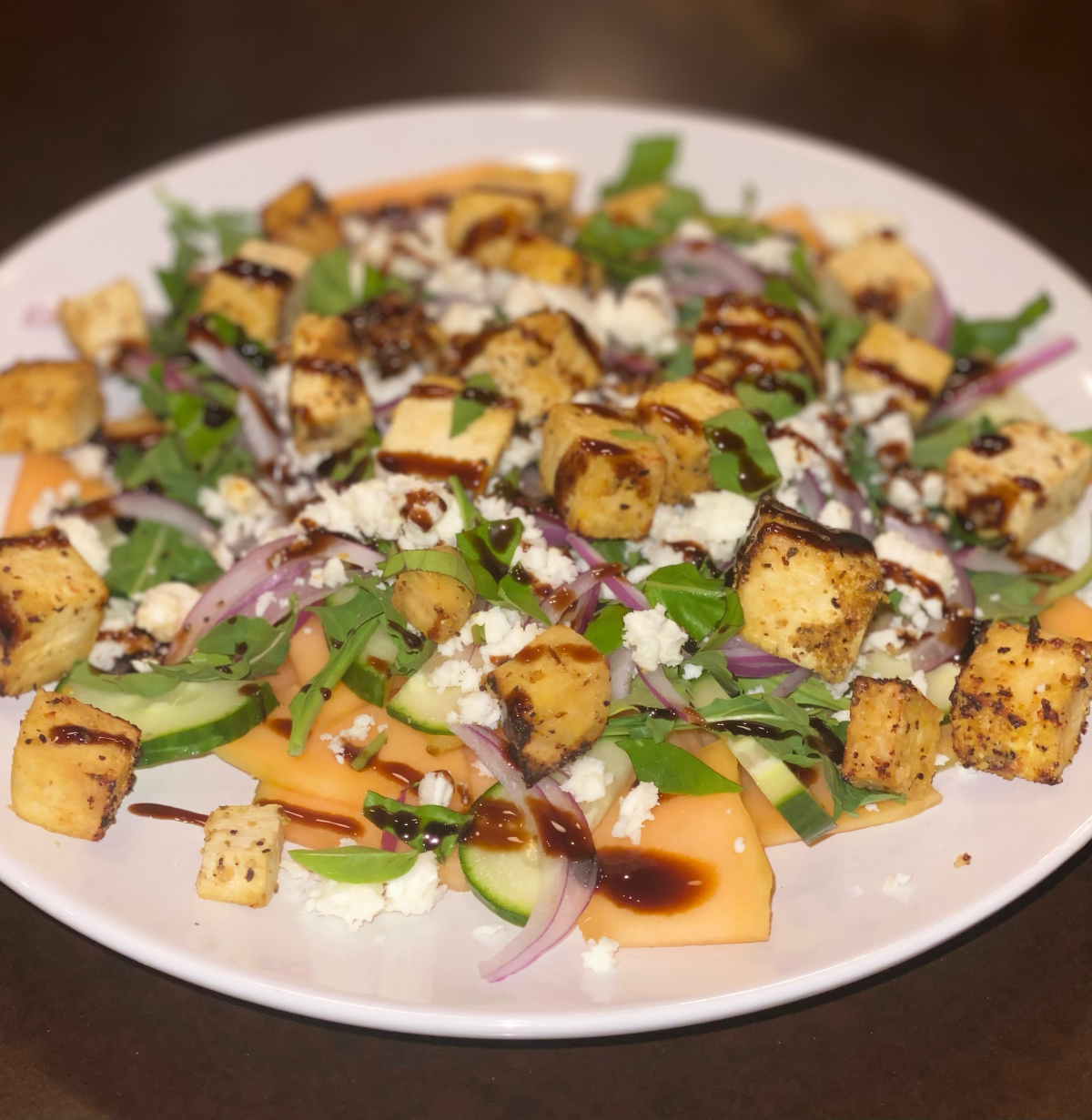 This time of year is arguably the best for fresh produce. Gardens and farmers markets are overflowing with tomatoes, squash and zucchini, leafy greens and spicy peppers. With the heat hitting its peak in mid-august, it's also a great time to create fresh, light, easy meals with all of that produce. Late summer meals have the good fortune of being assembled, rather than baked, cooked or boiled. The right amalgam of flavors can create a satisfying meal out of all fresh ingredients.
A fancy for melon doesn't strike me often throughout the year, but there is something about the long, sweltering August days that make me crave watermelon, honeydew or cantaloupe. Lately I've been inspired to find ways to include these delicious, juicy giants into meals instead of only eating them on their own.
Both savory recipes below were inspired by a delicious watermelon salsa a friend made last weekend consisting of watermelon, cucumber, onion, avocado and feta cheese. Talk about fresh. Each of these recipes uses a third of a cantaloupe.
Cantaloupe Feta Salad
Ingredients: Cantaloupe, feta cheese, cucumber, red onion, arugula, fresh basil, lime juice, jalapeño, brown mustard, olive oil, vinegar, grilled protein of choice.
Directions: First, make a spicy lime vinaigrette by mixing lime juice, a couple slices of a jalapeño, olive oil, mustard and vinegar. (If you're tight on time or ingredients, this salad also works great with a drizzle of balsamic glaze on top.) Add salt and pepper to taste. Next, cut thin slices of cantaloupe, red onion and cucumber, combine with arugula and basil leaves and toss on a large plate with the lime vinaigrette. Last, top with feta cheese and your grilled or roasted protein of choice. Pair with a fluffy pita bread to sop up all the juices.
Note: I made this using air-fried tofu, but it would work well with grilled shrimp, chicken, pork tenderloin, white beans (think butter, garbanzo or navy) or prosciutto. Marinate or grill protein using some of the lime vinaigrette for a marinade.
Cantaloupe Salsa
Ingredients: cantaloupe, red onion, jalapeño, cilantro, lime juice, salt. Optional: add sweet red pepper and fresh corn for more texture and flavor.
Dice and combine all ingredients. Or, use a food processor or blender to mince onion, jalapeño, and cilantro. Then add diced cantaloupe, red pepper and corn, or put cantaloupe and red pepper into the food processor a few pulses and add corn and lime juice at the end. Add extra lime juice, salt or a sprinkle of sugar to taste.
Cantaloupe Upside Down Cake
Ingredients for the cake:
1 ½ cups flour
1 tsp. Baking powder
¼ tsp. Salt
½ cup salted butter
1 cup sugar
2 large eggs (or flax eggs)
½ cup whole greek yogurt (sub. Milk or sour cream if needed)
1 Tbsp vanilla
Ingredients for the topping:
3 Tbsp butter
½ cup sugar
⅓ of a cantaloupe cut into thin slices
Directions:
1. Preheat the oven to 350 degrees.
2. In a saucepan, combine butter, sugar and cantaloupe for the toppings. Allow the mixture to simmer on low while making cake batter.
3. In a bowl, combine flour, baking powder and salt.
4. In a bowl, cream butter and sugar. Next, add eggs and vanilla and continue to beat for another minute.
5. Alternate adding yogurt and flour mixture to the butter, sugar and egg mixture until all is combined.
6. In a greased cake pan, add the cantaloupe, butter and sugar that has been simmering. Carefully add the cake batter on top.
7. Bake in the oven for 40-45 minutes or until a toothpick inserted into the center comes out clean. Place the cake on top of a sheet pan to catch anything that may bubble up over the edges.
Note: don't let the cake cool completely before turning it upside down and out of its pan, or else the fruit top may harden and be difficult to remove.