Rumble
Homemade Buddha Bowl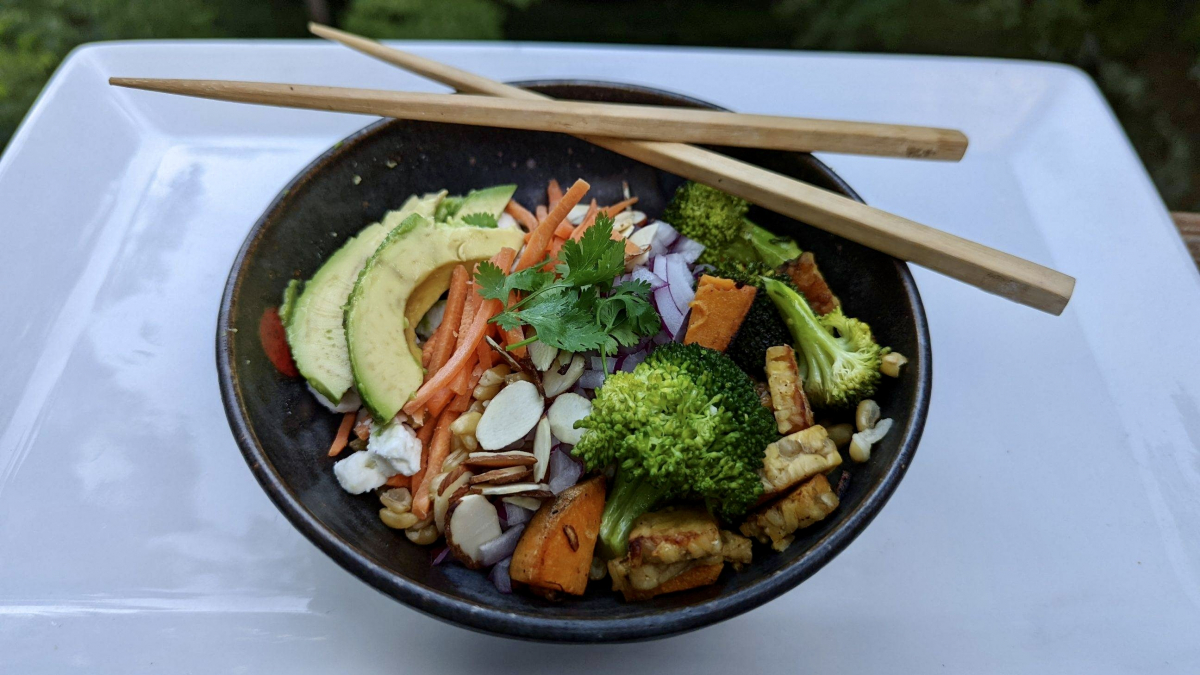 A Buddha bowl is a vegetarian meal full of nutrition and yumminess. There are several explanations for why the name refers to Buddha. It may originate from presenting a balanced meal and the fact that balance is a key Buddhist concept or from the story of Buddha carrying his food bowl to fill it with whatever bits of food villagers would offer him. Today's recipe is one option for a Buddha bowl, but there are many others. You can get very creative with this!
*Makes three hefty servings.
Buddha bowl ingredients:
Organic three-grain tempeh, cubed (you can also use one block extra firm tofu)
1 sweet potato, peeled and diced into small squares
1 cup shelled edamame (or chickpeas)
1 large head of broccoli, chopped
1 avocado, thinly sliced
1 cup shredded carrots (I used pre-packaged shredded carrots b/c they're crunchier)
¼ cup red onion, thinly chopped
1 cup Sliced almonds
1 cup kamut, farro or other ancient grains
2 tbsp olive oil
1 tbsp toasted sesame oil
1 tsp garlic powder
Salt and pepper to taste
Cilantro (for garnish)
Ingredients for dressing:
1/3 cup olive oil
1/2 tbs Dijon
1/2 tbs honey
Juice from 1/4 lemon
1/2 tsp jarred garlic
Directions:
Whisk together all ingredients for the dressing and set aside
Start the ancient grains according to the package and let those cook while cooking the rest of the ingredients
In a large saute pan, heat the olive oil on low-medium heat
Add the tempeh and sweet potatoes and coat with the olive oil, add the garlic powder and stir
Allow the mixture to cook until slightly softened then add the broccoli and edamame
Mid-way through cooking, add the roasted sesame oil and a little salt and pepper for flavor
Continue cooking the vegetable mixture until it seems a tiny bit crunchy, remove from heat
Layer the bottom of the bowl with the ancient grains
Add a layer of vegetable mixture on top of that
Then add a sprinkle of red onion, shredded carrots, sliced almonds, and sliced avocado
Top with cilantro and vegan feta cheese
Lastly, pour a small amount of dressing over the Buddha bowl (Note: you need very little dressing to make this flavorful; start small then add more; adding too much dressing initially can ruin the entire bowl, so be careful)
This is truly one of our favorite meals and probably one of the healthiest dishes a person can consume. Enjoy!