Rumble
When Passion Meets Purpose
Wednesday, March 30, 2022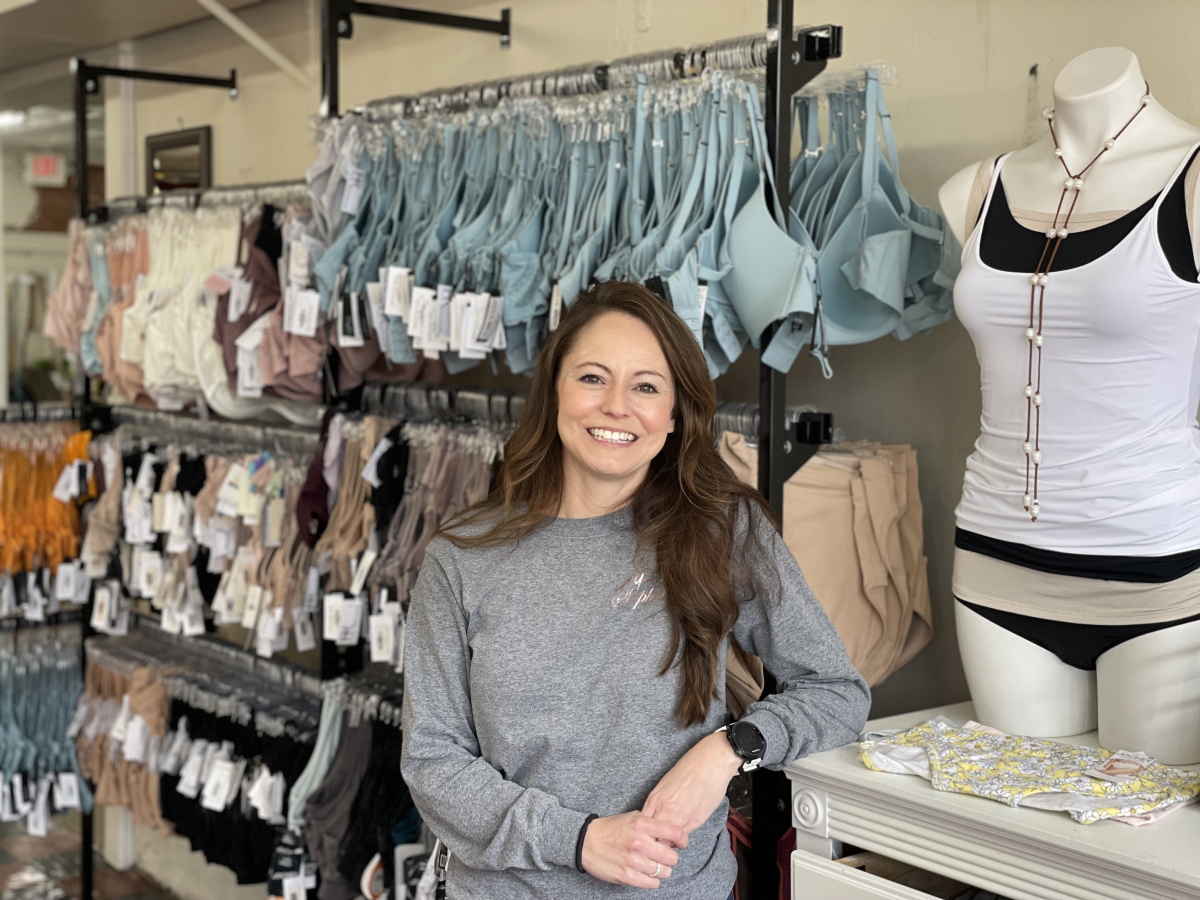 Stephany Semones grew up in Haywood County and graduated from Pisgah High School. She then went on to earn a degree in theological studies from Harvard Divinity School. A chance experience at a store in Nashville inspired her to open Pink Regalia, originally located in Clyde then on Main Street in Waynesville and now in Hazelwood Village.
Pink Regalia is a luxury lingerie boutique that offers beautiful undergarments for women of all ages but also specializes in products for individuals who have undergone mastectomy and lumpectomy surgeries, among other procedures. Rumble writer Susanna Shetley sat down with Stephany to hear the story of Pink Regalia and her sister store, Lift Your Spirits, located next door.
Rumble: How did you come up with the idea for Pink Regalia?
Stephany: I went on a job interview in Nashville for something totally unrelated and walked into a store like Pink Regalia. I just felt a spiritual presence there and wanted to come back here and create a similar business. Nowe we have this store, one in Asheville, and we travel all over the place in order to meet the needs of more clients. We are experts when it comes to the science of fitting, which makes us good at our job. We assist women with many types of surgeries, including breast, heart and shoulder. When it comes to medical situations, we accept insurance. Clients need a prescription to file, but we can help them with all of that. Also, we do other fittings such as nursing bras or helping a preteen find the perfect first bra. No body shape is the same so we work hard to find each woman something that's comfortable for her unique body.
Rumble: Tell me about your other store, Lift Your Spirits:
Stephany: I owned Sage Boutique before Lift Your Spirits but decided a clothing store wasn't what I wanted to do. I wanted something that was more fun. At Lift Your Spirits, you can have a glass of wine or beer and walk around and shop or make your own DIY candle. We have a candle-making station where customers can smell various scents and then blend their own candle. Popular products include jewelry, reusable and sustainable items, beer, wine, candles, small batch groceries, cards and novelty gifts.
Rumble: What do you love about what you do?
Stephany: I love everything about what I do. I love that I get to meet amazing women every day, many of whom are going through something really hard, whether it's having a baby, a breast cancer diagnosis or another type of life changing event. I'm grateful I can be a part of their journey. I've learned so much from my clients about life. What we do at out store reminds us that time is a gift and relationships are a gift. It's the hard part about what we do, but it's the part that makes what we do real and purposeful.
Rumble: Is there anything people may not know about your businesses?
Stephany: Pink Regalia is both a regular lingerie boutique and a store who specializes in fitting women during medical situations. At Lift Your Spirits, we offer beer, wine and beer on draft. We will also wrap your gifts, mail cards and gifts, and even deliver.
Rumble: What would you say to other women who are trying to decide if they want to open a business or follow a dream?
Stephany: Go for it and don't worry about the next step. Take one step at a time. That's truly how I feel. Had I known in the beginning what this business was going to grow into, I may not have done it. If you're passionate about something, you're going to find a way to make it happen. Don't wait until the "perfect time." There is never going to be a perfect time, so why wait?
For more information on Stephany's businesses, visit Pink Regalia and Lift Your Spirits online.