Rumble
Welcome Back Mitski
Wednesday, February 23, 2022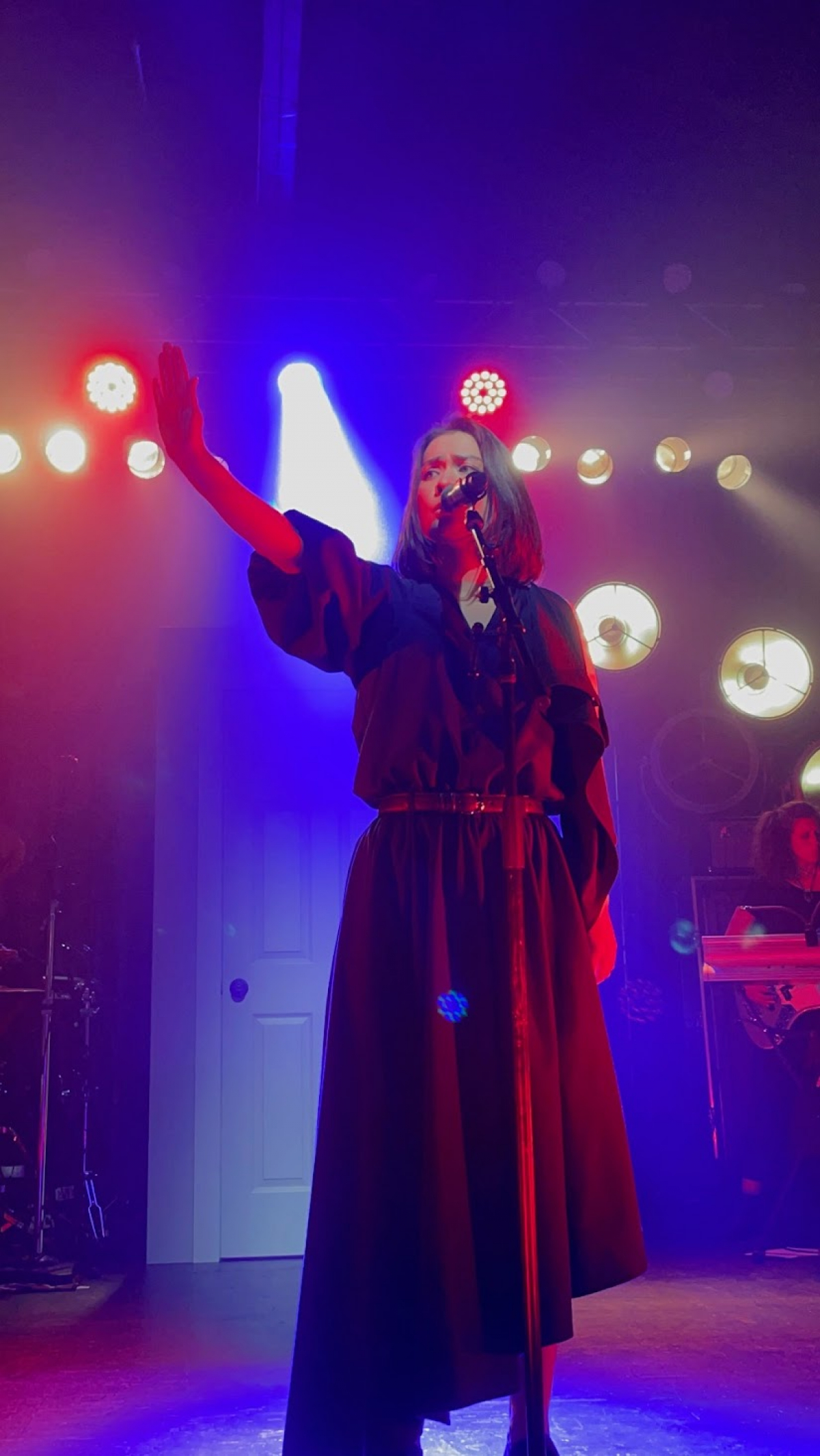 Mitski live at the Orange Peel. Daley Hooten photo
By Daley Hooten • Rumlbe Contributor | It's Feb. 17, around 5 p.m., and the line starting from the entrance of the Orange Peel music venue in Asheville has already stretched to the end of the block. It's cold, windy, and raining, but that doesnt stop the dedicated (and very fashionable) fans of singer songwriter Mitski.
After taking a 3 year hiatus, Mitski returns with her newest album "Laurel Hell," and a world tour starting right here in Asheville. I was fortunate enough to attend this monumental show with some of my closest friends — one I've known since little-league soccer, another I met in 8th grade, and one I met in freshman year and haven't separated from since. We were able to acquire a spot on the barricade and began to count down the minutes until 9 p.m. While waiting, I looked around at the gathering crowd.
The venue was filled with young people; all who looked ridiculously cool. Two girls standing behind me wore cowboy hats, alluding to Mitski's previous album, "Be the Cowboy," that matched with their outfits. The venue bubbled with positive, anticipatory energy.
Soon, the opening band took the stage, and boy was I surprised! Japanese rock band Chai ran onto the stage, wearing what I can only describe as metallic ponchos. They began shredding guitars, and killing it with choreographed dancing. The crowd was roaring with support, singing along in some parts as well. Chai left the audience energized with a buzz of excitement.
As the minutes counted down, the crowd cheered left and right, whether it was for the techs setting up the stage, or the announcement to remain COVID conscious over the speakers. Clearly, we were a bunch of people ready to finally see Mitski return, and were intending to make it an amazing first show of the tour. When Mitski and her accompanying band finally took the stage, the room was deafened by screams. Beginning her setlist with "Love You More," it quickly became obvious this crowd would be singing along with her for every song.
Throughout the show, people whooped and hollered, welcoming her back to the world. Singing loud and proud, the audience knew every lyric to every song. They even knew which song was about to come next as evidenced by the screams erupting after the first notes were played.
Her setlist was filled with her best songs; my personal favorites, "Happy," "I Will," and "Goodbye My Danish Sweetheart," had me bawling with happiness to see them played live. Her performance was undoubtedly amazing, filled with dancing and interpretive pantomime that embodied the meanings and emotions of her songs.
When she went offstage before her encore, the entire crowd began chanting her name until she returned. Her drummer, clearly impressed, began recording us from onstage as we repeated her name in unison until she began singing her final song "Two Slow Dancers." As she sang, the crowd swayed back and forth together, singing along with her softly. It was in this moment with the crowd that I realized, this venue was the perfect place to kick off the tour. It was a sold out show, filled with fans dedicated to providing her the best welcome back anyone could muster. Hearing the crowd yell things like "you saved my life," and "we love you so much," just showed how meaningful she is to the people in the audience. And though the venue may be smaller than some of the upcoming shows she's doing, I believe it provided a more personal and affectionate experience. I am so incredibly grateful to have been there for the first show of her tour and to see her music come to life on stage. Welcome back Mitski!
Companion playlist: https://open.spotify.com/playlist/34vlmjkpmCPdRZOsq36ABK?si=ef7599f1b9754d01
Daley Hooten is a high school student, writer and music aficionado living in Asheville, North Carolina. This email address is being protected from spambots. You need JavaScript enabled to view it..