Rumble
Gluten-free Minestrone Soup
Wednesday, February 16, 2022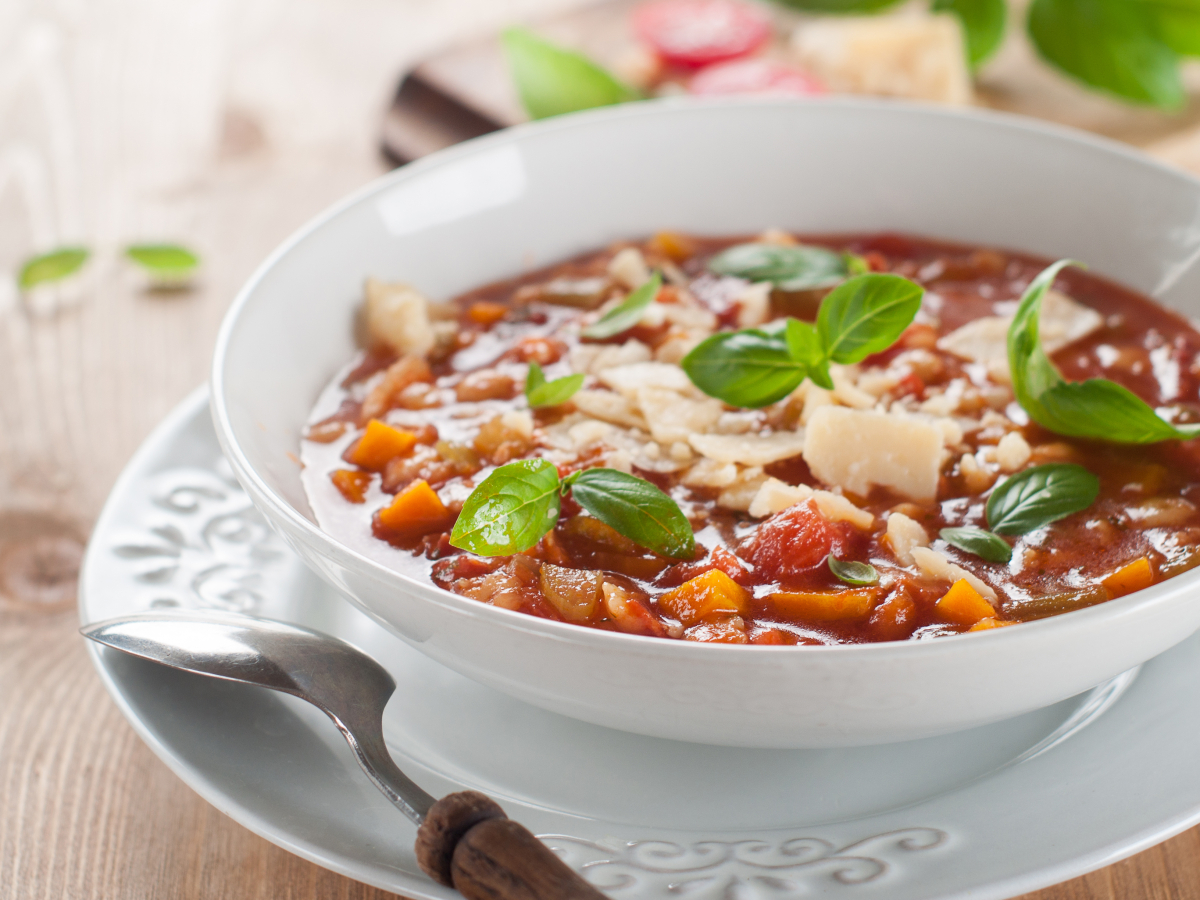 There's nothing like the warmth and savory flavor of a hearty bowl of soup on a cold winter's day. Over the past year, I've had a lot of fun experimenting with soup recipes. While some of my favorites come from cookbooks, I've also created a few of my own. Today I am sharing a gluten-free minestrone recipe that's popular with everyone in our family, including the kiddos. It's also a great dish to reheat for a leftover meal.
Ingredients
12 oz. (one package) Polish kielbasa sausage

1 regular can (14 oz.) diced tomatoes

1 large (28 oz.) can crushed tomatoes

32 oz. (1 box) chicken stock

1 cup water

1 medium onion

3 small zucchini (chopped into cubes)

3 carrots (sliced in circles)

2 celery stalks (diced in small chunks)

8-10 baby Dutch yellow potatoes

2 cloves garlic (minced)

1 box (8 oz.) chickpea pasta shells

2 cans kidney beans (drained)

2 bay leaves

1 tsp. dried thyme

1 tsp. dried oregano

1 tsp. garlic powder

Salt and pepper to taste

3 tbs. olive oil

Half a lemon

Shredded parmesan
Directions
Heat 2 tbs. olive oil in a Dutch oven

Sauté onions and garlic until softened

Add carrots and celery until crisp

Add zucchini

Add potatoes

Add kielbasa

Add thyme, oregano, and garlic powder

Stir everything to coat with flavor

Add crushed tomatoes, diced tomatoes, chicken broth

Add 1 cup of water (depending on the size of your vegetables, you may need a little more than 1 cup)

Add bay leaves, stir everything together

Bring to a boil then simmer for 30 minutes, covered

Add beans and pasta, cook for another 30 minutes until pasta is tender

Add additional water or stock if needed

Before serving, remove from heat and add juice from half a lemon and 1 tbs. olive oil, stir

Top each bowl with freshly-grated parmesan and a sprig of basil
Enjoy!
Leave a comment
1

comment
Made this soup last night. Absolutely delicious! I have enough to share with several neighbors. Thank you so much for sharing with us!

Thursday, 03/17/2022