Rumble
Lovers Card Invites You to Love Yourself in 2022
Wednesday, February 02, 2022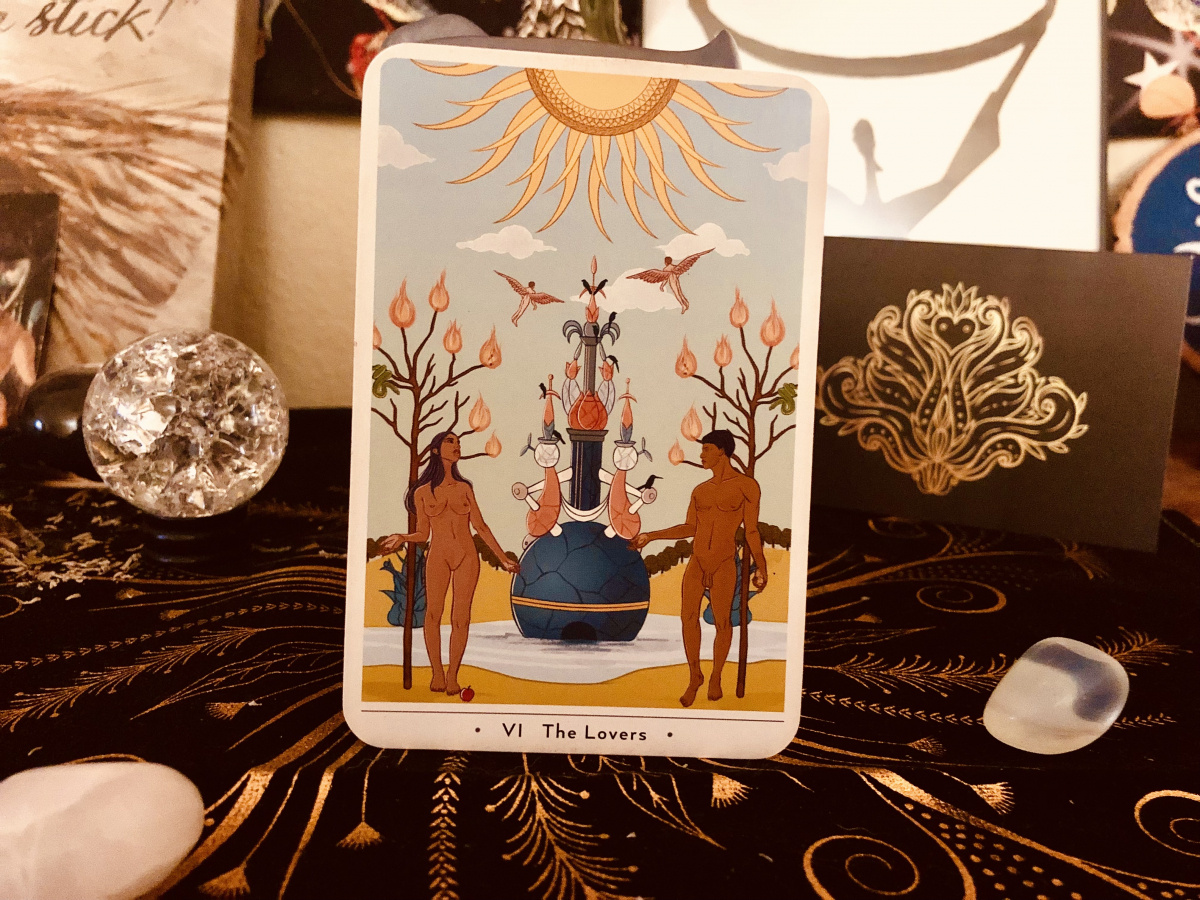 The Lovers from the True Heart Intuitive Tarot
"In this Lovers year, you need to find a way to be romanced by your own life," — Sara Faith Gottesdiener
Each year has a correlating tarot card intended to guide us on our journey — The Lovers is our corresponding card for 2022.
In most decks, the illustration of The Lovers shows a female and male naked standing on fertile grounds, often interpreted as the Garden of Eden. In the traditional Rider Coleman deck, an angel appears over the two people blessing them and reminding them of their union with the divine.
An apple tree with a snake wrapped around its branches behind the woman and the burning tree behind the man offer more Adam and Eve imagery and symbols of the divine, temptation, desire and passion.
Given these images and symbols, it's easy to see how this card is labeled the relationship card, representing our conscious connections on earth. People think this card is a sign they have met or will soon meet their soulmate. Well yeah, if that's what's going on in your life right now, that might ring true, but The Lovers is about so much more than romantic love with a partner.
While I'm no expert on the tarot deck or the many interpretations of The Lovers card, I've absorbed a lot of information from others who are well versed in this arena and wanted to share a few of their insights on our collective card of the year.
It's important to know that this card was once known as The Choice card, which has been an easier way for me to examine the card's meaning. Tarot reader Sarah Faith Gottesdiener, author of The Moon Book and The Many Moons Lunar Planner, says this card calls on us to make choices with our heart in 2022.
What a beautiful reminder after so many of us have felt like we've only been listening to our fear and our minds for the last two years because we've wanted to stay safe during the pandemic. Of course keeping ourselves safe will continue to be crucial during 2022, but it's also an opportunity to take a deep breath and let your heart lead you to where you need to be.
You may have already noticed this invitation and energy playing out around you — your coworkers leaving jobs that no longer serve them, your friends leaving toxic relationships or finally taking the leap into a commitment, your mom finally seeing a therapist, your drinking buddy getting sober.
These are all good examples of people listening to their hearts and finally taking risks they've probably been thinking about for years. This is The Lovers energy. It's not just about connection to others, but it's about the connection we have with ourselves and our willingness to reconnect to our own gifts and our own inner knowing.
Taking these risks are not always easy — otherwise we would have already done it. It takes a lot of internal work to be able to break away from all of the programming that's conditioned us to not trust ourselves, doubt our abilities and tell ourselves that what we have to offer isn't valuable.
The Lovers card theme that resonates the most with me this year is finding balance within myself and living my values. Creating balance and staying true to our values is a process and it will look different for everyone. Start with looking at the choices in front of you at the moment and observe your decision-making process.
For me, I've spent a majority of my life saying yes to everything, mostly because I'm a people pleaser and have major FOMO (fear of missing out). I'm a social person and love doing new things, but sometimes I do too much and run myself into the ground. So perhaps The Lovers is calling on me to say no more this year and be more mindful of where I place my energy.
As we approach Valentine's Day, I challenge our Rumble readers to take Sarah's quote to heart. How can you be romanced by your own life this year? Maybe you buy yourself flowers and chocolate or cook yourself a delicious meal. Maybe you take yourself to the spa to pamper yourself or write yourself a love note reminding yourself of how amazing you are!
Gottesdiener offers some amazing insights into The Lovers on her podcast "Moonbeaming" so be sure to check it out. Her website also offers some prompts and suggestions for how you can hone into what The Lovers year means for you and how to make the most of the themes.
What is The Lovers card calling you to do this year? We'd love to hear your thoughts.