Rumble
Tuscola Freshmen Wins Thomas Wolfe Essay Contest
Wednesday, January 12, 2022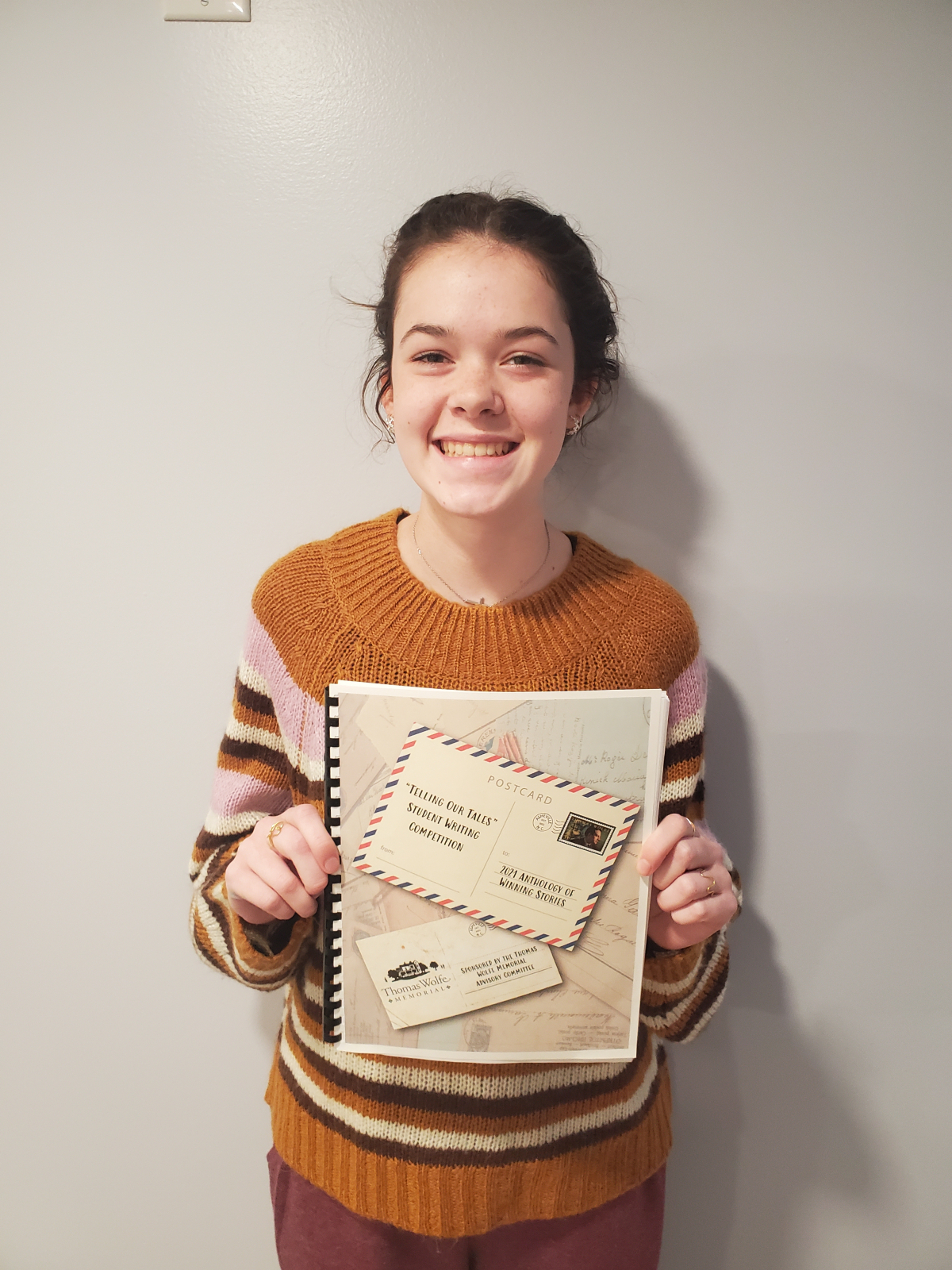 Eireann Marcus, a ninth grader at Tuscola High School, won 1st place in the high school division of the Thomas Wolfe Memorial's annual "Telling our Tales" Student Writing Competition. She is holding the 2021 Anthology of Winning Stories of the Thomas Wolfe Memorial's writing contest where her story is featured.
Eireann Marcus, a 9th grader at Tuscola. Eireann Marcus, a freshman at Tuscola High School in Haywood County, recently won an essay contest sponsored by the Thomas Wolfe Memorial.
Thomas Wolfe is often considered North Carolina's greatest author. Best known for his style of autobiographical fiction, Wolfe used observations of his life and the world around him in his writing. In his short story "One of the Girls in Our Party," Wolfe demonstrates his mastery in a piece of writing characterized by a main character in a setting who encounters and engages in an interesting and entertaining activity.
In honor of Wolfe's legacy, the Thomas Wolfe Memorial encouraged students to submit their own creative work, inspired by "One of the Girls in Our Party" and Wolfe's style of fiction.
Marcus took the top prize in the high school division of the Thomas Wolfe Memorial's annual "Telling our Tales" Student Writing Competition.
Kayla Seay, assistant site director at the Thomas Wolfe Memorial, said Eireann's writing was "engaging and well written, and earned high marks among our judges." Eireann's story, "A Family Trip to New York," was featured in the 2021 Anthology of Winning Stories.
Here is her essay:
Dear Aunt Meredith and Uncle Joe,
New York City was wonderful. The first day we arrived we explored Coney Island. Although it was bright and sunny, it was quite chilly. The older looking rides had a happy vibe and everyone around was in a good mood. I could hear many squeals of delight, the sound of the ocean waves, and old carnival music. Mom and Dad were quite tired, but Sally and I enjoyed ourselves. Most of the rides we went on were meant for younger kids but Mom screamed as she rode them nonetheless. Riding the subway was very different. I loved the slow vibration and swiftness of the train but I did not like how dirty it was. I even saw a rat running along carrying food! I could always smell body odor and trash, and it seemed very stuffy down there.
The second day of our trip began in Times Square. We saw the big ball that drops on New Year's Eve, the shops, and all the bright, neon, flashing lights and billboards. I heard cars honking constantly, and most of the cars on the road were bright yellow taxis. There were so many people, and so many different types of people! It was so diverse; you could see all different ethnicities and religions. We could always tell people were locals when they were wearing earphones and seemed to be in a rush. I often heard their accents, and them saying things like "I got my Cawfee" or "Do you have any woter?" We got on the subway next and rode down to lower Manhattan to see the Statue of Liberty and Ellis Island. I loved looking out from the shore and seeing the Statue of Liberty from a distance, even if it did look really small.
We got on the ferry to ride out to Freedom Island and sat at the top. We all loved it, but it was freezing. I could see Sally and Mom's hair whipping around everywhere from the wind. Looking out from the Statue of Liberty, we could see the beautiful landscape of buildings in Manhattan. I could see the magnificence of the Freedom Tower sticking out above all the other skyscrapers. We next explored Ellis Island. Sally and I were having a blast and we were getting along really well. We learned a lot about the history of Ellis Island and I thought it was fascinating. I really got a sense of what it was like for immigrants to come to America. Sally did keep asking questions about it and that was annoying but nonetheless it was a great time. Next, we walked to the 9/11 memorial and museum. It seemed a lot quieter near there.
It was very beautiful to see and learn even more history. It was very emotional for me to see the pain of some people. We also went into this huge mall with fancy stores. Sally wanted to go into all of them, but we didn't have enough time. Before we left the mall, we ate at this authentic Italian restaurant that was also a grocery store. Sally and I shared a delicious cheese pizza. Mom and Dad got some kind of pasta that was not the best. You could tell that the produce and noodles in the store were authentic because of the prices! After eating, we walked down to Wall Street. I had never heard much about this place, so I thought it was very neat to see the Financial District. I could hear locals saying "I gotta get to my awfiice!" or "Shore, I'll see you at the meeting!" Sally enjoyed it as well, but she was a bit grumpy because she was tired of walking.
The next day, we rode the subway a short distance and walked through Central Park to get to the Metropolitan Museum of Art. I loved seeing where the MET Gala is held every year. I loved looking at the statues and the "Rock and Roll" exhibition. Looking at the paintings was interesting at first, but then it got kind of boring. Sally and I tried to not complain though because Mom and Dad really liked it. The rest of the day we walked through Central Park again. I absolutely loved the park. It was so peaceful and a nice break from the city.
We also saw where John Lennon was shot, which I thought was neat especially since I really like the Beatles. That night, we ate at Bubba Gump's (which you know is Dad's favorite). I loved looking out of the restaurant window and seeing Times Square and the bright lights while eating. Sally asked for sweet tea and they didn't have it! Sally and I were very surprised. Can you imagine drinking just regular iced tea?! Gross! After dinner, we walked down to the M&M store. Sally and I had been begging to go since we got there, so we were very pleased. The last day of our trip we were tired, but we still had a great time. We looked around Rockefeller Center and went shopping on 5th Avenue. We weren't able to buy much though because almost everything on 5th Avenue is designer and very expensive!
This was a very nice break from walking around so much and doing a lot of sight-seeing in a short amount of time. That evening, we went and saw "Wicked", the Broadway show. This was my favorite part of the trip! The music, the acting, the singing, it was truly magical! After leaving, Sally kept singing "Popular". Even hours later we would hear "I wanna be popular! La la, la la!" Although I am sad we are leaving soon, I am looking forward to seeing you guys!
Love,
Suzie