Sponsored content
5 Tips to Save Big in the New Year
Thursday, January 06, 2022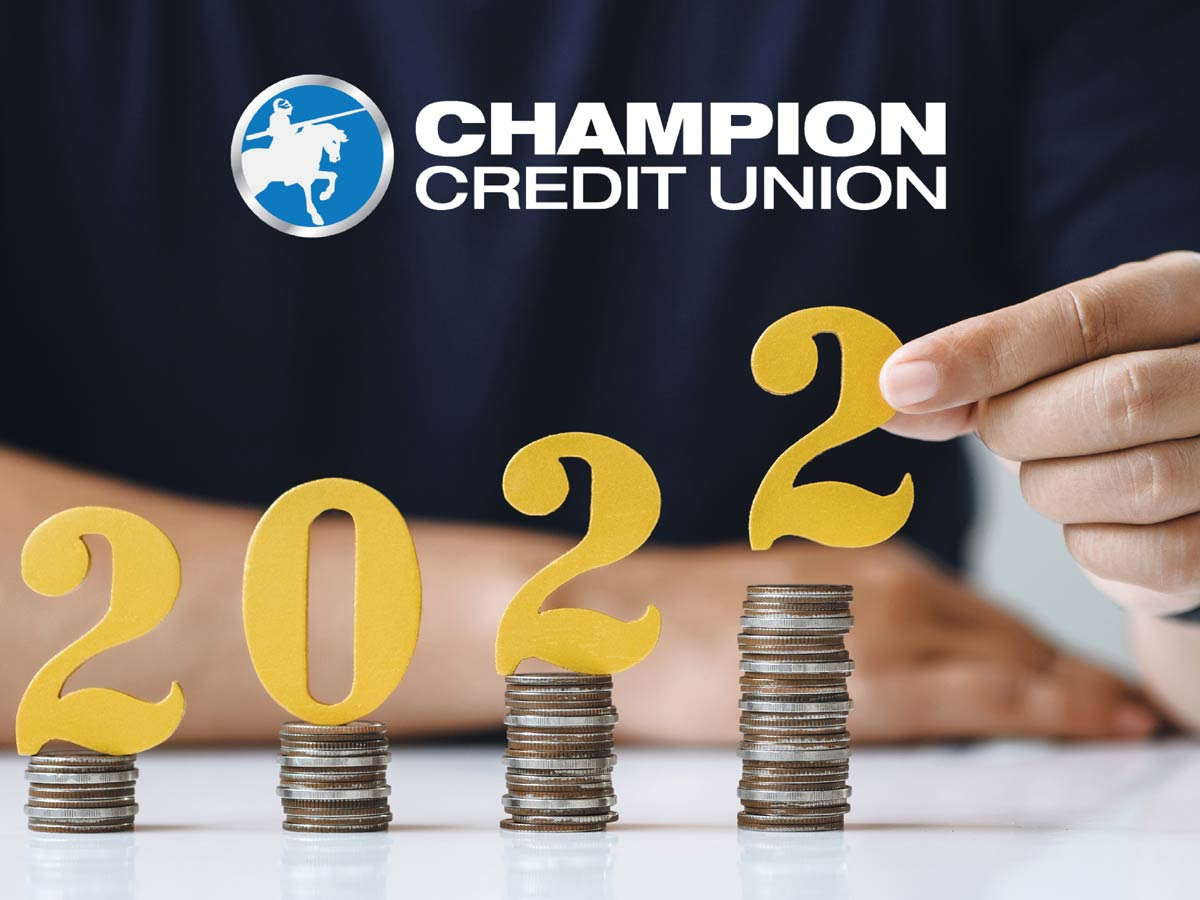 The dawning of a new year brings a surge of energy and opportunity. If there's ever a time to reassess financial plans and goals, it's now. Below are five suggestions to save big in 2022.
1. Refinance your home or auto loan
There are a number of benefits to refinancing your home or auto loan. A long-term benefit is a lower monthly payment, which will put more money in your pocket each month. Other benefits include a lower interest rate (APR), a shorter payoff term and the ability to cash out equity for other uses. Some lenders offer additional incentives. For instance, Champion Credit Union is offering 2% cash back up to $1,000, for those who refinance their auto loan from another lender.
Many people think the refinance process is lengthy and cumbersome, but with today's technology and efficient systems, refinances can happen very quickly.
2. Establish a budget and stick to it
When you create a budget and stick to it, you will not only feel more in control of your finances, but you will create the ability to bolster your savings and securities. Some tips to establish a budget include having lower credit card limits, sleeping on big purchases to prevent impulsive buying, never spending more than you have and budgeting to zero. Also, meal planning and purchasing groceries through online vendors and curbside pick-ups can greatly help individual and family budgets. Challenging oneself to a no-spend period is another way to spend less and get creative with free activities.
3. Utilize mobile apps to track spending
Gone are the days of tracking daily spending in a paper checkbook ledger. There are much savvier ways to monitor your cash flow. Mobile apps can help you stick to your budget and watch how much money you are spending. It's easy to spend a significant amount of money each month on coffee drinks, convenient store snacks, lunches out and other non-essentials. There are simple apps for beginners and much more complicated apps for folks who not only want to track daily spending but also stocks and investments. With so many options on the market, you're bound to find an app that works for your lifestyle.
4. Review your subscriptions and memberships
If you take some time to write down all of your subscriptions, you will soon realize these items add up quickly. These include apps, channels and software such as Spotify, Apple Music, Amazon Prime, Hulu, Netflix, Disney+, Dropbox, Linkedin Premium, and the list goes on and on. Like subscriptions, memberships can also suck a portion of your monthly or yearly budget. These days it's easy to join fitness groups, wine clubs, challenge forums and other entities that automatically withdraw money from your account. Be careful about what you're joining and if it's really worth it.
5. Reconsider insurance policies
The beginning of a new year is a wonderful time to look at all of your insurance policies and see if there are places where you can cut costs. Insurance is important, but it's also expensive. Perhaps you have a handful of supplemental policies that need to be reconsidered. Further, insurance companies are very competitive with one another so shop around and ensure you have the best rates out there. Just because you've always been with one company doesn't mean you have to stay with them forever. This is your money, after all. Spend it wisely.
While it's true that money doesn't bring you happiness, it does provide options. In 2022, fatten your wallet by making wise financial decisions and following these top five strategies.
For terms and conditions or to take advantage of Champion Credit Union's auto refinance program and receive 2% cash back up to $1,000, click HERE
This sponsored content was created in partnership with Champion Credit Union.
Leave a comment
1

comment
I found it helpful when you said that you can put more money in your pocket every month when you consider refinancing your home. This is something that I will share with my sister because she has been struggling to pay her mortgage every month due to her restricted budget. I will ask her to consider having her house refinanced to keep everything within her monthly budget.

Friday, 02/18/2022