Ask Leah! The Ingles Dietitian
Sponsored: What to do with ... APPLES
Wednesday, December 08, 2021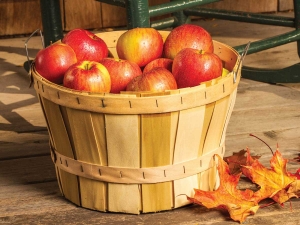 Have you ever bought a big bag of apples for yourself or your family with the intention of using them as a snack, only to watch as they sit, uneaten, on your counter or fridge? Tip: To keep apples fresh longer be sure and store them in your fridge in a plastic bag with holes punched in it
Don't let those apples go to waste! Here are some ways to use apples:
Breakfast – add chopped fresh or cooked apples to hot cereal or

plain Greek yogurt for natural sweetness.
Snacks – slice apples and spread with nut butter (sprinkle with mini

chocolate morsels or dip into caramel sauce for a sweet treat)
Lunch – add thinly sliced apples to hot grilled cheese sandwiches

before grilling or to cold sandwiches or wraps to add crunch and

sweetness; put thin slices of apple on arugula and spinach salad;

add chopped apples to whole grains like quinoa, barley or wild rice.
Beverages – Get out that blender or juicer to add apples along with

vegetables to make your juice drinks or to make a smoothie. For an

apple smoothie use milk or a vanilla non-dairy beverage, add vanilla

Greek yogurt, cinnamon, or ginger. Note: for smoothies, peeling the

apple ahead of time will make a creamier smoothie – but with less fiber
Other ideas:
Use the "low and slow" method (low temperature, baking for longer) to make dehydrated apple slices in your oven.
Make apple crisp or cobbler
Use your slow cooker to make applesauce
Combine apples, cilantro, lime juice and onion to make a smooth or

chunky apple salsa using a food processor.
Leah McGrath, RDN, LDN
Ingles Markets Corporate Dietitian
facebook.com/LeahMcgrathDietitian
800-334-4936