Rumble
Bryson City Potter Susan Coe
Wednesday, December 01, 2021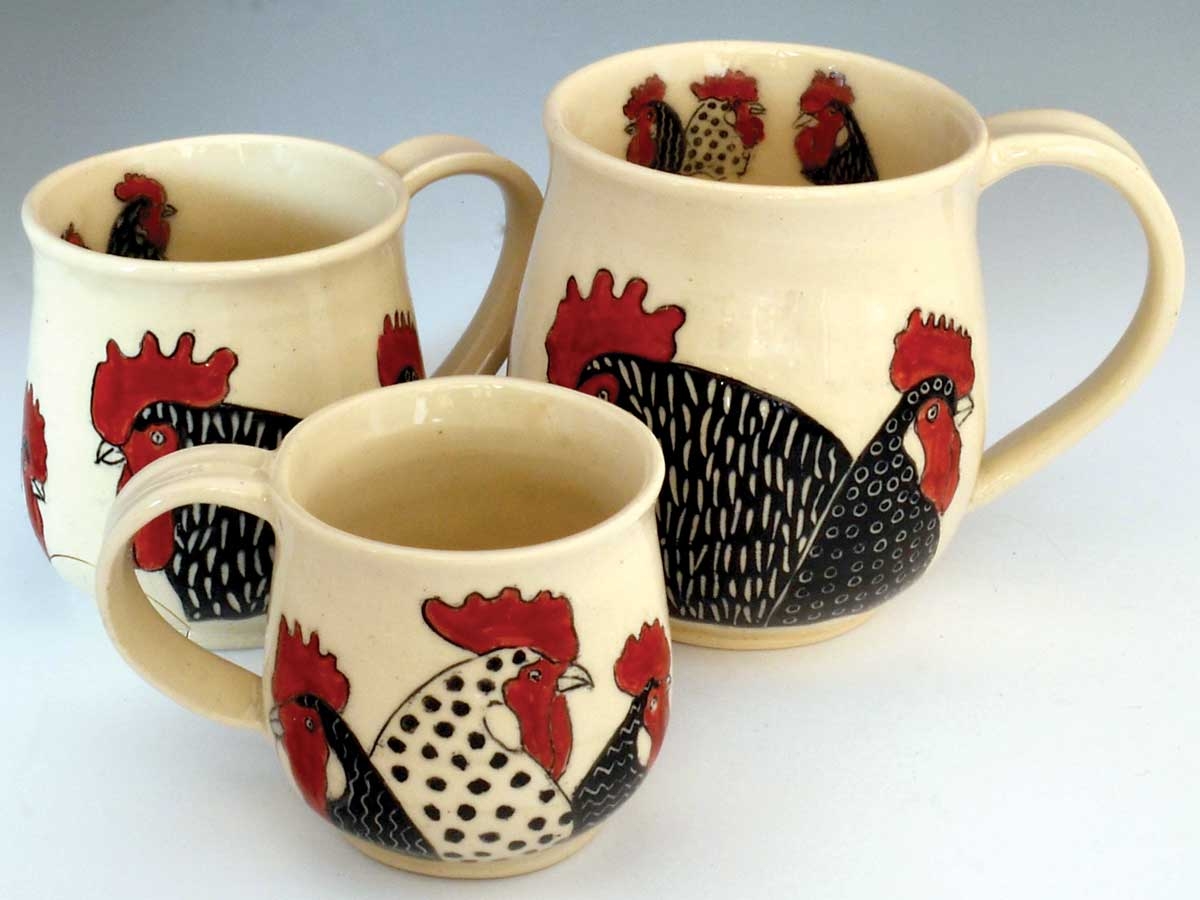 Susan Coe was born in England, grew up in Alabama, and now lives just outside of Bryson City. There was one spot left in the pottery class she decided to take at Southwest Community College (SWCC). Soon thereafter, pottery consumed her. Today, Susan has a home studio where she produces her colorful, functional pottery.
Each piece of work Susan creates is thrown and then decorated using sgraffito and mishima techniques. Sgraffito is a technique where a design is carved into a layer of color on the piece using a tiny loop tool and stylus. Mishima design is inscribed and then the lines filled in with color.
Susan's designs often carry over from the side to the bottom of the piece so that the work functions as art, even when it's upside-down in the dishwasher. Her designs are inspired by nature, and Susan's vibrant use of color stand out from the more traditional browns and earth tones one often sees on pottery.
Susan Coe.
Visitors can see Susan demonstrate how she throws and decorates her pieces. They can also find a large selection of pieces available for purchase including mugs, dinnerware, tea sets, serving pieces, vases, covered jars, tiles and knitting bowls. Susan now teaches pottery at SWCC and offers private lessons.
Open by appointment, Susan Coe Pottery is one stop on the Blue Ridge Craft Trails, a new online site that promotes craft, craft artists and cultural tourism in 25 western North Carolina counties. The website — BlueRidgeCraftTrails.com — links traditional and contemporary craftsmen, galleries, and arts organizations with broader markets to increase income, enhance cultural tourism, and improve local economies. A project of the Blue Ridge National Heritage Area, the Craft Trails has received funding from the Appalachian Regional Commission, the Cherokee Preservation Foundation and the Jackson County Arts Council.
(To learn more about Susan Coe Pottery, visit: blueridgeheritage.com/destinations/susan-coe-pottery.)