Rumble
Meet Gallery Zella
Wednesday, December 01, 2021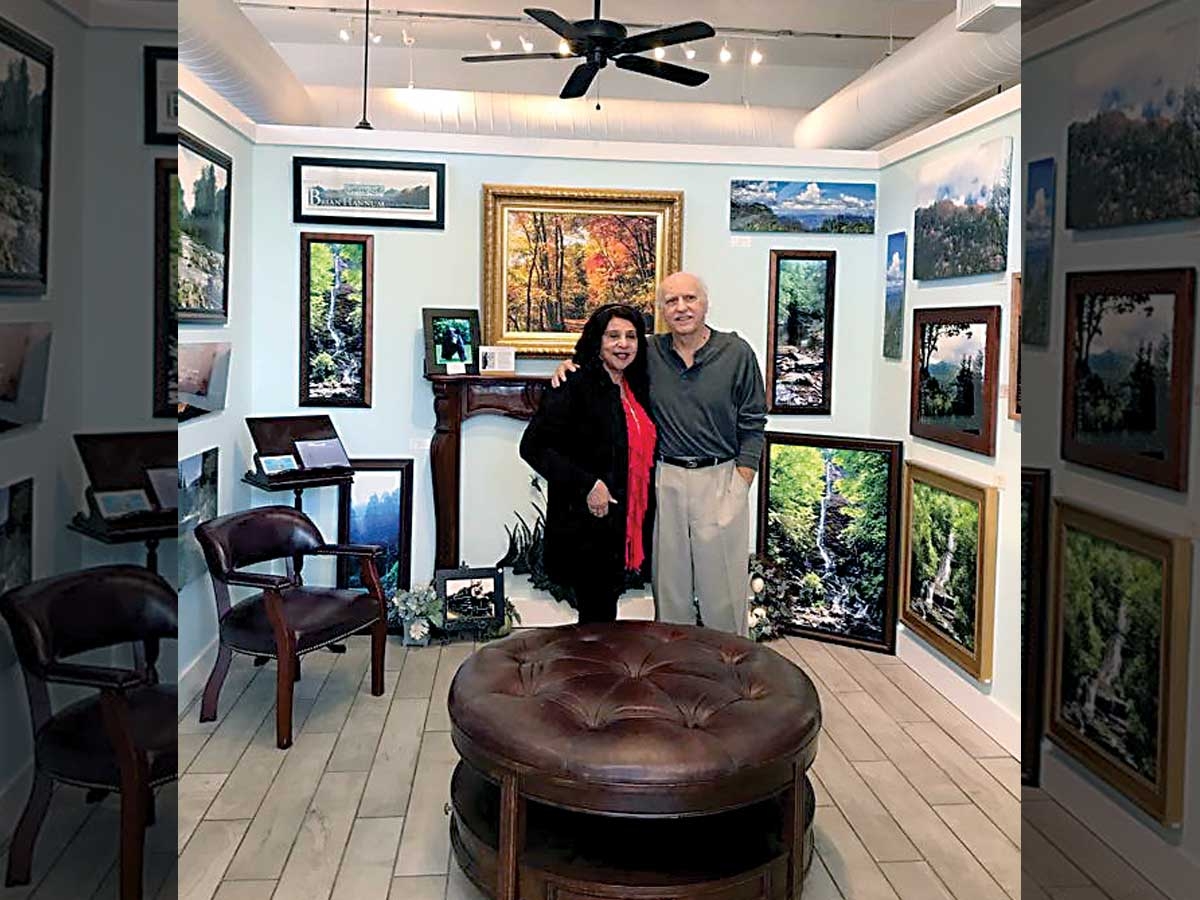 Zella and Brian Hannum.
Gallery Zella opened in Bryson City in March of 2016. Zella Jackson Hannum and Brian Hannum retired from their respective careers to devote their time to Gallery Zella and the work of nurturing the arts and artists in the region.
Zella has decades of experience running galleries, consulting art entrepreneurs, and writing about the art market. Brian retired from a career as a systems engineer in the defense industry and is a poet, a fine art photographer and a musician.
Gallery Zella is located in an historic bank building that has been an iconic architectural feature of Bryson City for over a century. The gallery displays a unique collection of five locally known painters, three fine art photographers, four artisan jewelry designers, two sculptors, and a stain glass maker along-side a curated collection of internationally renowned artists in over 2,000 square feet of gallery space. Twelve-foot-high ceilings and large front windows define a space that's covered top to bottom with fine art and crafts.
Visitors to Gallery Zella will find a large selection of handmade items including etched wooden bookmarks, turned & burned vases and plates, art cards, jewelry, and homemade jellies and salsas that are farm-to-gallery fresh. Everything in the gallery is created by the artists and artisans. The gallery's Meet the Artist receptions feature live music, demonstrations, opportunities to meet up to six artists, promotional pricing, and refreshments. Gallery Zella also annually produces the Smoky Mountain Arts Festival Columbus Day Weekend under a big tent for art and craft shopping "rain or shine." Also available are classes including paint-and-sip sessions.
Open Wednesday through Saturday in December , Gallery Zella is one stop on the Blue Ridge Craft Trails, a new online site that promotes craft, craft artists, and cultural tourism in 25 western North Carolina counties. The website — BlueRidgeCraftTrails.com — links traditional and contemporary craftsmen, galleries, and arts organizations with broader markets to increase income, enhance cultural tourism, and improve local economies. A project of the Blue Ridge National Heritage Area, the Craft Trails has received funding from the Appalachian Regional Commission, the Cherokee Preservation Foundation, and the Jackson County Arts Council.
(To learn more about Gallery Zella, visit: blueridgeheritage.com/destinations/gallery-zella.)