Ask Leah! The Ingles Dietitian
Sponsored: Can-tastic: Enjoying Canned Foods
Wednesday, September 22, 2021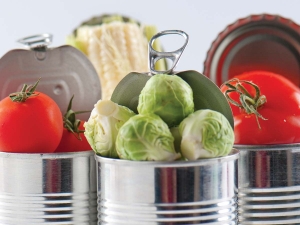 Recently I attended a webinar sponsored by a company that specializes in canned fruits and vegetables. I got a chance to hear from farmers, growers and producers about how quickly fruits and vegetables go from the farm or orchard to the can and all the safety and food waste measures that they have in place.
I was reminded how much I like an appreciate canned foods. Especially during the Pandemic, there's been a resurgence of interest in canned foods—they're shelf stable, economical, convenient and help reduce food waste. I buy produce in a variety of forms, fresh, frozen, canned and even dried so that I can use them in different ways.
Some of my favorites are:
Canned black beans drain and rinse beans put them on a tortilla, sprinkle grated cheese and some hot sauce and heat it in the toaster oven for a quick and nutritious lunch. Beans supply protein and fiber.
Canned chick peas/garbanzo beans drain, rinse and pat dry and sprinkle with olive oil and herbs/spices and salt and pepper and roast until crispy in a hot oven for a protein rich crunchy snack.
Canned peaches and apricots make delicious fruit crisps or crumbles.
Canned tomatoes are perfect for making soups, stews and sauces.
For more recipe ideas try: Pacific Coast Producers
Leah McGrath, RDN, LDN
Ingles Markets Corporate Dietitian
facebook.com/LeahMcgrathDietitian
800-334-4936