Archived Rumble
Q&A with Jessica Merritt of Nurture + Nature Glamping Retreat Center
Wednesday, August 25, 2021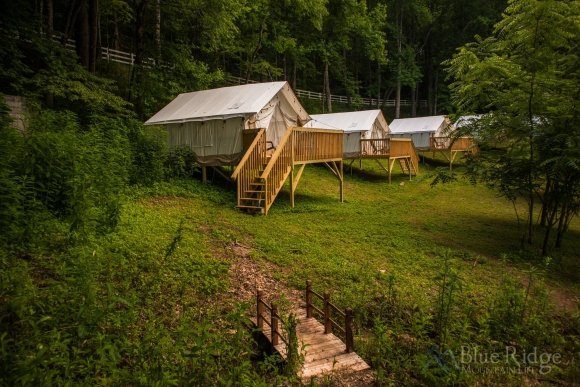 Special Liberty Project, what is it and how did it get started?
The Special Liberty Project is a nonprofit organization serving healing veterans and families of America's fallen heroes, referred to as Gold Star Families. In nature, healing is plentiful. We bring together veteran families who have experienced similar traumatic experiences, or losses, to create healing in nature.
What started as a small nonprofit with a goal of hosting a few events per year, has grown into a nationwide service organization with chapters on both coasts, headquartered right here in the majestic mountains of Western North Carolina.
The Special Liberty Project got started because we saw first-hand the need for peer support in our veteran community. We knew from our own life experience that the great outdoors would be the setting that would make the biggest difference in the lives of the families we serve. My husband Cory retired from the military this past January, after 21 years of service. Throughout his military career, we saw the repercussions that service and sacrifice have on families. We knew we wanted to help others. And so... The Special Liberty Project was born. We now host nearly 30 nature-based retreats annually, focusing on wellness, mental health, peer support and nature immersion.
How did Nurture + Nature grow out of the work you do with the Special Liberties Project?
Nurture + Nature Glamping Retreat Center was designed and created to support the wellness retreats we host through the Special Liberty Project. After years of hosting outdoor retreats, we knew that we could provide the best possible experience for the families we serve at our own facility. We were stationed in San Diego when my husband retired and decided to make a big move across the country and purchased a mountain farm with the intent to build an intimate, nature-based retreat center.

You provide retreats for widows of service members, tell us why you do this work, and what those retreats are like.
Our program dedicated to widows of fallen service members is very special. We do this work because we truly love these ladies and want them to feel nurtured and not forgotten. We believe it's not only the active-duty service member who serves, it's the entire family.
My husband deployed nine times in his 21-year career. We spent countless time apart. Being a solo parent to our now 11-year-old twins Wesley and Charlie, I got a very small taste of the difficult life situation our nation's Gold Star Widows endure daily, after the loss of their husbands. My whole heart goes out to them, and I knew that I could help. These resilient ladies have suffered more than anyone can imagine. They are left to pick up the pieces of their broken world and we want to serve as the glue to help strengthen their lives and bring connection and support.
The suicide epidemic is very rampant, especially in our veteran community. The first time I hosted a retreat exclusively for widows whose spouses died by suicide, it changed my life, and I knew that I wanted to dedicate my life to helping widows heal. The impact we made through connection in nature was truly life changing. Common feelings of guilt, shame, sadness, anger and anxiety are lessened by spending time in nature and connecting with others who have experienced a similar traumatic experience, providing healing peer support.
We host monthly nature-based, wellness retreats at Nurture + Nature Glamping Retreat Center. Throughout the years, we've found that the magic happens when the retreats are kept small. We have a maximum of eight retreat participants allowing for deep connection with each other in an environment that promotes no judgement, only healing and growth. During a Widows Wellness retreat, participants are guided through a wide variety of activities designed and supported by me, our Recreational Therapist and expert volunteers. We guide women through waterfall hikes (practicing forest therapy), Thai Chi, outdoor yoga, meditation, equine activities, book binding, nature stamping, embroidery, DIY beauty products, knitting/crochet, journaling and more mindfulness experiences. We end each night with a bonfire where we share the opportunity to let go, decompress and just be still seated under the star-spangled sky.
Wellness retreats at Nurture + Nature are now open to the everyone. Why did you want to open these to a broader audience?
The need for connection and nature immersion isn't reserved exclusively for Gold Star Widows. We all struggle with something. Now more than ever, women need connection! Connection not only to each other, but to nature where we can relax, rejuvenate and reconnect. With all of the roadblocks and issues we have faced and continue to face, due to the pandemic, now is the time to focus on wellness and self-care, especially with the bustling holiday season just around the corner. Who could use some time spent together with gal pals on a meaningful vacation?!
We also offer the option to rent the retreat center for your own private retreat. We have yoga instructors, wellness coaches, sewing clubs, photographers etc. reaching out to us interested in hosting their own glamping retreats. I absolutely love working with others to help customize their own retreats - if you are interested in growing your business and providing a special opportunity to others, please give me a ring, I would love to talk with you about the possibilities. I can help as much or as little as you'd like with your event. I could create an event page, collect payment for you, design the daily schedule, teach workshops, or anything else you made need. We customize every detail together.
What can participants expect at the All Things Autumn - Glamping Wellness Retreat?
I'm absolutely thrilled to share our upcoming "All Things Autumn - Glamping Wellness Retreat" with you!
Fall in our mountains is a very special time. A time of reflection and transition. A time to absorb the absolute beauty and prepare for the next season.
This retreat is an all-inclusive girl's getaway, that will not only leave you feeling refreshed, relaxed and reconnected, but you'll also go home with some beautiful handmade gifts for yourself and a friend (you can check a few items off of your holiday shopping list!).
As part of this retreat, all of the following workshops and take-home gifts are included. You will have the opportunity to create custom designed shibori tea towels using an all-natural, vegetable-based deep indigo dye; pumpkin spice and everything nice candles; apple pie sugar scrubs; homemade chai tea blends and snickerdoodle soap bars.
We will stay true to our focus of reconnecting to each other and to nature by engaging in breathtaking hikes painted with fall colors, stretching and decompressing with mindful outdoor yoga and meditation practices, all while getting our fill of nutritious and delicious meals. Each night will end around the bonfire with meaningful discussion and FUN for all. As I mentioned, our retreats are kept small intentionally, space is limited.
We have two glamping options, you can choose to have your very own tent accommodations or bring a friend and share a tent, each of you will have your own cozy bed, and area to relax, in our spacious tents. If you're interested in learning more or reserving your spot, visit "All Things Autumn."

If you had to choose, what is most special about your retreat center?
The retreat center is a magical place nestled in a cove, boarding the national forest, filled with wildlife and stillness we haven't experienced anywhere else. Along with running a retreat center, I also run a farm on our property. We have a mini donkey named Buddy who is a love-bug and everyone's favorite; two mini horses; two big, beautiful horses; chickens, ducks, heritage pigs, pups and barn cats.
The experience we provide is unique and meaningful in many ways. Glamping allows the utmost comfort in nature. Each glamping tent is furnished with electricity, heaters, fans, cozy beds and private decks – the perfect setting to reap the benefits mother nature has to provide, all while feeling pampered and comfortable.
If you are interested in volunteering or becoming a sponsor for a Special Liberty Project, Gold Star Widow Retreat you can give back by visiting our website Special Liberty Project.