Rumble
Healing Through Cannabis & Cooking
Wednesday, August 04, 2021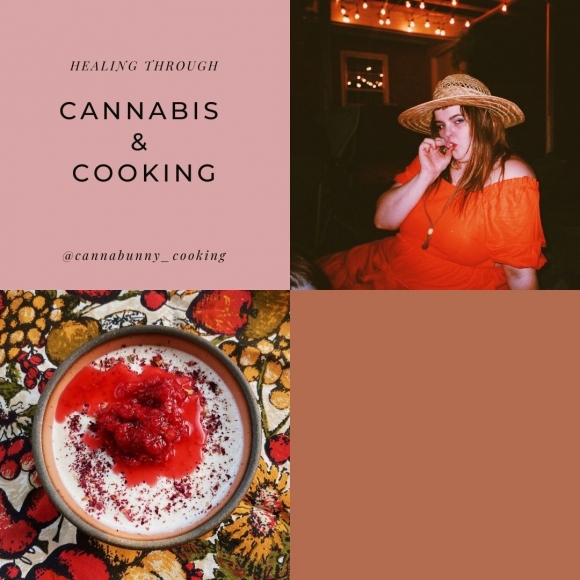 Like many of the most resilient and creative people on this earth, the river of Marissa Schneider's life has meandered through the unexpected twists and turns of trauma. Somewhere along that ride though, she found cannabis. As she moved through trauma, and the painful healing that comes after, the plant became a tool. A tool used not only to help her own soul in the process of mending, but also to help others. For Schneider, cooking with cannabis is about bringing people together. It is about healing her soul, and those of the other bodies she meets along her way.
The road to discovering the usefulness of cannabis wasn't a smooth one.
"I definitely was somebody who was anti drug when I was younger. My brother struggled with some drug and addiction issues," says Schneider.
But almost as soon as she started using cannabis at age 18, admittedly as a form of rebellion, she discovered the intense medicinal benefits of the plant. Not long after, she was in desperate need of those medicinal benefits.
"When I was 19, I started using cannabis after some sexual trauma," says Schneider. "I realized that it was one of the only things that could kind of make me feel safe in my body. I felt very alienated from my body and from myself. And when I used cannabis, I found that it was pretty much the only thing I could do to make me feel at home again. It made me feel present."
Schneider theorizes that the very way cannabis helped her through her trauma might be the reason many people avoid it altogether.
"I think people can be scared of it because it can make you very aware of your emotions in your body and yourself," says Schneider. "And I don't think that's something that's necessarily encouraged for a lot of people, to take the time to understand themselves and know themselves and ask themselves more difficult questions. You kind of just want to keep going and keep moving."
When Schneider was 22, she developed epilepsy very suddenly, and unexpectedly. Not only is epilepsy an incredibly dangerous disability, it is also a traumatic one. Schneider already knew about the benefits of CBD for people with epilepsy, thanks to stories like that of Charlotte Figi.
"I started integrating a lot more CBD," says Scheider. "I had basically been using primarily THC beforehand and the CBD and THC combination has been part of my epilepsy treatment. I haven't had a seizure in almost two years, and I'm on a pharmaceutical medication that works, but I know that a massive part of that maintenance of a seizure free lifestyle is because of this cannabis that I've used."
It has been an intense personal journey for Schneider, from the anti-drug mindset, to using cannabis in helping heal her own trauma. Along her path, her use of cannabis as a tool for healing has changed a lot of people's minds about the substance. Most importantly, that of her family.
There are multiple layers and timelines in the process of healing and one layer for Schneider has been creativity in the kitchen. On her path to healing she began eating vegan for a time and found great freedom in the kitchen. She had cooked some beforehand, but now the experimentation took hold of her.
"It turned into something that made me feel free, made me feel empowered in my own creativity and ability to create. So through that, I've been a very passionate home cook now for six years," says Schneider.
It was only a matter of time before experimentation, passion and healing converged into cooking with cannabis. Like most humans that have attended high school in the United States, Schneider had had the quintessential "pot brownie," but she knew there had to be more out there, better avenues for cannabis in food.
"When I was able to integrate two of these really healing things together, it just felt like it nourished such a huge part of myself," says Schneider. "And then I was able to like make amazing food, able to share that food with other people, but then can heal them as well. It was really just a way of expressing my creativity, taking care of myself and healing myself."
Lucky for anyone interested in learning more, Schneider shares her creations with the world via her instagram account, Cannabunny_cooking. Schneider will be teaching a Cannabis Cooking Class at Garden Party in Asheville at the end of August. Follow @cannabunny_cooking and check the Garden Party blog for updates regarding date and time.
According to Schneider, participants will learn to prepare one of her favorite vessels for cannabis in food, infused heavy cream. The class will prepare strawberry and blackberry frozen yogurt using the cannabis infused heavy cream, with chopped pistachios, rose petals, cannabis whipped cream and luxardo cherries.
An important part of this whole journey for Schneider is the ability to share creativity and cannabis creations with others. For her, it is a positive feedback loop of creativity, sharing, empowerment and healing.
"I will say that this past year, I feel like I struggled for a very, very long time with a myriad of mental health issues," said Schneider. "And I feel now, probably a huge part of it is because of the cannabis and cooking, that I am able to show up more fully and share with myself and be more comfortable in myself. Both cannabis and cooking really helped with that, and the two of them together are really empowering."