Archived Rumble
Why You Should Host A Passion Party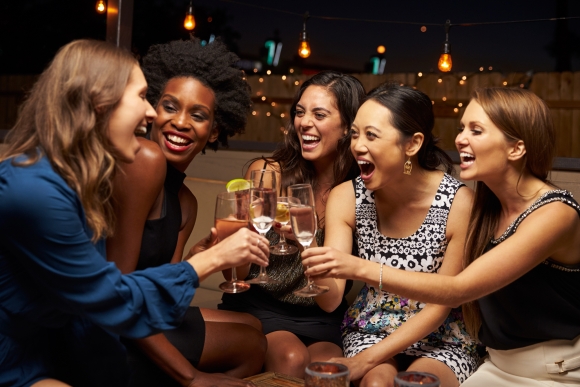 It's come to my attention that there are still some women out there who've never been to a passion party and that must change.
A passion party is a great idea for your birthday celebration, a bestie's birthday, a bachelorette party or bridal shower or really any girls' night opportunity. I've been to more than I can count over the years and each time I learn something new, I find something I must have and I walk away with my cheeks hurting from all the laughter.
Pure Romance is the name of the company. You can shop their products online but it's way more fun to have one of their consultants come to your home to host a party. Each consultant is their own boss, similar to women who sell Mary Kay or other direct sale products.
The company actually has a cool story — founded by Patty Brisben in 1993, the company uses the latest sexual health education and pairs it with the best beauty products and bedroom accessories. Patty empowered, educated and entertained the women at her parties. They could learn and explore their desires in a safe and often hilarious setting, while also offering them the opportunity to own their own business. Today, Pure Romance is a $350 million dollar company with 45,000 consultants all over the world.
Since college, I have known women of all different ages and backgrounds moonlighting as Pure Romance consultants to make extra money and some who have even turned into their full-time job with flexible schedules.
The consultants are extremely knowledgeable about the products and will make you all feel as comfortable as possible while telling you all about them. She might have you play some funny games along the way and you'll be able to sample lotions, sprays and other body products.
How to host a party:
Make an appointment with a passion party consultant — you may know someone who is an independent consultant in your community or you can search your area at Pure Romance.
Invite your friends over to your house. Have mimosas or another favorite cocktail ready to go and tell friends all to bring a snack to share.
While the consultant sets up her bag of goodies for the party, you can all enjoy a drink or two.
Then the fun begins. Find a comfy seat, grab a drink and snacks and tune in to your consultant's presentation. She will walk you through some new beauty products, lingerie, bedroom accessories and toys. Some of your friends will blush, some will gasp, some will share way too much information about their sex lives and others might surprise you!
Don't be shy. This is a safe place with friends. It's OK to have questions. It's OK that you don't like something that someone else likes and vice versa. Talk about sex and intimacy. Talk about what has worked for you that your friends might want to try out. If we can't talk to each other about these things, who can we talk to about it?
When the presentation and demos are over, your consultant will give you all a copy of the catalog and an order sheet for you to make your final selections. Then she will take you individually into a private room to take your order if you don't want everyone else to know what all you're getting.
If you are the one to host the party, then you are the lucky one who will get a discount off of your order based on how much all your friends order. It's really a no-brainer — you're supporting a women-owned company, you're helping a woman in your community build her business, you're promoting sexual wellness and you're bonding with friends.
Last thing: If you only order one thing, I highly recommend the Coochy! LOL. It's a conditioning shaving cream and it can be for your bikini zone but also for legs and underarms. It is great for sensitive skin so you don't break out in razor burn. My friends and I swear by this stuff!
What are you waiting for? Visit Pureromance.com now!