Archived Rumble
Don't Let Fear Win the Battle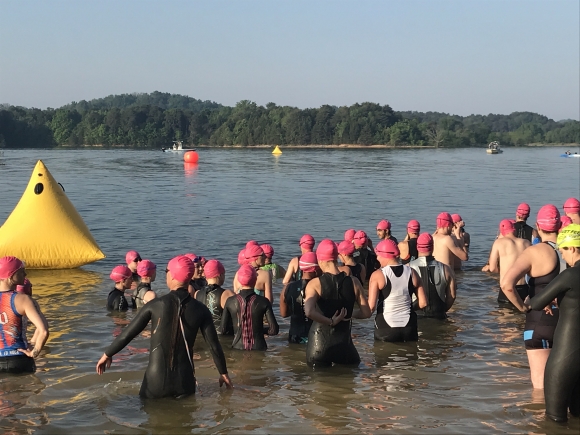 What you don't know won't scare you.
That was the lesson I learned during my first triathlon.
I trained well enough and had a solid rush of adrenaline going into the event, but as soon as I entered the lake with all those other splashing bodies, I freaked out. It's one thing to swim laps in a pool during training but quite another to freestyle in open water with hundreds of people shoving all around you and kicking your face.
With a little freestyle, a little backstroke, a little breaststroke and perhaps some doggie paddling, I finally made it through the swim. The bike and run were not a problem. I wasn't on the leader board, but I finished with a respectable time. Nonetheless, I'll never forget that feeling of anxiety at the start of the race.
Fast forward three years, and dumb ol' me decides to train for another triathlon.
Classic phobia therapy involves exposing a person to the source of fear over and over until the fear dissipates. I thought by doing another triathlon and swimming in the open water during training and during the race, I could overcome my phobia of open water swimming.
Since April, I've been training hard on all three modalities. One of my life goals earlier this year was to get in the best shape of my life and that I am. My running pace is the fastest it's ever been, my biking pace is the fastest it's ever been, and I've been swimming in open water relatively routinely, albeit with a buoy attached to my waste. My boyfriend, Matthew, is training for an Ironman race so while my race is much shorter, we've enjoyed working out together and supporting each other.
Then this week I had a weird dream bout the triathlon and decided I wasn't doing it. I thought, "I don't even want to do it. That's more Matthew's thing." and "The journey was the best part. I feel healthier than ever so what's a triathlon going to prove?" or "I've already done one traithlon so it's marked off the bucket list."
I kept telling myself these things but in reality, they're all excuses. Fear is stopping me. I'm still fearful of swimming without the buoy and with all those people around. With some more soul searching, I decided I couldn't let fear win. When we do that, the best versions of ourselves can never manifest.
The afternoon of the morning I decided not to do the triathlon, I changed my mind and said, "Damnit, I am doing it. I've trained for it, and I'm doing it."
Welcome to my inner dialogue. It's exhausting.
I don't even really know what I'm nervous about. I'm more of a competitor within myself than with external situations, meaning I put pressure on myself to do my best work and perform my best, but I'm not concerned with winning, so that's not a factor in the situation.
Also this week, I was listening to Glennon Doyle's podcast called We Can Do Hard Things. The topic concerned the societal pressure places upon women to be thin and look a certain way. In the podcast, they encourage listeners to focus on health over appearnce. Glennon's sister, Amanda, said something that resonated with me and related to my triathlon conundrum. She said, "If we don't trust our bodies, we'll never know their power."
I know my body is in good enough shape to complete a sprint triathlon. I may not win a medal, but I know I can finish it. I need to simply trust my body and quit thinking about something going wrong.
The triathlon is in a couple of weeks. I still haven't registered. Will I end up doing it? Who knows? Registration may be full at this point.
Whether I do it or not, the psychological journey this experience has offered is invaluable. I've learned a lot about myself and the tendency to let fear halt a dream or goal. With these recent revelations, I not only feel more empowered when it comes to open water swimming and triathlons, I feel energized to take that confidence into the world.