Archived Rumble
7 Ways to Fuel Your Body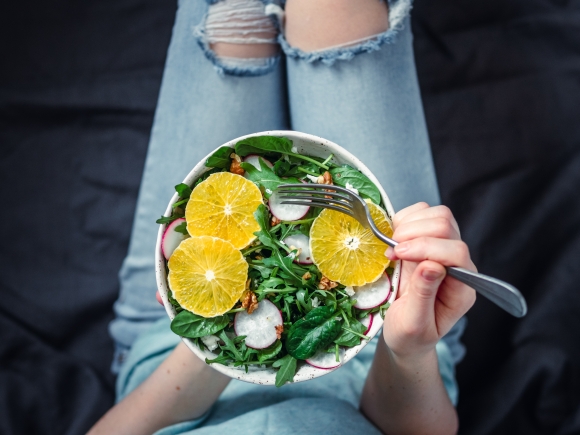 The simplest of changes to your daily lifestyle can make you feel more alert, productive and energetic. Following these seven steps will make your body healthier and life happier.
Honor your hunger and eat mindfully: Hunger is a powerful, evolutionary tool that let's you know when it's time to eat. Listen to your body and don't ignore those hunger pains. With that being said, choose your fuel carefully and ensure you are eating whole foods, lean proteins, fruits, vegetables and other food items that offer your body quality nutrients. When you're eating all of these delicious and fresh foods, eat mindfully. Really focus on the tastes, smells and aromas. This will help you slow down your eating and foster better digestion.
Hydrate: Even a minimal amount of dehydration can make you feel tired, lethargic and groggy. Let your thirst be your guide and if you rarely feel thirsty, let your urine be your guide. If your urine is mostly clear, you're on the right track. Another guideline people use in terms of water intake is to drink between half an ounce and an ounce of water for each pound you weigh. For instance, if you weigh 150 pounds, you should drink between 75 and 150 ounces of water per day.
Sleep: Sleep is an essential bodily function. It allows our minds and bodies to rest and recharge, leaving a person alert and refreshed to start the day. Adequate sleep boosts immunity and helps ward off diseases. Without enough sleep, our brains cannot function properly and will struggle to concentrate, process information and formulate memories. Adults need between seven and nine hours of sleep each night, while children and teens need significantly more depending on age.
Limit caffeine and alcohol: One is an upper and one is a downer, but they both should be consumed with caution and in moderation. Both are addictive substances. Caffeine does not have the long-term consequences as over consumption of alcohol, but beverages like coffee and soda can affect you on a daily basis if you rely on them for energy. Similarly, alcohol should not be relied upon to relax or to fall asleep. If your goal is tap into natural sources of energy and fuel, limit or eliminate caffeine and alcohol.
Don't rely on supplements: Flashy marketing tactics have made many feel that supplements can do the same thing as their natural counterparts, but that is simply not true. The best way to obtain vitamins and minerals is through food itself, instead of in a supplemental form. Whole foods offer three benefits not found in supplements: greater nutrition, essential fiber and protective substances. If you're a healthy adult with a healthy diet, you shouldn't even need supplements. The only time a professional may suggest a supplement is if a person has a true deficiency in a particular vitamin or mineral, such as iron or vitamin D.
Move your body: Exercise does more than help you lose weight and stay fit. Did you know that exercise improves a child's school grades by 10 to 15 percent and people who are active at work increase their productivity by 15 percent? Further, exercise boosts mood and concentration. The human body is designed to move in all types of ways and directions. Movement gives us strong bones, physical strength, healthy joints, good circulation, heightened cardiovascular function, coordination, reflex reactivity, improved learning and concentration, and much more. It's been said that sitting is the new smoking, so do your body a favor and move.
Breathe deeply: Something as simple as deep breathing can drastically improve your health. Taking a few moments to mindfully inhale and exhale several times throughout the day can decrease stress, relax your mind and body, and help you sleep more soundly. Additionally, deep breathing serves as a natural painkiller, improves blood flow, calms anxiety, improves immunity, increases energy, improves posture, reduces inflammation, detoxifies the body, and improves digestion. Remember you don't need lengthy meditation sessions to see these benefits. A handful of daily sessions of ten deep breaths will do the trick.
Living a happier, healthier, more productive life can be as easy as following these seven tips. The best part is all of these suggestions are completely within your control, so what are you waiting for?