Archived Rumble
Foods to improve low thyroid function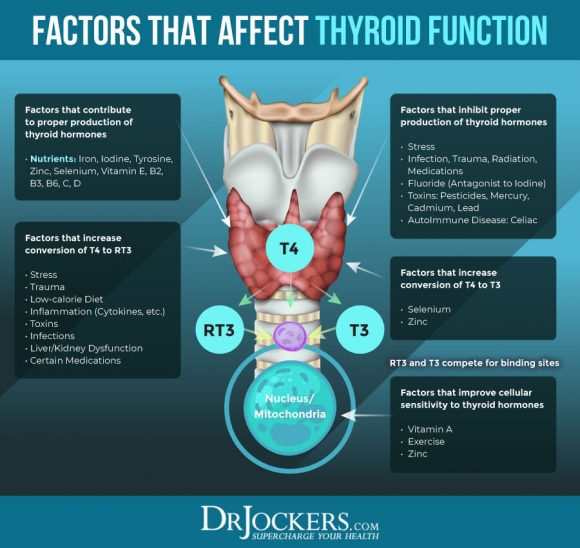 In what feels like a never-ending quest to feel my best, I've been working on honing in on my health and feeding my body the nutrition it needs.
I'm not training for a marathon or a fitness competition — I'm just trying to make it through the day with enough energy to get my work done, walk the dogs and make dinner at night without wanting to drink a bottle of wine and pass out by 8 p.m. That's not too much to ask, right?
Well, it can feel like a lot to ask if you're dealing with a low-functioning thyroid like I am. The thyroid is a gland that is responsible for producing hormones that regulate so many vital functions in the body — metabolism, heart rate, nervous system, weight, muscle strength, digestion, menstrual cycle, body temperature and cholesterol levels. If the thyroid isn't producing enough hormones because of imbalances in the body, it can lead to hypothyroidism and wreak some major havoc.
Signs of hypothyroidism can be fatigue, depression, mood swings, skin problems, muscle weakness, hair loss, changes to vision, memory problems, heavy or irregular periods, trouble sleeping, unexplained weight gain, sensitivity to hot and cold and so much more.
While thyroid conditions can be difficult to get diagnosed because the "normal range" on thyroid blood tests is pretty wide, there are easy dietary changes you can make at home that can give your thyroid the support it needs to function more efficiently. This is the work I've been doing lately to feel better. I'm not always perfect — I still like beer and ice cream — but giving my body more greens and whole foods has already made a big difference in my daily life!
Knowing that so many other women struggle with their thyroid, I wanted to share some of the nutritional information I've learned that has helped me in my journey as well as a couple of delicious recipes.
Greens — Collard greens, spinach, kale, cabbage, brussel sprouts, arugula, bok choy, broccoli and cauliflower
Proteins — Eggs, legumes, chicken, pasture-raised beef, fish like tuna and salmon and shellfish are all healthy proteins that contain zinc and selenium, which are great nutrients for thyroid function. Stay away from soy products like tempeh, tofu and edamame because they contain goitrogens that can interfere with thyroid function.
Fruits/vegetables — In addition to adding in more greens, eating plenty of fruits and vegetables are good for all of us whether we struggle with our thyroid or not. Summer is a great time to get plenty of squash, zucchini, berries, nectarines, and more!
Whole grains — You want to focus on getting the healthy carbs in your diet so throw out the white processed bread and go for the whole grains.
Things to avoid — Sugar, soy, caffeine, alcohol and processed foods are the big ones. If you are having digestion issues, you may want to try removing gluten and/or dairy from your diet to see if that helps your symptoms. Just like anything, you may have to do some experimenting to figure out what works best for you — and that's OK!
Here's a couple of recipes I've tried that were delicious, healthy and filling. I'd love for you all to share your recipes with me as well. Email them to This email address is being protected from spambots. You need JavaScript enabled to view it..
Curry Cabbage — This one was super easy and I loved the smells that filled up my kitchen. The curry spices added so much flavor but it wasn't that spicy. My husband doesn't even like cabbage and he couldn't get enough of it. This is one of those foods that only tastes better after a day or two in the fridge so you won't mind eating leftovers.
Chicken Teriyaki — This recipe was recommended by my health coach and it was a good comfort meal for me. I served it over jasmine rice with stir fry veggies.
2 lbs bone in chicken (I used thighs)
2 cloves garlic, minced
¼ inch ginger, minced
4 Tablespoons Tamari or soy sauce (I used Dr. Braggs amino acids)
4 Tablespoons pineapple or orange juice
2 Tablespoons brown sugar
1 tablespoon rice wine (optional)
1 teaspoon sesame oil
several dashes of black pepper
2-3 tablespoons sesame seeds
In a small mixing bowl combine all the ingredients except the chicken and sesame seeds to make sauce.
Remove the skin from the chicken and place the chicken in a skillet. Drizzle the sauce over the chicken. Cover the skillet and bring to boil over medium-high heat. Reduce the heat to medium-low and cook for 8-10 minutes. Turn chicken and continue to cook for another 7 minutes.
Remove the cover and raise the heat to medium-high until the sauce begins to boil. Continue to thicken the sauce; the sugar in the sauce will be caramelized and the sauce will turn into a thick glaze. Toss the chicken to coat evenly. Be careful not to burn the glaze. Remove the skillet from the heat and sprinkle sesame seeds over chicken.