Archived Rumble
Reasons You Should Join WOW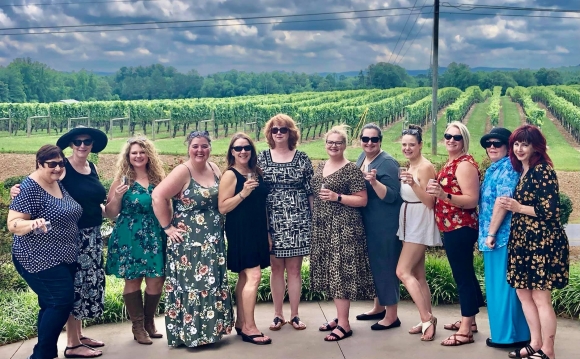 WOW members at a recent social at a winery.
I've been an official member of Women of Waynesville since 2015, but even before that I say I was an honorary member since 2013 when I moved here and met this amazing group of women.
It was unlike any other civic and nonprofit group I'd ever seen before because it was so much more than showing up to a meeting once a month to vote on something and going home. It was hands-on charity work and it was a meeting I looked forward to because it just felt like a group of friends getting together to catch up.
Serving on the board since 2016 and serving as the president for two and a half years has been one of the most rewarding experiences of my life. WOW's mission is simple — to help women and children in Haywood County through original fundraisers and partnering with other nonprofits that support our mission.
We raise money and we give it to other charities like REACH of Haywood, Habitat for Humanity, Pigeon Community Multicultural Development Center, Haywood County Schools Foundation, Mountain Projects, Big Brothers Big Sisters, Make A Wish Foundation and so many more worthy causes in our community.
We also help individual women in crisis when they reach out to us for assistance — this can include paying a security deposit on a new apartment, fuel gift cards to get them to work, groceries, car repairs, you name it, we've probably helped with it.
With the pandemic (somewhat) in the rearview, WOW is so excited to get back to work and we are recruiting new members to help us build momentum. We're holding an Open House event from 5-7 p.m. Thursday, July 15, at Elevated Mountain Distilling Co. in Maggie Valley and we'd love to see you there. This is the perfect time to come meet our members and learn about what we do before you decide whether you want to become a member.
So, in an attempt to convince you to join, here is a list of reasons why you will not regret becoming a WOW woman:
1. You will meet amazing women of all ages, backgrounds, beliefs, and personalities. We are a melting pot of women and we all have some amazing stories to tell.
2. Some of these women will become your lifelong friends. They will be the ones you call when there's an emergency, you need someone to watch your pet while you're out of town, you need someone to get a drink with when you've had a hard day, or you need someone to make you laugh and remind you how amazing you are.
3. We don't tolerate anything less than radical love for one another. This is not a place for clicks or talking crap about other women. We are fiercely supportive and accepting of one another and anyone not capable of such acceptance will quickly learn WOW is not the place for them.
4. We like to have fun. We create plenty of time for connecting and bonding so that we can support each other as well as our community. It's important for us to have social time before meetings start and we plan regular WOW socials for the group. We've had amazing potlucks and cookouts, bonfires and paint nights. We've gone bowling, hiking, rafting, tubing and any other adventures members are up for.
5. We like to say WOW is all heart and no salaries, which means we are completely operated by volunteer hours and we've had no paid staff since we started in 2012. Everything we raise goes back into the community instead of paying administrative costs or rent for an office space.
6. We host some pretty amazing events! Since I've been a member, some of our fundraisers have included a Battle of the Charities concert event, a Bachelor's Auction, Manly Man Auction, Wonder Women Auction and a Kentucky Derby Gala. These events have raised thousands of dollars for scholarships, medical care costs, heating assistance and affordable housing.
7. WOW brings the woman power to other community events in need of volunteers. Whether it's the Power of Pink 5K, Soup and Cornbread Day, the Elder Abuse Awareness Walk or a community resource fair, WOW members are always willing to help out when we're needed.
8. As a member, we want to utilize your strengths and talents. You can join one of several working committees within WOW to focus on projects you're passionate about. We have a Communications committee, of which I am the chairwoman, a Membership and Morale committee that plans our social events and supports our members, a Community Outreach committee that handles our requests for emergency funding, a fund, a Finance committee that double checks the work of our treasurer and a Fundraising committee that works on event logistics and organizing fundraisers.
9. The Naked Calendar. It's what WOW is probably best known for and it's one of our biggest fundraisers of the year. It's something we're all very proud of because it's such a major project each year and it sends a message of empowerment to women. It's our way of telling all women out there that they are beautiful not in spite of their perceived imperfections but because of them. By showing you our beautiful bodies, we hope you can see your own body as beautiful and worthy — because it is. Members are not required to be in the calendar, but they are required to support the project behind the scenes and help promote/sell it.
10. We need you. Yes, you! You have new perspectives, talents and ideas to share with this community and WOW wants to give you the platform to do it. Come learn more on July 15. I'd love to meet you and hear more about you!
For more information, visit www.womenofwaynesville.org and follow WOW on Facebook for updates. You can RSVP to our Open House event at https://tinyurl.com/sxj8pa8w
If you have any questions, feel free to email me at This email address is being protected from spambots. You need JavaScript enabled to view it..