Rumble
Reading Room: Brandi Carlile's Broken Horses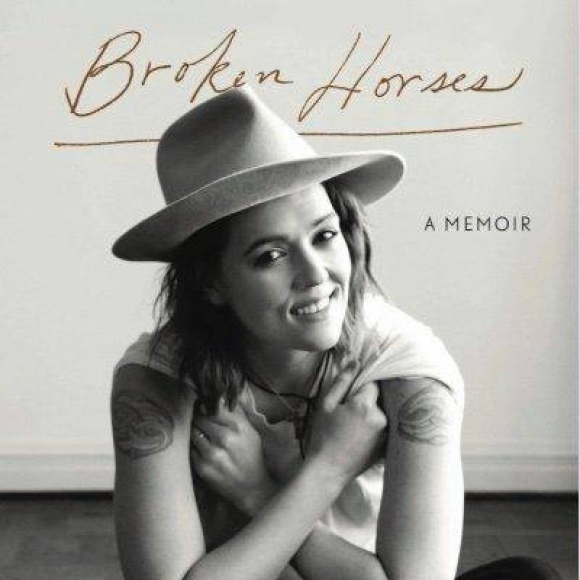 There is so much I love about Brandi Carlile I don't even know where to begin, but at the moment I am in love with her memoir released last month, "Broken Horses."
I've been a fan of Brandi's music since a friend introduced her to me in 2008. Actually, the look of shock on this friend's face when I told her I hadn't heard of her told me that I must have been missing out — and I was.
Brandi's voice is all her own — distinguished, breath-taking, make tears roll down your cheek real. Every emotion she's feeling comes through loud and clear when she sings. It's perfect even in its imperfection and her songwriting has come such a long, beautiful way since her first album in 2006. The songs she chooses to cover I swear she steals them from my playlist and the songs she's written, well I swear some were written about my life — that's how an artist should make you feel.
Another thing I love about Brandi is her authenticity and honesty. I love how she's starstruck by her mentors and heroes in the music business even as she continues to climb up the star-studded ladder. I love her activism and the ways she chooses to give back and lift other women up. I love how she talks about her family — the one she was born into and the one she's carefully created.
So, when I saw the 40-year-old had a memoir coming out, I immediately pre-ordered it on Audible and waited. Then I devoured it in a week — and that was me trying to spread it out so it wouldn't be over so soon.
I highly recommend listening to the Audible version because Brandi narrates it herself and every few chapters she sings a couple of songs that she either worshipped or wrote during that period of time in her life. Not only does she share some painfully personal stories that led to each song, she also covers "Coat of Many Colors" by Dolly Parton and "Honky Cat" by Elton John. And if her version of "Case of You" by Joni Mitchell doesn't make you want to cry into a glass of wine, there's probably something wrong with you.
Brandi's story is a powerful one about believing in yourself when no one else does and creating your own path even when you don't quite believe in yourself. As a ragamuffin kid who grew up in the sticks myself, there's so much of her upbringing that I relate to in the book. As a kid who loved music and singing as much as I did, I understand the passion she has for music, lyrics, singing and performing.
Though I'll never truly know what it was like for her to come out at the age of 15 in a rural community where she'd never even met another gay person, I have so much respect and admiration for someone who knew themselves that well at 15. Though her church didn't accept her — and she shares the traumatic experience of her pastor refusing to baptise her as her family sat in the church waiting for the milestone — she didn't lose her faith.
This book is about grit — the perseverance it takes to pursue your passions even through life's unrelenting attempts to knock you down. Brandi Carlile has always known what she wanted to do and she's never stopped working toward that no matter the challenges and setbacks. No matter how many rejections, setbacks and illnesses, she just kept doing what she was meant to do — and that is just damn beautiful.
I won't ruin for you the beautiful way she came up with the title "Broken Horses" or what Elton John thought she should name the book or how she ended up getting Joni Mitchell to sing for the first time in decades — you'll have to pick it up to find out.
If you're a music lover, a woman, LGBTQ+, an outsider or a dreamer, this is a must read. It will make you contemplate your own story even if until now you've told yourself your story doesn't matter. It will give you the courage again to pursue your own passions and we could all use the encouragement right now.
Leave a comment
1

comment
Love! You have inspired me to use my audible credit!!

Friday, 05/21/2021