Archived Rumble
Q&A With Helping Hands Of Haywood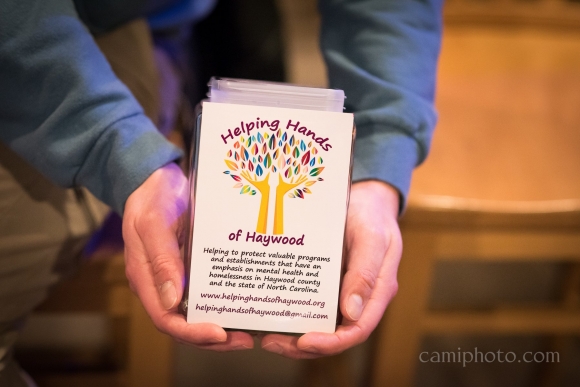 Helping Hands of Haywood is a new nonprofit that is making a tremendous difference in the community by reaching out to help those most in need. For Mental Health Awareness Month, Director Nicole Kott shares more about the organization's mission and how experiencing homelessness impacts people's mental health.
Rumble: How and when did Helping Hands get started?
Nicole: Helping Hands began as a response to homelessness in Haywood County. We not only noticed and felt called to help our neighbors without homes right in town, but also people out in rural areas that have even less access to resources. We formed as a nonprofit in December of 2019, and became a certified charity in February of 2020.
Rumble: What's the mission and what services does the organization provide in the community?
Nicole: Our mission is to expand and add valuable programs and provide vital items needed to increase the well-being of our community, especially to those who are disenfranchised, experiencing homelessness, or insecure shelter in Haywood County and Western North Carolina. We focus mainly on emergency shelter for individuals experiencing crisis situations while experiencing homelessness. Examples of this would be providing someone with shelter after a surgery or injury. We also provide emergency shelter for individuals experiencing homelessness that have no place else to go when it is freezing out. We provide food assistance, vital items like jackets and shoes, hygiene products, rides (to work, appointments, and court), reminders of important appointments and dates. We set people up with medical insurance, help them get vehicles, and any essential assistance or support someone may need that is experiencing homelessness, or at high risk of losing their home.
Rumble: Starting a new nonprofit can be challenging, tell us about what that process was like?
Nicole: Starting the nonprofit was a very organic movement. We identified the helpers with the right skills, and formed a compassionate group. It took about a year of ongoing discussion before we were ready to form.
Rumble: How are you different from other organizations in Haywood County?
Nicole: Every organization in Haywood County is a little different. We partner with as many as we can to help fill in the gaps to services and remove barriers to care. We have strict rules about removing stigma and judgement and focus on the overall physical and mental wellbeing of each individual that we serve.
Rumble: Any paid staff or is everyone volunteers?
Nicole: Everyone is a volunteer. We will occasionally pay someone to transport someone when a ride isn't accessable, but we don't have any paid staff at the moment.
Rumble: What are the most pressing needs in our community right now?
Nicole: The need for accessible (no barrier) shelter is imperative. When people have no place to go, they can die or be injured from exposure. It also exacerbates mental health conditions to be without shelter, so their mental and physical health is at great risk without shelter first. Treatment options and peer support are more effective and accessible when a person has a safe place to sleep, store their belongings, and charge their phone.
Rumble: How has the pandemic impacted the issues we have?
Nicole: We are seeing many families enter into homelessness. The wave of homelessness that is yet to come when the moratorium ends is what we are trying to prepare for.
Rumble: What's been the biggest challenge of providing services/fundraising efforts?
Nicole: Our biggest challenges to providing services is that we have to go out and make the effort to find people that need help, because they may not have a phone to call us, be aware of our services, or have a way to meet us and attend an appointment. We have to be ready (on call) to jump into action each time a need arises without notice. When we get phone calls from people experiencing homelessness, or their advocates, we have to move as fast as possible to meet their needs, as those needs can sometimes be the difference between life and death, recovery, and more trauma.
Rumble: How can others in the community get involved?
Nicole: You don't have to be signed up to get involved! We encourage people to keep shelf stable snacks, hats and gloves, bottled water, and hygiene products in there cars for people that they may see that need help. There is a lack of integration between people experiencing homelessness and society in general due to stigmas. Stop and talk with your neighbor that doesn't have a home, and learn their stories. Friendship goes a long way.
Nicole Kott is the director of Helping Hands of Haywood. She can be reached at 828.508.3420.