Rumble
Let a Little Light In — Q&A With Libby Rodenbough
Wednesday, April 21, 2021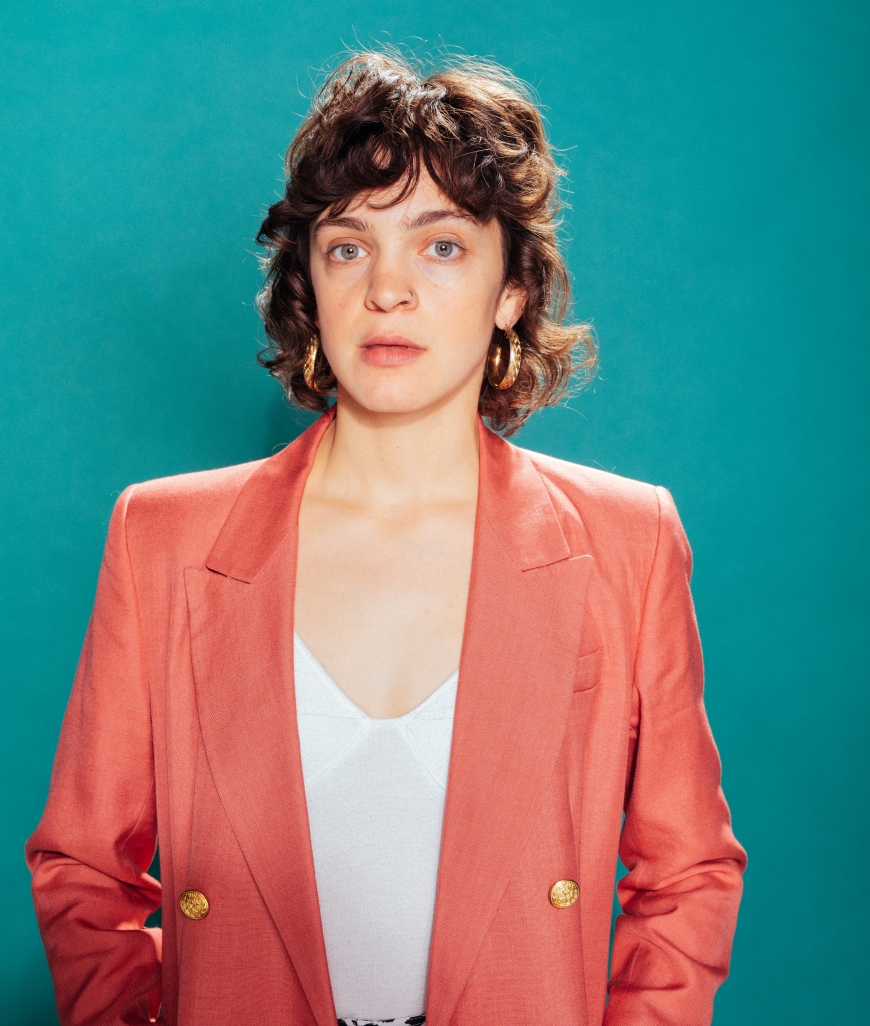 Rumble's Susanna Shetley sat down with Libby Rodenbough of the band Mipso. This popular North Carolina collective offers a variety of unique Americana tunes. In 2020, the talented quartet released their sixth album, Mipso, and Libby released her debut solo album, Spectacle of Love. Lucky for those of us in Western North Carolina, Mipso will be playing in Asheville next Thursday, April 29, at the unique Hazel Robinson Amphitheatre in the historic neighborhood of Montford.
Rumble: I feel like each album has a unique sound and personality. Is that intentional or does it evolve as you go?
Libby: More of the latter. When we're in the studio, we'll have conversations about how the songs need to naturally relate. We'll try to emphasize those connected threads, but mostly it's a product of us simply going through our lives. The different sounds are a product of us changing and listening to different types of music. It's a mysterious web of influences that make our songs sound the way they do.
Rumble: What were your original plans for 2020 and how did that change once the pandemic struck?
Libby: Originally, we were going to put out an album in spring of 2020, and then we were going to promote it on tour all year long. We had a ton of shows planned for the fall. I was also putting out a solo album in May of 2020 and was planning to do some touring around that as well. It was going to be a really full year. It turned out quite the opposite. We've been touring without much of a break since we graduated from college. The year 2020 was set to be par for the course, and I was actually grateful for a different type of year, though I don't want to de-emphasize how hard this year has been for some. It was challenging because we couldn't promote our albums by playing them for people. It's kind of like time stood still for a while and now it's resuming, so we're going to play our upcoming tour as an album release tour even though it's a year later.
Rumble: With all of you being from North Carolina, how have the people and landscape of this area affected your music?
Libby: We've been affected in an ultra local way. There was a lot of acoustic and Americana music in and around Chapel Hill where we all went to school. None of us grew up playing that type of music, except Joseph. Some of his family members played bluegrass, but the rest of us hadn't grown up playing that style. As college students learning about that type of music, it was really nice to be around so many mentors and bands from whom we could draw inspiration and influence. Our contemporaries were Mandolin Orange, Chatham County Line, Steep Canyon Rangers and Carolina Chocolate Drops, just to name a few. Through those people we heard about all these legends, some living and some not living from North Carolina, such as Bobby Hicks.
There was also an old time jam at this amazing music venue called Nightlight in Chapel Hill. I went there a lot when I was in college to learn fiddle tunes because I didn't really know any until I was 19. I grew up playing classical violin and went to some fiddle camps, but even that was learning fiddle tunes in a classical style. I didn't learn much about the technique of fiddle playing with a different approach to bowing until I was older. From the people at Nightlight I learned a lot about old time players like Tommy Jarrell and Bascom Lamar Lunsford. A lot of today's musicians play their tunes and carry on their legacy.
Rumble: Tell me about the band's songwriting method.
Libby: A lot of times the songs are somewhat or mostly written by one member at home, but then we have periodic songwriting summits. Often times, these sessions are several months before we think we want to record. We pass the guitar around and give each other positive feedback and comment on things we hear in a song that sound promising. We start to see how some of the songs are in conversation with each other naturally. We then pull out our respective instruments and start trying to learn them. Throughout that process, we tweak things and maybe change the structure of the song a little or try a new chord here and there. Occasionally we'll come together with fragments of songs and try to finish them together. The collaboration can take on multiple forms.
Rumble: You formally joined the band a few years after the other three. How did that come about?
Libby: Three of us were in the same scholarship program at school. I met Jacob and Joseph that way. They started performing Americana bluegrass style. I played the violin so they were like, "Hey, do you want to accompany us?" I was playing with them from the beginning, but I was a guest fiddle player for those first couple of years. Early on I liked that because I didn't have to commit to the band's identity. Maybe I just had commitment phobia, and I guess I was still learning what kind of musician I wanted to be. After a while, they started playing music full-time and wanted me to come on board. I gave up my free willing life of being a guest fiddle player and put on the proverbial wedding ring to join the band for real.
Rumble: Musically, who have been some of your female inspirations?
Libby: A huge one for me is Gillian Welch, and another is Anaïs Mitchell, both great songwriters and singers. Anaïs collects and finds old ballads and puts a spin on them. One of my early musical loves is Joanna Newsom who is a harpist. She's like a painter with her lyrics. She describes things so vividly and has a really unique word choice with a very distinctive voice. Joni Mitchell is another big one. Somebody who's a little younger and performing right now is Tamara Lindeman with the stage name The Weather Station. She's an incredible Canadian songwriter. Her latest album concerns climate change. It's not exactly protest, but it's about being alive during this time when we know the planet if falling apart because of us. She writes about the emotional side and internal dialogue she has with herself about that strange realization.
Rumble: Daniel and Ryan from River Whyless are joining you guys next Thursday in Asheville. Have you collaborated with them before?
Libby: We did a co-bill tour with them around three years ago where we played a stretch of shows with them. We really enjoyed them musically and enjoyed their company. I'm excited to see those guys again.
Rumble: Last year you released your first solo album. What did that mean to you?
Libby: It was liberating. Our band is really supportive of each other, and we have a very democratic process when we're making albums. But, sometimes there are parts of you that maybe aren't fully expressed because you're part of a collective and have to put some things away in order for all members of the group to be heard. I was starting to feel like things were welling up inside. I wanted to let that out. My band mates and I have a beautiful relationship, so I decided the best thing was to have another creative outlet. This album is all mine where I can make decisions that may not make the most sense for the entire band. I get to give life to songs. The solo album also gave me a chance to play music with some other people, which is such a deep and spiritual exchange. I've experienced that with my band, and the four of us also have an ability to communicate musically on a deep level. With the solo album it was fun to do that with a variety of musicians.
Rumble: This article is titled Let a Little a Light In after a song on your latest album. With all that's going on in the world, what are some ways you let the light in?
Libby: I got two kittens last summer and they've honestly brought more entertainment into my life than I even foresaw. They're so funny and strange, and I love watching them run around and do what they do and be their little half wild selves. I've been taking a lot of walks and trying to play more music with no particular goal or intention, trying to dig into the more playful side of playing music. I've been listening to the birds a lot more this year. I'm more aware of sounds and sights, the subtle things at the margin of the seasons. This spring, I've noticed how every day the buds will look a little different. I've noticed that more this year than ever before.
Rumble: Is there anything you want to say about the upcoming tour?
Libby: We haven't played music in front of people in so long. I don't even know how it's going to feel, but I know it's going to feel special and kind of emotional. Your readers know the feeling I'm talking about if they're live music goers. It's bizarre to not have had that experience for over a year. It will remind us what's it like to be near one another again. I can't wait to play something or sing something and be able to see the reaction on the people's faces right in front of me and hear their applause. It all may feel a bit scary and strange, but it's going to be overwhelmingly beautiful.
Mipso is comprised of Libby Rodenbough (fiddle, vocals), Jacob Sharp (mandolin, vocals), Joseph Terrell (guitar, vocals and Wood Robinson (Bass, Vocals).
Curious about their varied, adventurous and lyrically rich sound? Click HERE to listen.