Archived Rumble
Celebrate Our Earth Everyday
Wednesday, April 21, 2021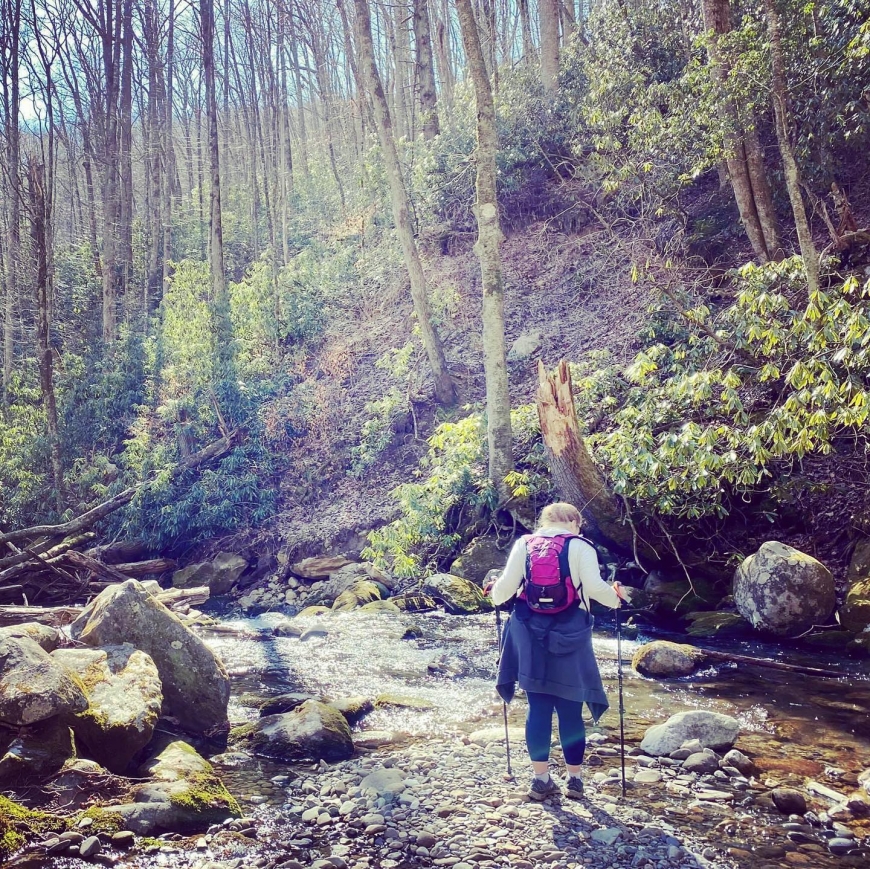 Since I started hiking in late 2019, I have a new appreciation for the land in which we occupy here in Western North Carolina.
I also feel a deep regret for not finding that appreciation earlier in my life. I grew up in the Northeast Georgia Mountains surrounded by dense forests and headwaters. I spent most of my childhood in the woods and in the water — building forts, finding treasures, and camping with family — but for whatever reason, I didn't stick with it when I got older.
After high school I moved away from the rural mountains and into larger cities to attend college. After college I just felt like I worked all the time and when I wasn't working, I was partying with friends or traveling or staying busy in every other way I could find. But now in my mid-30s, I've felt the need to slow down, release all that busyness and the self-imposed expectations of working all the time. I've traded in closing down the bars at night for early mornings on the trail with loved ones or in solitude.
It's become my church, my therapy, my meditation and my exercise. Even on mornings when I don't feel like getting out of bed at all, I know I'll regret it if I don't go and I know I always feel better afterward. There's just not much else in life that has that much of a guarantee. And it doesn't seem to matter what happens on the trail that day — it could rain, I could trip and fall, have wet and soggy socks, cramps, freeze, sweat, get lost, get stung, get bit, or complain the whole time, but somehow it still ends up being a good day.
Being on the trails more often has also made me a better steward of the land because I want to enjoy my hike without seeing garbage in the woods and in the water. I also want future generations to be able to enjoy the natural beauty of this area, but we know sometimes a few people can ruin things for everyone. It takes all of us doing our part to take care of the land we're so fortunate to occupy.
Be prepared when you go for a hike — pack in and pack out. Don't leave your banana peel or apple core. It can still take two years for a banana peel to decompose and in the meantime you could be attracting unwanted wildlife to the trail. I was accosted by a friend for throwing out a peel one time, because I didn't know any better at the time. Now I bring a plastic ziplock bag with me so I can store trash or food waste in it.
That leads me to another good point — we all have to educate ourselves and be willing to educate others about what it means to be a responsible Earth dweller. My 6-year-old nephew didn't understand why he couldn't pick flowers, break branches and take all the rocks home with him when we hiked, so I taught him about Leave No Trace and why it's important. Hopefully he'll remember that lesson from his awesome aunt when he's older.
April 22 is Earth Day and a great day to get together with like-minded people and clean up your neighborhood or your favorite walking trail, but really every day should be Earth Day. I don't think we can all be expected to carry around a trash bag on the trail every time but whenever you are able to make the trail a better experience for someone else, I encourage you to do so.
Lastly, if you want to connect to nature and you're feeling nervous to get back out there, you are not alone. My group of women hikers, which we've affectionately named Sloth Sisters Hiking Group (and have ordered shirts) welcomes newbies of any level to join us once a month for a group hike without any expectations other than getting outside. Our motto is "We'll get there when we get there" and "No sloth sister left behind."
We do this because we all had to start somewhere, we've all seen the benefits of doing it and we want more women to experience it. Some women have still wanted to do it on their own for a while until they feel comfortable hiking with a group and I get that, so I'll leave you with a few easy hiking suggestions to get you started.
Devil's Courthouse (Blue Ridge Parkway) — Yes, it is steep, but it is short and I think you can do just about anything for half a mile. Plus, the view is stunning and when you're heading back down, you can veer off to the right for a less inclined hike to Little Sam's Knob if you'd like to go farther.

Black Balsam Knob (Blue Ridge Parkway) — This was one of the first hikes my friend took me on and I loved it. Great views, only 1.5 miles and 350 feet elevation gain.

Moore Cove Falls (Pisgah National Forest) — This one was so easy I was able to take my dogs and my husband. It's a 1.2 mile trail to a really unique waterfall that you can walk under and the elevation is only 154 feet.