Archived Rumble
Mushroom Ravioli
Wednesday, April 07, 2021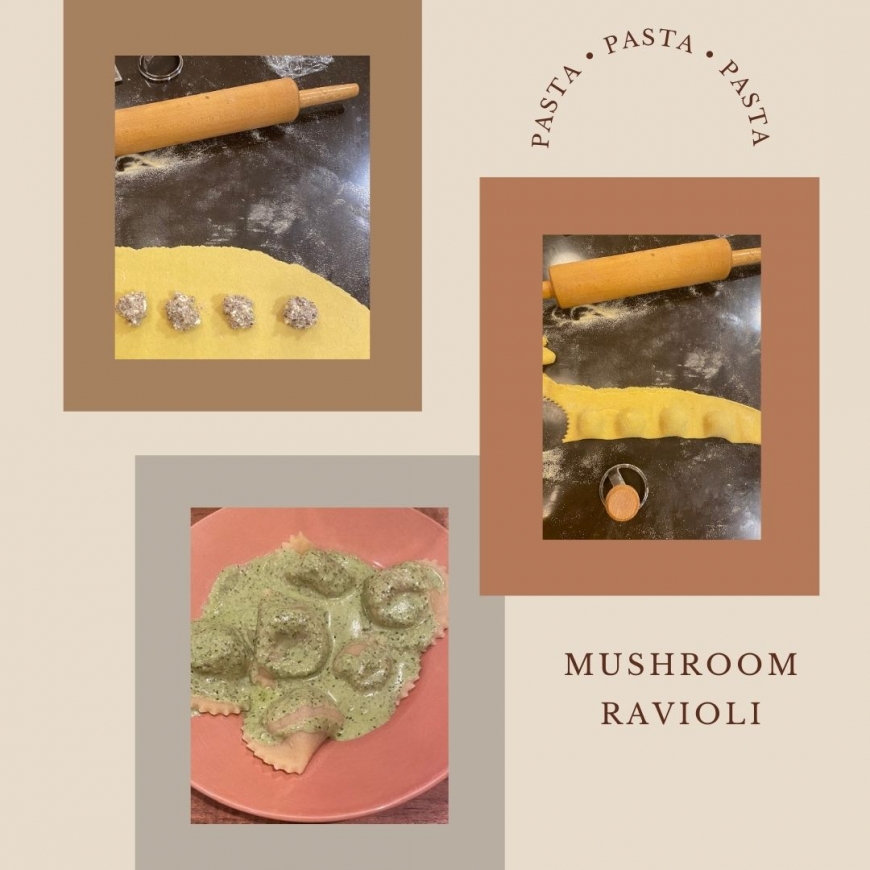 Pasta is a very important part of life. It's one of those necessities that lies alongside love, good conversation, music, books that envelope your soul, wine and rainy days.
Over the past year of quarantine, my boyfriend and I started a lovely and now strictly-held tradition - Pasta Mondays. Every Monday evening, we eat pasta. Let me tell you, the Sunday scaries have never been less of a problem. Everyone knows Mondays can be a struggle to get through. Pulling yourself from the carelessness of weekends devoid of schedule or commitment, into the regular routine of weekdays is inherently uncomfortable. Having something to look forward to on Monday nights makes all of that easier.
Sometimes we make the pasta, sometimes it comes out of a box. We experiment and invent new sauces, or add some veggies and cheese to a jar of prego sauce. Sometimes it's just roasted tomatoes, olive oil, salt and oregano. Regardless, pasta has the power to turn Mondays, or any day, into a bright, warm affair.
Ravioli makes for a particularly creative endeavor. They can be home to delicately planned components. But, they can also hold any of the miscllaneous ingredients in the pantry, or leftover in the fridge. This Mushroom Ravioli recipe has become one of our favorites. Be sure to make plenty so you can munch on them cold, right out of the fridge for the rest of the week.
Ravioli dough:
2 cups flour (semolina or all purpose)
3 large eggs
1 tbsp olive oil
1tsp salt
For the filling:
1 lb. mushrooms (any kind will work, I use a combination of portabella, shitake and white)
½ yellow onion
1 tbsp butter
1 tsp sage
1tbsp thyme
1 tsp salt
1 tsp pepper
4 cloves garlic
½ cup cottage cheese
½ cup ricotta cheese
½ grated parmesan cheese
Directions:
Beat eggs with olive oil and salt until even. Combine with flour until dough forms. (If the dough is too sticky, try slowly adding more flour. If the dough will not stay together, add one more egg at a time.) Knead the dough lovingly for 10 minutes, then cover and let rest.

Saute onion and butter in pan until onion is almost translucent. Add garlic, thyme, sage and sliced mushrooms. Stir regularly, until mushrooms are well cooked and liquid has evaporated from the pan.

Allow mushroom mixture to cool, then pulse in a food processor or blender with cottage cheese and ricotta cheese. (Using a machine is optional, the mushrooms can remain in slices and be stirred with cheese to combine.)

Stir parmesan cheese into the mushroom and cheese mixture, set aside.

Roll out the dough. Ravioli sheets can be rolled out using a rolling pin and floured surface, or a pasta machine. Roll the dough into several long, wide sheets (at least four inches wide). If using a pasta machine, the thickness should be 6 or higher. If using a rolling pin, roll the dough as thin as possible without causing tears.

Lay out one sheet and spoon tablespoon-size scoops of the mushroom filling along one side of the sheet (as pictured).

Fold the sheet over the scoops lengthwise and press down the dough in between and around each scoop of filling.

Cut out the raviolis with a knife, ravioli cutter or pasta cutter and store on a well-floured surface until boiling. Don't forget to add salt to your pasta water!
This ravioli pairs well with a light cream sauce, or a creamy basil pesto. An easy way to make creamy pesto is to add cream (or leftover cheese) and pasta water to pesto.