Archived Rumble
How To Throw Your Pooch A Party
Wednesday, April 07, 2021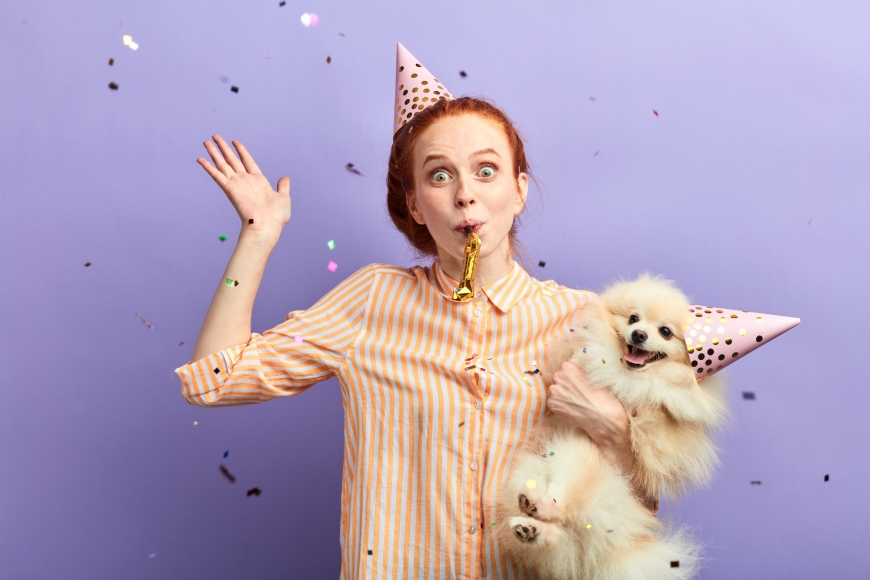 Man or woman's best friend, as cheeky as your pup might be, they'll never let you down when it counts and they're the one creature who is always overjoyed to see you. So don't you think you owe them a birthday celebration that will have them jumping up and down and round and round?
The best part about organizing this kind of doggy birthday party is that there's no pressure for it to be perfect. Whatever you come up with, your pooch is bound to be thrilled with the extra treats and attention, and since they don't know when their actual birthday really is… you're also allowed to be flexible with dates that suit you.
Your Venue
Firstly, consider your venue. Depending on whether this a party for one that you can host at home or a if you'd like to invite all of your dog's favorite playmates, you'll need to make some considerations based on how much space you need. If the weather is likely to be dodgy, look into hiring a dog-friendly pub or restaurant. Otherwise, the best locations to look at are parks or beaches.
Your Menu
It's a well known fact that the key to most canine hearts is through their stomachs. There are so many creative options to browse here, from making your own dog-friendly "pupcakes" to ordering a few specials online, making a trip to the local butcher's, or just stocking up on plenty of old favorites in the treat department, your four-legged friend is going to appreciate the feast that you lay on. You can even get such delights as dog-friendly ice-cream for summer birthdays, and find bone-shaped cookie moulds online if you look around!
Activities
Aside from the mountains of treats you've got lined up, you'll need to have some activities up your sleeve to keep your guests entertained. Dog-loving writer, James McMann at PaperFellows and OXEssays says "These can range from games of fetch to a bit of pool time if your pet is water-orientated, they'll be bound to love a ball pit or perhaps even an obstacle course for the more agile among them."
Themes
Now, your dogs might not spend so much time appreciating your efforts on this one, but their humans sure will. Make it a fun occasion for all, owners included by coming up with a theme. You can make this seasonal or based on cartoon characters if you'd like to dress your dog up a little bit (again loads of inspiration online) and you could even turn this kind of party into a charity fundraiser if you like. If your dog is a rescue, how about hosting a fancy dress contest in aid of your local adoption center. You can decorate with balloons and biodegradable confetti which are also fun interactive aspects of the day, and even have a treat-based treasure hunt - especially if your party is close to the Easter holidays.
The Essentials
Don't forget the essentials. You can have all the exciting parts of a birthday covered, but like with a toddler's party, it could all end up in tears if you haven't given some thought to some of the practical aspects of it. Veterinary expert at Boomessays and Essayroo Ruth Montoya recommends that "You'll need a lot of poop bags to avoid mess, water to ensure your guests stay healthy and hydrated what with all the running around they'll be doing, and also bear in mind that you ought to have some safe, quiet places for your canine friends to retreat to if things all get a bit too much."
Final Favours
However long your pooch-party lasts, there's going to come a time when all of your doggy pals and their owners will have to go home. Make sure you thank them all for coming with a personal party bag to take home. Some great ideas to include in these are some of your homemade treats, perhaps including the recipe for making them, or even some photo keepsakes of the day if you have an Instax camera to hand.
All in all, remember this is all supposed to be a bit of silly fun and your dog will enjoy it best if you are relaxed too!
Lauren Groff is a pooch-loving writer at Academic Writing Services and Ukwritings. Groff usually works in HR but she is also a successful career consultant at State Of Writing.