Archived Rumble
R&R on the Outer Banks
Wednesday, March 31, 2021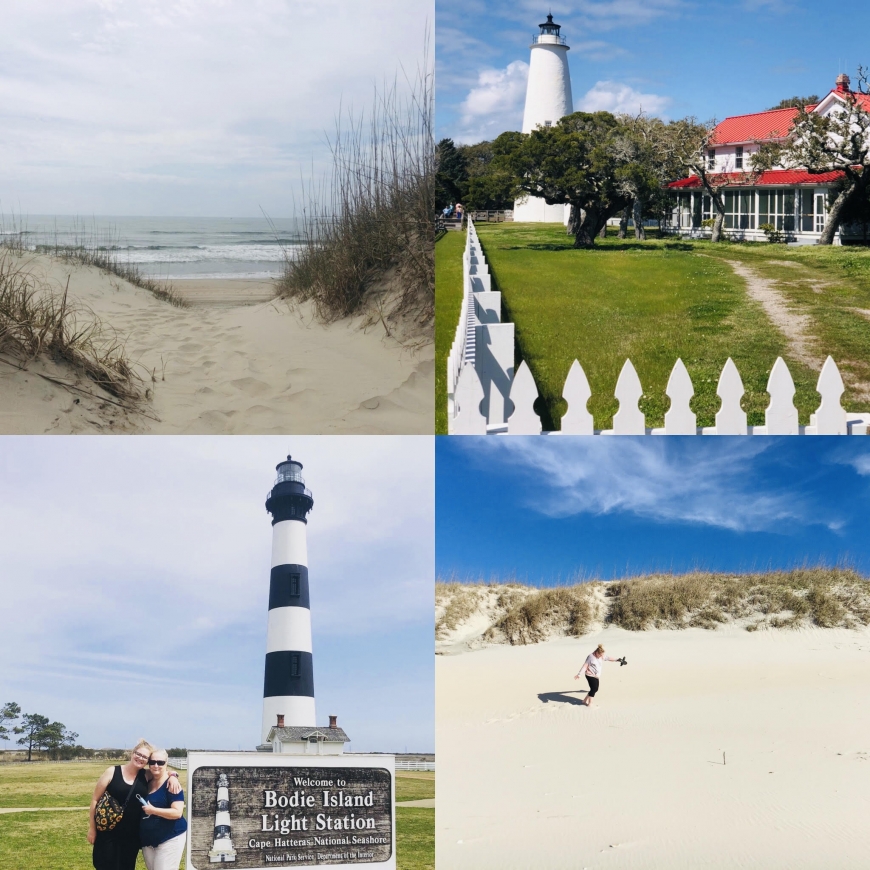 When my mom told me she wanted to rent a beach house somewhere for a week just for her, me and my younger sibling Leilah, I was pretty excited about the opportunity for a relaxing getaway with my favorite gingers.
I can't remember the last time we had a trip with just the three of us, but it was definitely past due after being so distant during the pandemic. Now that the three of us are all vaccinated, we're starting to see the light at the end of the tunnel. It felt like a secluded beach trip was in order.
We love the Gulf Coast of Florida, but we always go there. I suggested the Outer Banks — I've always wanted to visit but never have made the haul all the way to the North Carolina Coast. Mom and Leilah had never been either so it would be a new adventure. It also seems like Outer Banks would be more of a chill experience instead of the busy Gulf Coast during peak spring break times.
Mom found a great deal on a big house in Frisco, a little village on the southern end of Cape Hatteras Island. The house is called The Flying Kiwi, which was a selling point and we wonder what story is behind that name. It's so big that we all have our own rooms, porches and bathrooms — definitely the best way to get some R&R even if you're sharing a house with your family. The jacuzzi tub is also a plus for a hot soak after a day of sightseeing.
It's secluded for sure, over an hour drive from Nags Head as you come over the bridges to the Outer Banks. But the drive through the high dunes was worth it, and we're just a short walk over a dune to get to the beach. We've seen dolphins in the early mornings on our walks and we've seen deer grazing in the grassy dunes behind the house.
We've done yoga in the mornings and walked the beach after lunch and at sunset. We've made meals together and watched the full moon rise over the horizon at night. We've listened to the birds sing in the morning over coffee and the waves crashing while we put together puzzles. We retire to our rooms by 9 p.m. to binge watch whatever we want to or read a book. It's exactly the vacation that we have all needed.
Traveling to the Outer Banks in late March has its advantages and disadvantages — the roads and beaches aren't crowded and the weather is warm but not hot yet. However, many restaurants out on these remote islands don't officially open until April 1, so finding somewhere to eat or getting fresh seafood from one of the many markets has been a little more challenging. It's barely bathing suit weather but for three pale skinned freckled folks, we didn't mind the 70 degree weather one bit.
As a first timer, here are a few tips for visiting the Outer Banks in the spring.
Visit the 5 lighthouses on the islands. If you start on the northern end of the islands, Currituck Lighthouse is located in Corolla — this is also the beach area where you can search for the wild horses. As you drive south, Bodie Lighthouse will be the next stop in Nags Head. If you plan to visit Roanoke Island (something I missed this time around, you'll find the Roanoke Marshes Lighthouse, which isn't your typical oblong structure. As you reach the southern point of the island, you'll find Cape of Hatteras Lighthouse, the tallest of the bunch. Lastly, you'll have to take the hour-long ferry over to Ocracoke Island to see the Ocracoke Lighthouse, which is tucked away in a residential area.
Wright Brothers Monument — When I told Mom we needed to stop at the Wright Brothers Museum and Monument, she said, "Why would we want to see that?" Seriously? Why would you not want to see it? In North Carolina, we're pretty proud of being the first in flight — it's even on our license plates. It's absolutely worth seeing. There is a great walking trail all around Kill Devil Hill and the monument is on top of the knoll. It costs $10 a person to get into the National Park Service site but my mom had a senior park pass and we were able to get in for free.
Ocracoke Island — Since we're staying in Frisco, it's just a 10-minute drive down to the ferry that will take you over to Ocracoke Island. It's not that far away but the ferry has to go up and over to avoid all the sandbars so it takes an hour to get there. It was my first time on a drive-on ferry — it was an interesting experience. It was nice to be able to get out of the car and feel the ocean breeze. There is a walk-on ferry as well but once you get off the ferry, it's another 13 miles to the village so unless you have a bike, I recommend the drive-on ferry. The ferry is free, by the way! Like I said, many places weren't open yet on the island but we ate at a picnic table outside of Eduardo's Taco Truck and it was delicious. I recommend Eduardo's cheesy specialty tacos — the shrimp and jerked chicken were excellent. We also found Moonraker Tea Shop that had all the loose teas you could ever imagine. You can pick whatever you like and they will brew you a cup of cold or hot tea. This was a great place to pick up some unique gifts to take home.
Wild horses — Ok, this one we haven't done yet because it's a pretty good drive to the other side of the Outer Banks to look for horses. Also, my mom says I can't drive her Subaru Outback on the beach, even though you are allowed to drive 4-wheel drive vehicles in the sand. But we do plan to drive that way on our way off the islands Saturday so I might have to report back on whether we found what we're looking for on Corolla Beach. When you visit, remember you can book a horseback ride on the beaches or book a tour and someone can drive you around the beach to spot the wild ponies.
Food — We mostly made food at the house to save money, but we did find Conner's Supermarket in Buxton for all our grocery and drink needs. It's locally-owned, has a great selection of everything you'll need and a very friendly staff. When we arrived the first night we were in search of something close to Frisco to pick up and take back to the house for dinner. We found Tavern on 12 closeby and ordered the crab meat margherita pizza for dinner and it hit the spot after a long day on the road — plenty of crab meat, mozzarella cheese and fresh basil. At the recommendation of a friend who used to live in Nags Head, we ate a late lunch one day after seeing the Wright Brothers Monument at Tortugas Lie. They had outdoor seating and a caribbean style seafood menu. I had the mahi mahi tacos with black beans and rice and it did not disappoint. Nice selection of North Carolina beers too! Tonight we're going to finally going to get some crab legs and shrimp. We found Diamond Shoals Restaurant and Market in Avon that will steam them for you and we can bring them back to the house to enjoy.