Archived Rumble
Go For A Walk And Look For The Overlooked Truths: Remembering Barbara McRae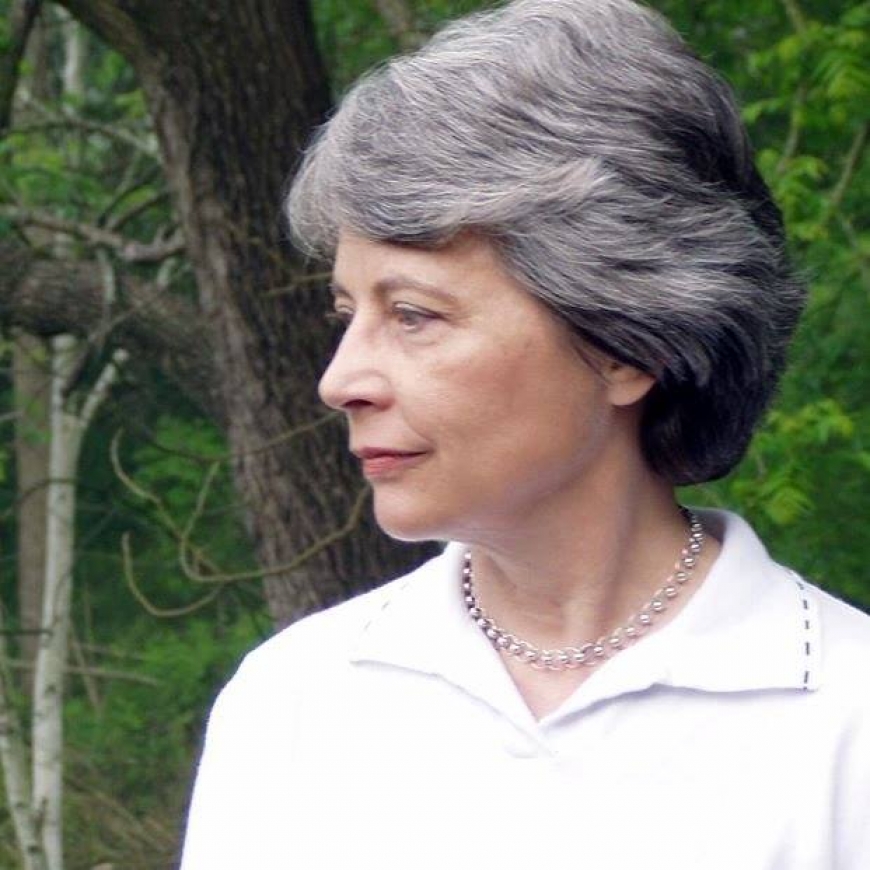 By Lilly Knoepp — Growing up in Franklin, Barbara McRae was everywhere. It felt like she has always been in the community. As long as I can remember, her columns with that distinctive headshot in the Franklin Press educated me about the often-overlooked facets of the county. "Backyard Naturalist" and "Know Your County" always grabbed me with new facts about a local plant or a story that I had never heard about the history of in Macon County.
McRae began her columns in 1976. Though she spent a few years working for Duke Power, she returned to the Press in 2003. She was the editor there for the next 10 years.
The best estimate for how many columns she has written is over 4,600.
Reading her work for so long is why, when I started interviewing McRae for Blue Ridge Public Radio, there was always an intimacy to our conversations. We were both women who loved Western North Carolina, journalism and history. What more do you need to have in common?
When we spoke before the launch of the Women's History Trail in Franklin, her excitement about digging into 19th century records was infectious. She wanted to start the trail – the first in the state – because she saw the absence of women of Western North Carolina in existing history books.
McRae shared that she was inspired to work on the project because of her own connection to this history. Her house in Franklin was built by Arrah Belle Wilson Johnson, the first woman editor and publisher of the Franklin Press. Johnson purchased the Press in 1931.Her house is now a stop on the Women's History Trail.
Rachel Hoskins, is the current publisher of the Franklin Press, continuing the legacy of women in journalism in Franklin.
She says she was struck by the amount of news and history that have passed through the walls of that house on Harrison Avenue.
Johnson ran the paper through WWII and the Depression. McRae ran the Franklin Press through the Iraq War and the Recession. Hoskins has been running the paper during a pandemic, historic election and insurrection.
But beyond these monumental times in history, it is significant that these women have played such an important role in running this local newspaper. In the 1930s, when Johnson bought the paper there were very few women in the newspaper industry but even now the majority of newsrooms nationally are made up of white men.
"Even today when I sit on boards around the state with the press association, the vast number of those people in those management/editor roles and publisher roles are men. So it's still a work in progress," said Hoskins.
Hoskins worked with McRae for six years. She describes her as a kind and generous editor who told stories that other people often overlooked. She says at each story's core was a belief in humanity and a focus on the truth.
Hoskins, in the lineage of McRae, was one of my first journalism bosses. She hired me to work at The Highlander and Crossroads Chronicle in the summer after I finished college at UNC Chapel Hill.
Those bylines were my first glimpse of what it would be like covering Western North Carolina and the hard work that goes into local news. During that summer, through a number of unforeseen circumstances, Hoskins had to shoulder much of the load after editors at both papers left.
At the time, I was an intern and I didn't understand the weight of her responsibility or mine. But now almost 7 years later, I do. Keeping the life blood of local news flowing is what women in this region have been doing for generations.
"I look at it as being in a position where I can help influence," said Hoskins. "Whether it's policy, whether it's the conversation. And how you can influence things to move forward and change for the good. It's also a huge responsibility as a publisher, as an editor, we're in a community that holds us responsible for what is printed on the page."
But with that responsibility comes the inspiration of being a part of something that is much bigger than yourself: your community and the world of journalism.
"I will tell you, personally, that nothing made [Barbara] happier than to see young women pursuing careers or strengths, especially in the media. She just was excited about that and excited about young women, such as yourself, who were looking to make an impact through telling stories," said Hoskins.
Hoskins shares that I'm not the only person who felt close to McRae before ever meeting her. She says she has been receiving calls, emails and notes from all sorts of folks who felt like they knew McRae through reading the Franklin Press.
"People formed a relationship with Barbara over 4,600 columns. So she was a part of their life - whether she knew them or not. And to me, that is just such a remarkable thing," said Hoskins.
This closeness through sharing our writing is one of the most treasured – and hard – things about being a reporter. I don't often write personal columns (like this one) but often what we are reporting becomes personal. When someone shares their story of a fight, triumph, or loss those experiences and lessons stick with you.
Hoskins says McRae was a very private person, but it didn't feel that way. In McRae's columns, it feels like you are walking along a trail with a friend who is giving you a free lesson about the nature surrounding you. Then after reading the column, you can share that knowledge with another friend out on a socially distanced hike. So, for McRae, this week go for a walk and learn about the world around you – and keep passing on that knowledge.
"She just had a way of looking at things more closely, more intimately, and seeing things that many of us would walk by and not notice the differences; Not notice that there was a butterfly, a specific bird on a tree limb or, a fox den that was along the way. We may catch a glimpse and then move on because we're in a conversation with other people walking with us, or we're in a conversation in our heads, but she was there to observe," said Hoskins.
These are the lessons that I will hold and try to pass on from McRae: To pay close attention to the world around us. And that we should use our strengths to tell stories about the history, the truth and the often-overlooked complexities that make Western North Carolina special.
Leave a comment
1

comment
Wonderful, inspiring story!!

Thursday, 08/19/2021