Archived Rumble
The Plant That Refuses To Die
Wednesday, March 17, 2021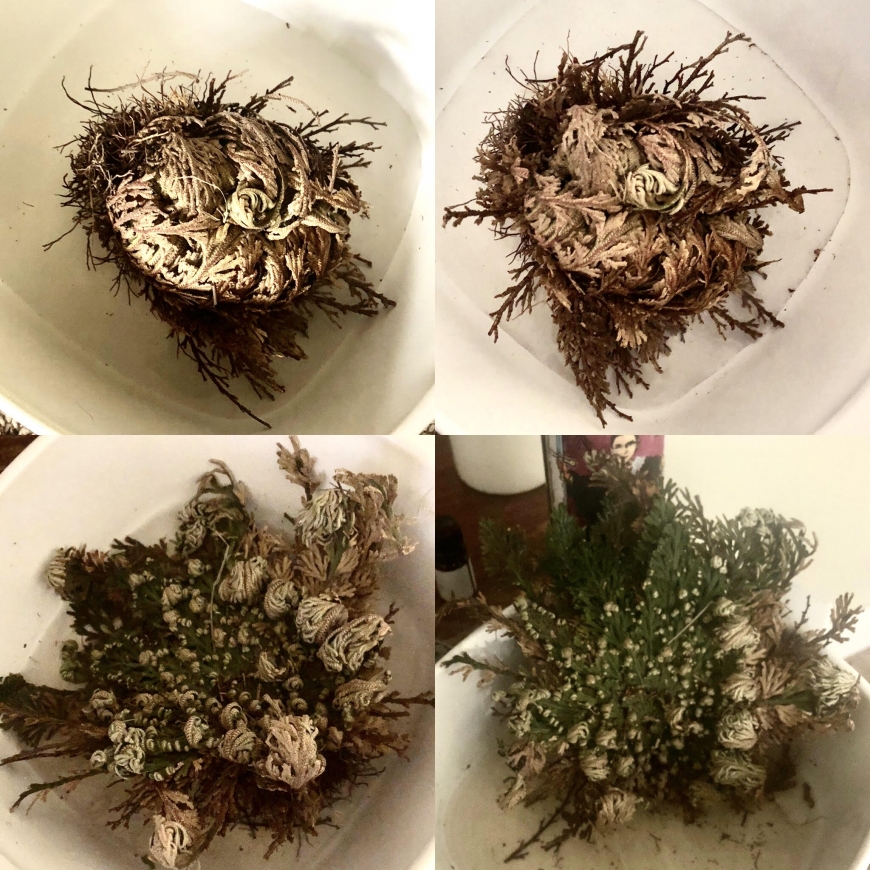 Rose of Jericho blooming throughout the day.
Jessi Stone
Well, I finally found a plant I literally can't kill.
It arrived in a monthly subscription box I signed up for a month ago that contains woo-woo stuff — candles, charms, crystals — and then I pulled out this baggy that contained what looked like a big tumbleweed ball.
"What the hell is this?"
I read the card that came with it, telling me to place the tumbleweed looking plant into water and watch it bloom. I placed it in a bowl of water and slowly but surely the tight ball began to unfurl and the brown fern-like stems began to turn a beautiful dark green.
Wow, finally a plant that can thrive in my presence. For years, I've felt cursed with a black thumb. Coming from a family of farmers and some of the best gardeners in the North Georgia mountains, it's always felt like a disservice to my heritage not being able to grow a garden or even keep a houseplant alive.
My attempts at joining a community garden have been fruitless — and vegetable-less. My family has stopped buying me plants. My mom won't even give me one of her tomato plants anymore. So as much as I've always wanted to be a plant person and grow my own garden, it hasn't seemed to be in the cards.
So seeing this Rose of Jericho go from a dried out mess to a beautiful expansive plant warmed my heart and piqued my curiosity. Nicknamed the "resurrection plant," Rose of Jericho holds significance in many religions and myths. And according to the Houseplant Resource Center, many in the scientific community study it because they believe it has cancer-fighting properties.
I can't think of a more poetic plant, symbolizing growth, rebirth and resilience as we move into spring and hopefully out of this god-forsaken pandemic. It shows us that we can withstand long periods of drought by turning inward to protect ourselves until we are once again submerged in water.
It shows us that it's OK for the old version of ourselves to die to give way for a new version of ourselves — one that is stronger and more beautiful each time it comes back to life.
Rose of Jericho is also known to treat many ailments. Traditional Egyptian medicine uses it to treat fatigue and uterine hemorrhaging. In Mexico, it is used to quicken labor, and the speed of the plant's revival is sometimes used to predict the outcome of childbirth. It is sometimes used to treat colds and sore throats in herbal medicine, and the plant is currently being studied for its antioxidant and anti-cancer properties.
They are apparently easy to come by if you're interested in adding a few to your houseplant collection. And here's a guide to how to care for Rose of Jericho. https://houseplantresourcecenter.com/2019/07/watch-the-magic-unfold-how-to-care-for-rose-of-jericho/
I've enjoyed having it in my house next to where I do my morning meditation. It's a reminder that we all bloom differently and in our own time and space. I think we all need that reminder right now.