Archived Rumble
WCU Women Create Branch of University Women
Wednesday, March 03, 2021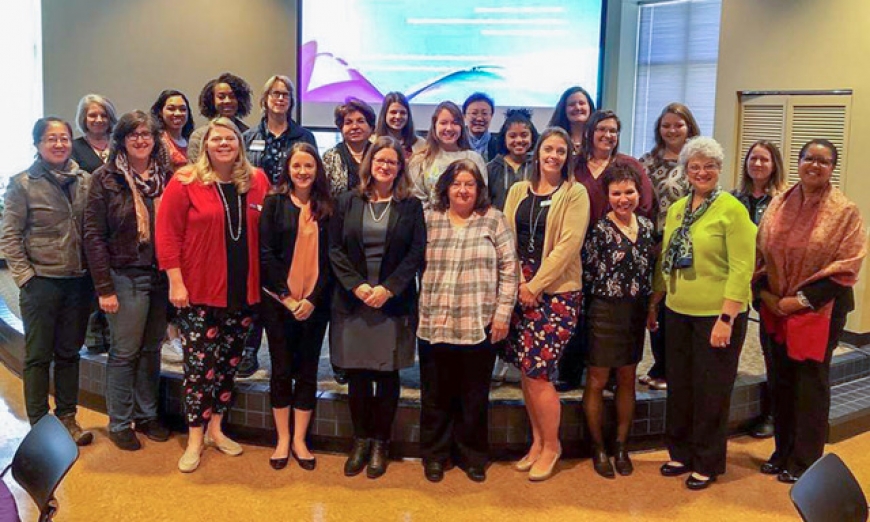 The American Association of University Women was founded by a group of female college graduates in 1881 to advocate for women and help open the doors of higher education. One of the group's first research endeavors involved an 1885 study disproving the prevailing myth that college impairs a woman's fertility. One of its more recent studies? The economic impact of workplace sexual harassment.
AAUW was founded by Marion Talbot, who became the Dean of the College of Women at the University of Chicago and a leading figure in higher education, and Ellen Swallow Richards, the first woman to earn a degree in chemistry and a leader in the field of home economics.
Until recently, there was no branch of AAUW in Western North Carolina. The journey toward creating one began five years ago when Dr. Mickey Randolph, professor of psychology, and her best friend Dr. Carol Burton began discussing the idea of an AAUW NC university partner affiliation for the WCU campus. They created the affiliation, and found enthusiastic interest on campus from faculty, staff and students, from whom they organized their first board.
Randolph had come to WCU 32 years ago to restart one of its graduate programs.
"In addition to teaching and research, I strongly believe in the service aspect of being a faculty member at WCU. I volunteer for several agencies in the region and have long been interested in women's issues and the AAUW organization's mission," she said.
As an affiliate of AAUW, the group was able to start a mentoring program for faculty, staff and students. This allowed women in the university to mentor each other on topics like resume writing, interviewing, applying for jobs and salary negotiation. The group also sponsored research sessions and held informal socials for women on campus to meet, something that was especially valuable for new faculty and staff.
About two years ago the group decided to apply for official branch status within the AAUW. The formalization process succeeded, and WCU is the newest branch in the state of North Carolina. Branch status allows the group to have its own members who pay dues, which helps it to organize different types of events for women in the region and possibly a scholarship in the future. Under branch status the group has also added an official student organization that sponsors programs for students on campus.
Last year, the WCU branch was involved in planning the AAUW NC annual conference, which was supposed to be held in Asheville in March 2020, but it was canceled due to the pandemic. Throughout the year the group has adapted to pandemic restrictions and this spring will host a four-part virtual series called "Pathways to Leadership." The series will include talks with women from law, politics, education and health care. The talks are available for anyone to attend, registration is available at the group's website.
"We are a part of the AAUW organization because we are very invested in its mission: gender equity, economic security, education, and advocacy. We are also strong proponents for the funding, research and mentoring this organization provides for women," said Dr. Mickey Randolph, founder and president.
The AAUW is committed to addressing issues that affect women today. This includes closing the pay gap and supporting fair-pay legislation, ratification of the Equal Rights Amendment, legal policies protecting people from sexual harassment and discrimination and advocating for women socially, politically and economically. It is also involved in increasing the number of women in STEM fields and providing funding through grants and fellowships.
Dr. Teri Domagalski is a professor of Management at WCU and a board member of the AAUW WCU branch. Her research has been in understanding the behavior and emotions of people in an employment context, management and organizational studies. When women on campus began organizing the local branch, she says, she pleaded to be given a spot on the board.
"I wanted to be an integral voice in promoting AAUW because of both our local initiative, which was to offer mentoring to females around campus, and because what we envisioned for our branch chapter was aligned with the advocacy work of the other chapters across the state of North Carolina," said Domagalski.
She says it is important to have a branch here in WNC to provide an avenue and outlet for those interested in advocating for, empowering, and supporting women in the region.
"I have a strong desire to champion and coach females who aspire to positions of leadership. Although it is not my goal to be a leader that is out front, I hope to be a resource to other women who possess the will and the skill to be in a position of influence," said Domagalski. "AAUW is one avenue that affords me the opportunity to realize my objective."
To sign up to be a member of the local branch of the AAUW, or to support or participate in the group's activities, visit https://aauwwcu.wixsite.com/aauwwcu.