Archived Rumble
Eating for the world around us
Wednesday, February 24, 2021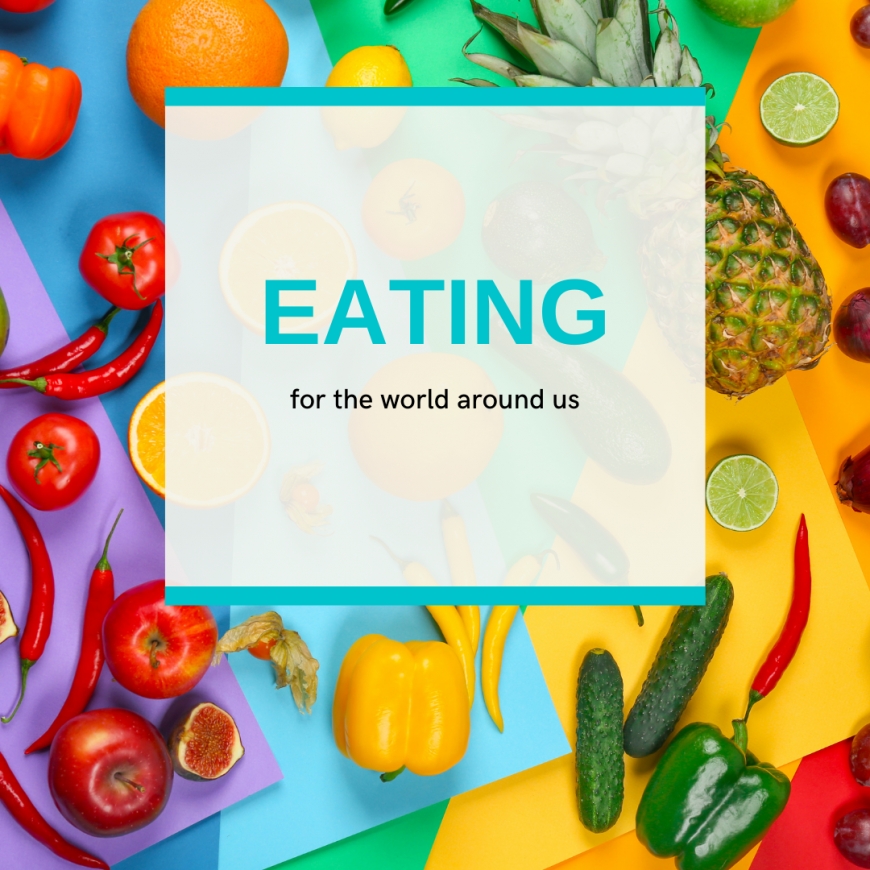 Eating, whether you're food obsessed like me or not, is a huge part of our lives. At least three times per day, every day we are alive, we get to decide what we put into our bodies. Influencing that decision are taste buds, hormones, cravings, nutrient needs, cooking and baking impulses, culture, friends, family, location, money and more.
Over the course of this year of quarantine, with more time for reading, gardening, listening to podcasts and going down research rabbit holes, plant based eating has become a hugely important part of my life, my rituals, and my intentions.
My first forays into vegan/ vegetarian eating came in college with several failed attempts at being one or the other for an entire lent season. This had little to do with any religious significance of the season and everything to do with shedding quick pounds (sorry, Jesus). Then, in my super-senior year of college, after most of my friends had graduated and I had more free time to focus on my own health, I ate almost completely vegan for the year.
Later, about a year after graduating, I worked in Costa Rica for several months at a surf camp. In exchange for room and board I taught yoga classes and cooked meals. The camp offered only vegan complementary food, so it was there that I learned, with the help of my longtime, vegan coworker Trixi - a Swede goddess - the ins and outs of vegan cooking, eating and grocery shopping.
Afterward, I moved back home and met my boyfriend Dustin, a strict vegetarian for almost 10 years. It was a natural transition from full-vegan life in Costa Rica to vegetarian life here in the mountains.
Eventually, quarantine came around and like most people Dustin and I turned to the backyard for a garden. I had grown some of our fruits and spices for the surf camp, but the year round warmth and fair weather of Costa Rica is kind to the beginning gardener, much kinder than these old mountains.
We had a go at it, planting what I came to find out was an ambitious, and poorly organized plot. Brussel sprouts, peas and tomatoes on the first two rows; varieties of squash on the next two; a row of cucumber and more peas behind that; watermelon, cabbage, carrots and beets; and a few random stalks of corn, all within a 15x20 foot plot.
A combination of groundhogs, rabbits and deer ravaged the pea, brussel sprout, carrot, beet and cabbage sprouts each time they started to grow. The watermelon and cucumber never even flowered. Hornworms ate several of the tomato plants. But, we ended up with an abundance of summer squash, zucchini and butternut squash, and one or two good rounds of tomatoes and carrots.
Most importantly, we enjoyed it. I felt like a little kid every time there was another squash to pick. It was exhilarating and made cooking that much more exciting. It also pulled me into a rabbit hole of researching and investigating the impact food has on everything. Slowly I began to understand why it was important for me to eat more plants, and less animal products. Eventually I was left with the feeling that it was inexcusable for me to eat any animal products at all.
I could go into the science here, try and relay all the facts I have learned about animal agriculture, the effects of animal products on health, and the fate of factory farmed animals that are now all jumbled in my head. But I am not a scientist, and would ultimately fail to relay the information accurately. The bottom line is that large scale animal agriculture is worse for the environment than plant agriculture. Each calorie of animal product takes more resources and is less efficient to create than a calorie of plant product.
My path meandered from there. I probably would never have become a plant based eater had I not first been interested in my personal health. I would probably never have maintained a plant based diet had I not learned of the environmental impact of my food choices. And I likely wouldn't have found greater emotional depth within myself if I hadn't gone down the rabbit hole of investigating those environmental impacts.
I'll be grosely honest, I have always found it frustrating when money and resources are spent to help or advocate for animals while there are humans out there starving, struggling and dying. I sometimes still do. Animals were never what plant based eating was about for me. But as I learned more about what animal agriculture production does to the environment, my sympathy for other humans in this world (those that will be more harshly impacted than me by environmental degradation) led me to understand my sympathy for animals bred into existence for animal agriculture. Compassion is not restricted to one subject or another. Though resource allocation is definitive and finite, compassion is not and I found within myself the ability to care about fellow humans, the planet we inhabit and the animals caught up in this system.
I think of my cousin Max, who at 10 years old has been eating vegetarian for a few years now, and I admire her emotional bandwidth. Instead of having to go through some research trek across the interwebs of health and environmentalism, she knew from the start - animals should be treated better. It was simple for her. She knew that she could withdraw her participation from the animal agriculture system, without it hindering her ability to do good in any other fashion. In this instance, doing good for animals (less animal agriculture) means doing good for humans (less environmental harm).
So while I came for the health, I stayed for the environment and soon discovered greater sympathetic depth within myself. Plant based eating has become an all-encompassing aspect of life, one I am thankful for.
I would never judge another person for what they eat. I understand that I have likely done more harm than good to the world and people around me up to this point in life. And I am not likely to ever have the clarity or resolve Max does. I will never be good at saying no when people provide food for me and I have yet to turn down my mother's annual Christmas Lasagna. To me, food is an invaluable part of culture, travel and human connection. I never want to miss out on trying new foods in new places.
But for the majority of my days, three times per day, I will do my best to eat plants, not animals. And I will enjoy the intention, the ritual and the meaning I draw from it.