Archived Rumble
The importance of ritual and solitude
Wednesday, February 24, 2021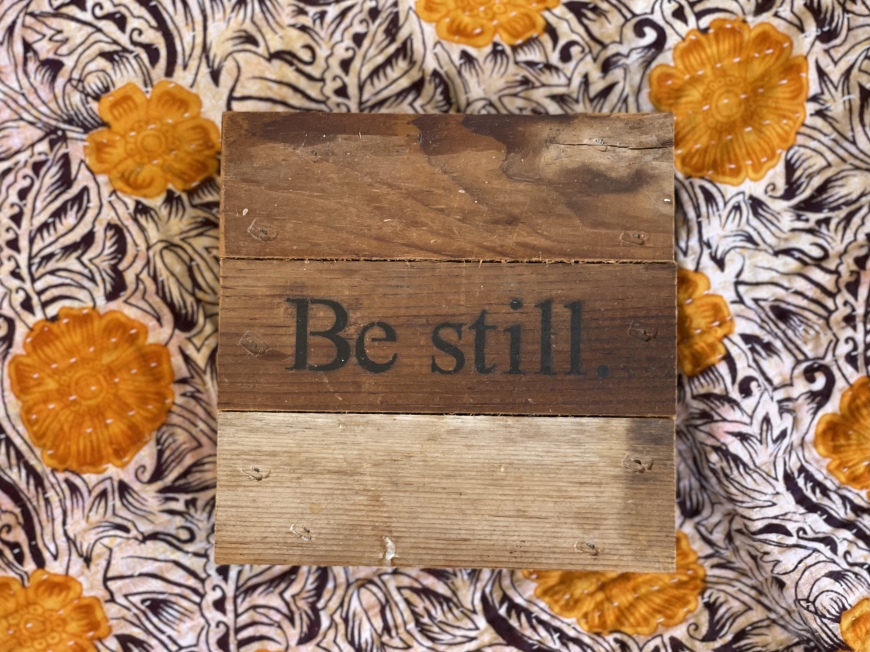 We wanted to tell you about how to start your own ritual but also wanted to share with you the rituals we've created during the pandemic. These simple acts of self-care have helped us manage our thoughts and stay mindful during such a chaotic time.
Susanna Shetley
Before the pandemic hit, my alone time was sacred. It was always in the morning before I woke my kids up for school. I would awake at 5:45 a.m. to read, journal and spend time with my thoughts and the whispers of the universe. It was a daily ritual and a lifeline, especially after my mom's death and my divorce.
Since the start of COVID, I've had trouble maintaining the regimented morning quiet time I'd come to love. Having children home full-time for remote learning and now with some of them home for virtual school on their off-weeks, life in general feels all over the place. Further, my boyfriend and I bought a house and blended two families. We also got a new puppy, but instead of getting overwhelmed, I'm trying to embrace the chaos and find quiet time whenever I can. Perhaps one day it will go back to being a morning regimen but for now, I'm happy whenever I can get it.
During those dark days after my mom passed, I realized the only way to fully grieve was to be alone. While I appreciated and still do appreciate encouragement from friends and advice from those who've had a similar experience, true healing began once I embraced solitude. Only then were the memories clear, my new reality processed and the tears raw.
There's a passage about "ritual" that resonates with me. When I found it, I'd already begun this ancient practice, but these words solidified my resolve. This excerpt is from a goal-setting book called Rituals for Living: Dreambook and Planner by Peter and Briana Borten.
"Historically, we had rituals for everything that mattered. But ritual is gradually disappearing as people find they're too busy for it or can't see the value in it. Even a ritual as simple as enjoying the peace of a new morning is so often sacrificed for whatever new alerts our phone might have for us. There's more depression and anxiety than ever before, more uncertainty about where we fit in, and yet, the opportunity to reconnect is always available. Ritual brings order, specialness, context, and focus to our lives."
My quiet time has always had a ritualistic, intimate rhythm. Below I explain what my quiet time looked like prior to March 2020.
I began by silencing my phone and removing my shoes. I would pour a cup of coffee and fill a Mason jar with water and juice from a ¼ lemon. I put my beverages beside my books so I didn't have to leave the space. I would then light a candle and add essential oils (usually lavender, rosemary and peppermint) to my diffuser. Then, I put a couple drops of Frankincense on one palm, rubbed my hands together and inhaled deeply three times.
After these initial steps, I began my true quiet time, which consisted of journaling, thinking, short bouts of writing, and reading inspirational or spiritual material. Once I felt relaxed and grounded, I sat in the quiet and breathed deeply, mindful of the smells and sounds around me as well as anything going on in my body.
I then folded a blanket into a rectangle and placed it on the floor. I used the same blanket every day, one from the Middle East. My sister gave it to me as a gift. I knelt on the blanket and prayed for a long time, always beginning my prayer in gratitude. At the end of the prayer, I bowed down and touched my forehead to the ground (as one would do in a Hindu temple). Lastly, I said the Lord's Prayer aloud in a whisper, crossed myself, put away the blanket and blew out the candle.
I like combining rituals and practices from multiple religions and ideologies. I also like to use specific essential oils that help with grounding and relaxation. Today, quiet time looks different. It may be 20 min. alone in the house or on the porch while the kids play outside or longer periods of quiet time when they are at the other parents' house. Some days I don't get any quiet time, but that's okay. I know when life settles into some normalcy, I'll be able to reinstate the ritualistic nature of my alone time.
There's simply too much noise in this world, both from external stimuli and from our own thoughts. If we don't consciously turn down the volume, we will become overly desensitized, even completely losing the ability to connect with ourselves, with others and the natural flow and beauty of life.
When I was young, I wasn't sure what to do in the absence of others, so I filled my time with TV, social events or other external noise. I confused being alone with being lonely. It seems the older I get, the more I enjoy and appreciate being alone and embracing the heightened awareness it offers.
As Albert Einstein mused, "Solitude is painful when one is young but delightful when one is mature."
I couldn't agree more.
Jessi Stone
If someone would have told me five years ago I would be getting up early in the morning to have an hour to meditate, journal, study tarot cards and do yoga, I wouldn't have believed them. Before the pandemic and before I started practicing mindfulness in my life, I would sleep as late as I could, rush to get ready and rush out the door.
Eventually I got tired of operating on auto-pilot and feeling like I had no control over the chaos in my life and all around me. I didn't realize I was starting a ritual — it just kind of happened slowly over time. It started with me trying to meditate for 5 minutes every morning. I literally had to set a timer on my phone because 5 minutes left like forever and it felt uncomfortable to sit for that long so sometimes I just laid down. Then I started adding a short yoga routine — a short video from YouTube (Yoga with Adriene is my favorite because she has a cute dog named Benji) or just some yoga stretches I liked that I worked into my own flow.
Then I started wanting my meditation and yoga space to be more inviting so that I would want to get up early to go to that space. So I turned the old antique desk in my extra bedroom into an altar. You can have whatever speaks to you in your altar but they generally include candles, fresh or dried flowers, crystals, incense burners, etc. I guess some would say my altar is pretty woo-woo, a tribute to the divine feminine. Aside from my candles, incense and crystals, I added my grandmother's jewerly, artwork given to me by female artists that inspire me, pieces of my mother and sister, aunts and friends so that no matter if they are dead and gone or just hours away, they are always with me.
Hannah McLeod
My quarantine comfort is a ritual that has been with me for almost 10 years now. Coffee and the news. That might not sound comforting. Heck, most people probably drink coffee while reading the news multiple times per day. But the importance of ritual and solitude are all about intention. Understanding what makes you feel grounded and practicing that regularly.
This ritual started in college which, like any new environment can be, was a shock to my whole system. All of a sudden you're in a new place, with new people, a new roommate, a new level of academic responsibility. As an introvert, living in a room with someone I had yet to get to know would have been challenging enough on its own. So every morning that I had class, I would wake up early, walk to the library to be there when it opened at 7 a.m., buy a coffee, go to the same table on the far side of the second floor, sit, drink coffee, eat breakfast and read the news. I became utterly addicted to this time of the day.
The familiar quiet of the library, being completely alone even if there were people around. Open time to adjust and prepare for the day without the social pressures of making friends, or participating in class, that can weigh on an introvert. Throughout my time at Appstate so many things changed in life, but I never abandoned my morning library date with myself. My coffee cup became reusable, my breakfasts went from vending machine cliff bar to elaborate vegetable sandwiches, friends and majors came and went, news reading time got taken over by the need to read or write for class. But, the morning ritual stayed.
After college things changed and with odd jobs and little regularity to life, that ritual and time for solitude slipped away. After a few weeks in quarantine, I realized one night as I was laying down for bed that I had just prepared coffee for the next morning in anticipation of getting out of bed, only to relax, drink coffee and read. I realized I had been doing this for the past several days.
The comfort of ritual and solitude cannot be overstated, and during this time of quarantine and uncertainty, I have welcomed and cherished the return of my morning routine. And while I yearn for the big, welcoming halls of a library, the kitchen table will do perfectly for now.