Archived Rumble
Q&A with President of HCC Dr. Shelley White
Wednesday, February 17, 2021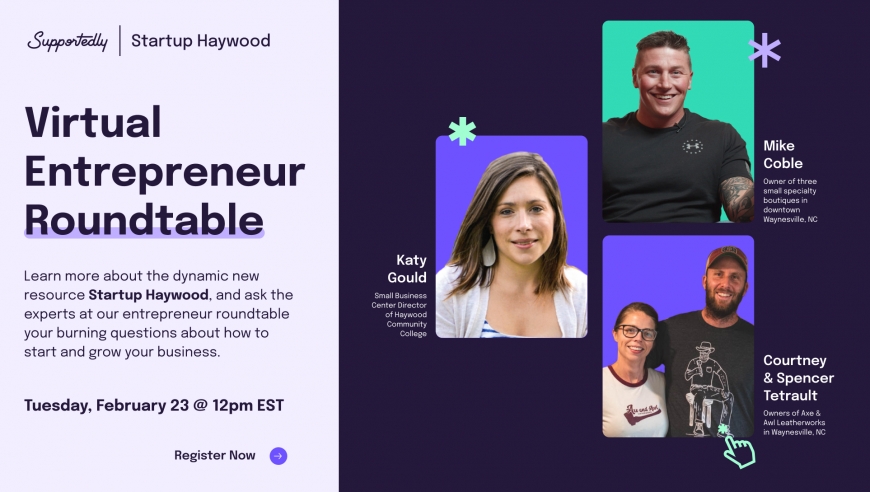 Haywood Community College is excited to offer a new online resource for small business owners and those hoping to start a small business. Rumble sat down with Dr. Shelley White, president of Haywood Community College, to learn more about this new endeavor.
Rumble: What can you tell us about this new resource offered to small businesses?
Dr. White: Startup Haywood is an online portal for entrepreneurs to connect quickly and easily to a variety of resources to support their business needs. This includes on-demand training, a community events calendar featuring free webinars and workshops, direct connection to HCC's Small Business Center, and inspirational stories of local small business owners who've benefitted from these services. The site will be beneficial to anyone who has a business idea to owners of existing businesses who are ready to take a next step or explore a challenge they are experiencing.
Rumble: Why did your team feel this was something that was needed?
Dr. White: The seeds for Startup Haywood were planted in 2019 when a group of community college leaders from WNC met with Catawba Valley Community College president, Garrett Hinshaw, and MC Belk Pilon with the John M. Belk Endowment. Providing a visible, engaging online portal for business support resources was identified as critical for truly reaching our local entrepreneurs. The community colleges in the western part of the state were identified to launch "hyper-local" portals to connect community entrepreneurs with the resources in their areas. The increase in use of technology throughout the pandemic has further demonstrated the need for engaging online resources and Startup Haywood fits the bill. We are very appreciative to JM Belk Endowment for their support for this project as well as our local partners across Haywood County and our region.
Rumble: When will it be available to small business owners?
Dr. White: Startup Haywood is currently live and available to the public! We are hosting an online launch event at noon Tuesday, Feb. 23, for those who would like a more detailed overview of the site. All are welcome! Individuals can register HERE.
Rumble: What else would you like community members to know about the launch?
Dr. White: As I mentioned above, Startup Haywood is a place for ALL entrepreneurs - those in-business, changing businesses, and those with new ideas. I would encourage those who have an interest to explore the site and watch the videos from our local business owners. We look forward to connecting with our community through this site.
Haywood Community College is proud to support economic development within our community through the services offered through the HCC Small Business Center. These free resources help to move businesses forward, address challenges, and connect with each other.