Archived Rumble
PINK Adventure Tours Adds Gatlinburg Loop
Wednesday, February 10, 2021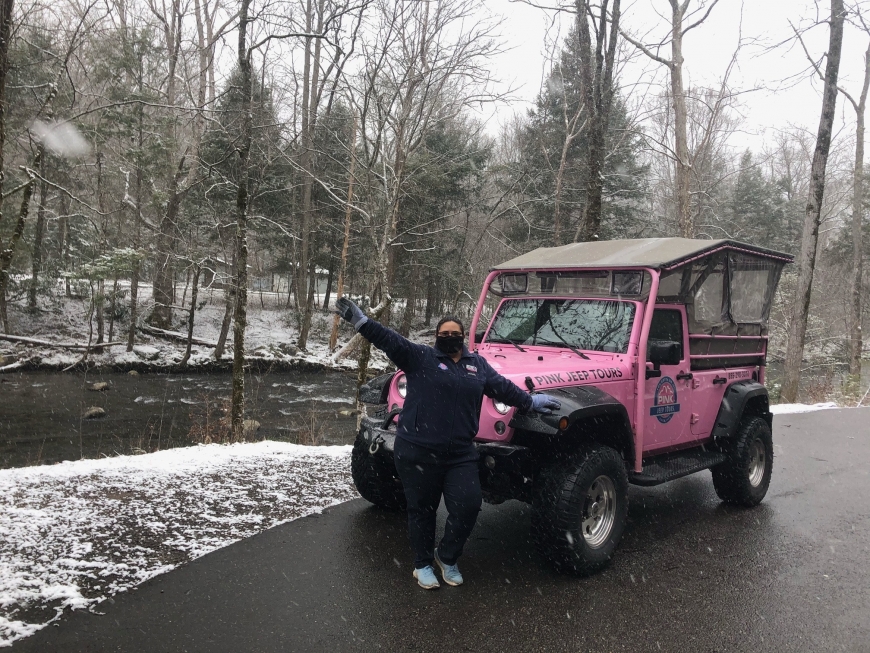 The 2.5-hour long tour offers visitors the opportunity to explore new sites including the cascading mountain streams at Cataract Falls and LeConte Creek, as well as a visit to the historic Noah "Bud" Ogle cabin. The tour will end with an off-road excursion on the popular Bear Track, which was built exclusively for use by Pink Jeep Tours.
Led by knowledgeable and enthusiastic Adventure Guides, the tour will begin in Pigeon Forge for an off-the-beaten-path cruise through the lowlands of the Smoky Mountains, including two to three stops for pictures and on-foot exploration.
During the tour, Adventure Guides will discuss the history of Smoky Mountain's wildlife, flora and early settlers while navigating passengers through the park in their signature pink Jeep® Wranglers. Accessing new pathways, guests of this new tour will have a higher likelihood of a rare black bear sighting.
"Showcasing lesser-known attractions in popular travel destinations is what Pink Adventure Tours does best, and we're grateful to have access to this brand-new route that showcases the hidden gems of the Smoky Mountains," said John Fitzgibbons III, President of Pink Adventure Tours. "Not only will visitors have access to new and lesser-known sites, but they will also have the benefit of tour personalization and expansive wisdom provided by our Adventure Guides, giving each group a unique and memorable experience."
Throughout the COVID-19 pandemic, Pink Adventure Tours has offered residents and travelers alike the opportunity to experience bucket list worthy adventures in a safe, open-air format. As with all other tours currently offered, guests of the Gatlinburg Loop Smoky Mountains Tour will be required to undergo temperature checks upon arrival and wear their masks throughout the tour to ensure the health and safety of their party and Pink Adventure Tours' staff.
The Gatlinburg Loop Smoky Mountains Tour will be offered year-round in vehicles ranging from Pink Adventure Tours' six to eight seat options and will depart every hour on the hour Tuesday through Saturday from 9 a.m. to 3 p.m. EST.
Those interested in purchasing tickets can visit https://www.pinkadventuretours.com/smoky-mountain-tours/gatlinburg-loop-smoky-mountains-tour/ to book online or purchase tickets in the sales office, located at 2611 Parkway in Pigeon Forge, TN.