Archived Rumble
Feminist Gift Guide: Six Local Women-Owned Shops To Support On Valentine's Day
Wednesday, February 10, 2021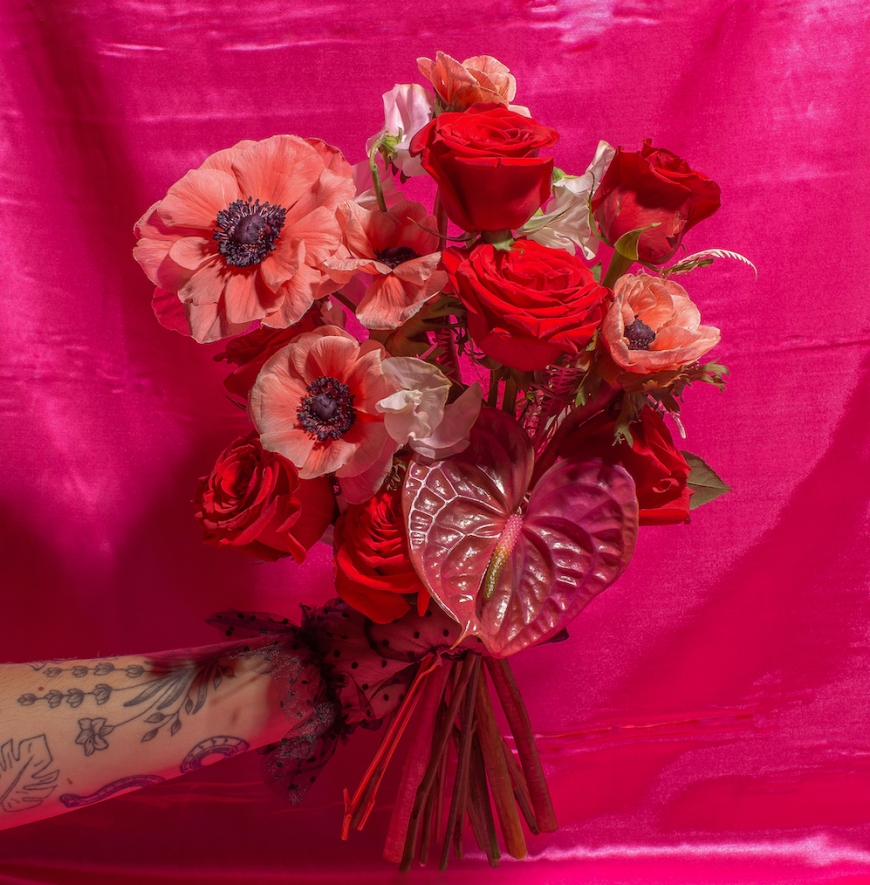 By Leilah Stone | What do prom portraits, CBD chocolate truffles, and cherry pie scented candles all have in common? They're all perfect Valentine's Day gifts available in the stores of Asheville's women-owned businesses. Shop this guide for some of the area's most creative designers, illustrators, and retailers whether you're looking for something more traditional like flowers and chocolate or a unique find off the beaten path like bespoke jewelry or a hand poured candle.
Flower Power
Whoever views flowers as a Valentine's Day cliche is sadly jaded. Flowers are more than mere decoration or a default gift choice—they reduce stress, aid in compassion, and ease anxiety — qualities I'm sure we can all benefit from. Pollen is a female-owned flower shop and design studio that explores "passion through florals" with unique bouquets crafted from local blooms sourced from Asheville farms.
Maybe flowers aren't your thing but houseplants are a different story. West Asheville's Palm + Pine has a solution for all the plant parents out there: A monthly subscription box that will deliver a hand-selected plant baby to your door every third Friday of the month. This weekend only, you can also head over to their storefront in West Asheville for a "Prom Night" photoshoot and leave with a V-Day couple's portrait featuring mini floral arrangements and corsages supplied by Pollen AVL.
Self-Love Is The Best Love
V-Day isn't only for the coupled and partnered — sometimes self-love is the best love! West Asheville's Garden Party has everything you need to treat yo' self from "intimate objects", CBD bath bombs, functional ceramics, jewelry, and so much more. Visit their website or stop by in person to check out their special Valentine's Day gift boxes, individually curated bundles designed to gift to friends, lovers, or yourself!
Nothing like the sweet smell of impeachment to set the mood for a little Valentine's Day action. Impeachment, as in a peach ring-scented 100% soy wax candle designed by Amanda Lyda of House Party Candles. Unfortunately, this scent has sold out but other hot scents like Touch Me (smells like cherry pie), Social Hour (pomegranate gin bitters), and Pajama Party (cashmere amber plum) are available for pre-order on their website. "Let House Party Candles set the mood."
Fashion Statements
Don't believe what those cheesy Valentine's Day commercials tell you, diamonds and gold are not the only way to win someone's heart with jewelry. These Hollow Hills sells bold statement accessories inspired by retro patterns and color palettes. The Margot earring in Orange + Yellow will bring a little fire to any look. No gold to be found here: each piece is handcrafted out of polymer clay and acrylic. Their newest collection drops later this month.
Looking for adorable flower-printed socks, totes with naked ladies on them, or pithy illustrated prints to adorn the walls of your home office? Illustrator Claire Shadomy's online shop, Salad Days, is the place to go for all things paper goods and wearables. While her Valentines cards sold out almost as soon as she launched them, the Asheville-based illustrator regularly shares new launches on her Instagram @shopsaladdays.
Leilah Stone is an Asheville-based writer and editor whose work focuses on art, interiors, and product design. They received their MFA from Parsons School of Design and are currently the assistant editor at Metropolis magazine. Their work has appeared in The Architect's Newspaper, Hyperallergic, and InsideInside.