Archived Rumble
Join Bohemian Jean For Valentine's Day Show
Wednesday, February 03, 2021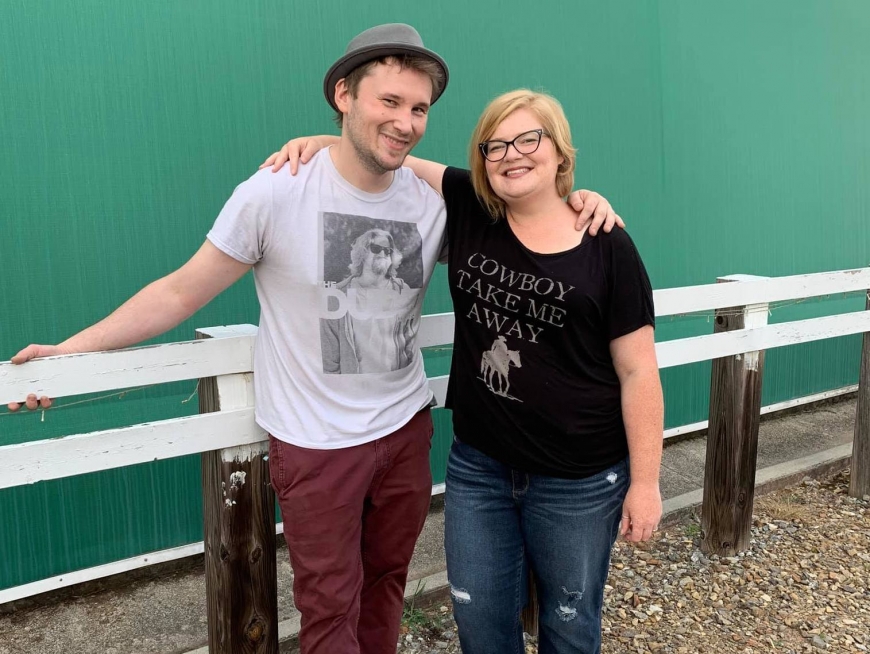 Musical duo Bohemian Jean is made up of Matt Welborn and Jessi Stone, who is also news editor from Smoky Mountain News and editor-in-chief of Rumble. With Valentine's Day coming up, the couple wanted to share their love of music and information about their upcoming dinner show at Elevated Mountain Distilling in Maggie Valley.
Rumble: How long have you and Matt been playing music together?
Jessi: Matt and I have been playing music together since we met in high school, so about 20 years. Our first performance together was a Kiwanis Club talent show when I was a junior and he was a senior. He was so nervous, he sped up the song so much that I could barely get through it, but somehow we still got second place. Since then, performing has always been our moonlighting career wherever we've lived. We've been in Waynesville for 8 years now and really enjoy being a part of the local community of musicians.

Rumble: Who are some of your musical influences?
Jessi: So many! We are all over the board when it comes to our musical tastes — from classic country to 90s R&B, but with Bohemian Jean people can expect a lot of classic rock and folk songs that they know and love. They can expect Matt's original spin on some classics from Elton John, Michael Jackson and John Lennon as well as some of his original songs, which are amazing but of course I'm bias. As for me, I'm all about songs I can feel and sing at the top of my lungs. I love to sing Stevie Nicks, Janis Joplin, Patsy Cline and Bonnie Raitt. Matt and I love to harmonize together on some of our favorite love songs and we'll probably even surprise you with a few songs you've never heard before.
Rumble: In what ways has playing together brought you closer as a couple?
Jessi: In a lot of ways, Matt and I are very different — he is more introverted and I'm extroverted. I talk too much and sometimes it's hard to get him to open up or express his emotions. But music has always been our connector whether we're performing together or just introducing each other to new music. We've been married for 11 years and we're not always on the same page in life, but no matter what's going on around us, when we're on stage together we're on the same page. Sometimes performing is our therapy — for 2 or 3 hours we just play and sing and leave it all on the stage when we go home at night.

Matt: It's one of the best feelings knowing you have someone that enjoys the music just as much as you do. The connection between us I believe has always been there and when the music starts I can hear the intricacies of our history together. We've learned a lot about patience and timing, but I think we've really just loved listening to each other.


Rumble: Tell us about your Valentine's show at Elevated Mountain?

Jessi: We're excited about it. We love playing at the distillery. It's a great open space with amazing acoustics so the sound travels well and Dave has a hell of a light setup for performers so that's always fun. It's funny because most couples make Valentine's Day plans for dinner or a romantic night away, but Matt and I usually try to find a gig somewhere. Last year we played at Mad Anthony's, Frog Level the year before and the Wineseller before that. Valentine's Day is our time to shine — we can share the stories behind our songs and share all of our love songs with the audience.


Rumble: How can people make reservations?
Jessi: The event starts at 6 p.m. Sunday, Feb. 14, at Elevated Mountain Distilling in Maggie Valley. The ticket includes a four-course meal from Fresh as Can Bee Catering so reservations need to be made by Feb. 7 by calling the caterer at 828.545.0969. The cost is $75 per couple, which is a great deal for a full dinner, music and a special Valentine's Day cocktail from the full bar at Elevated.
Rumble: The pandemic has been a stressor on many couples. What are some of the ways you and Matt have nurtured your relationship over the past year?
Jessi: Yes, it's been a major stressor for us. Going into 2020, we had a four-piece rock band — Stone Crazy — and we were scheduled for several big summer festival shows in the region. Then COVID hit and our summer show season was canceled. It's been a major blow to our savings account and to our mental wellbeing. We're musicians so not being able to perform as much has been difficult, but Matt has taken this time to write more of his own songs and we've taken the time to focus on just performing as Bohemian Jean again. Matt lost his father to COVID last month so we're both still grieving that loss. I think we've both just had to turn inward more than we usually would to find a sense of peace amid the chaos and hope that we will get through these difficult times together.
Matt: We've been on individual journeys and have managed to find comfort in each other's company. Last fall, we went out on the road alone for the first time in a long time. We saw the Grand Canyon for the first time. It was an amazing trip out west. Jessi put so much love in the itinerary that we just came home feeling fulfilled. Jessi has started new rituals over the past year that I've benefited from greatly. I've been really enjoying her tarot readings — it's so calming and relaxing to feel like there's some kind of guidance from the universe. Thinking of the question again, I kinda feel like this past year was one of our best — minus the pandemic.