Archived Rumble
Q&A With Tote Project Founders
Wednesday, January 20, 2021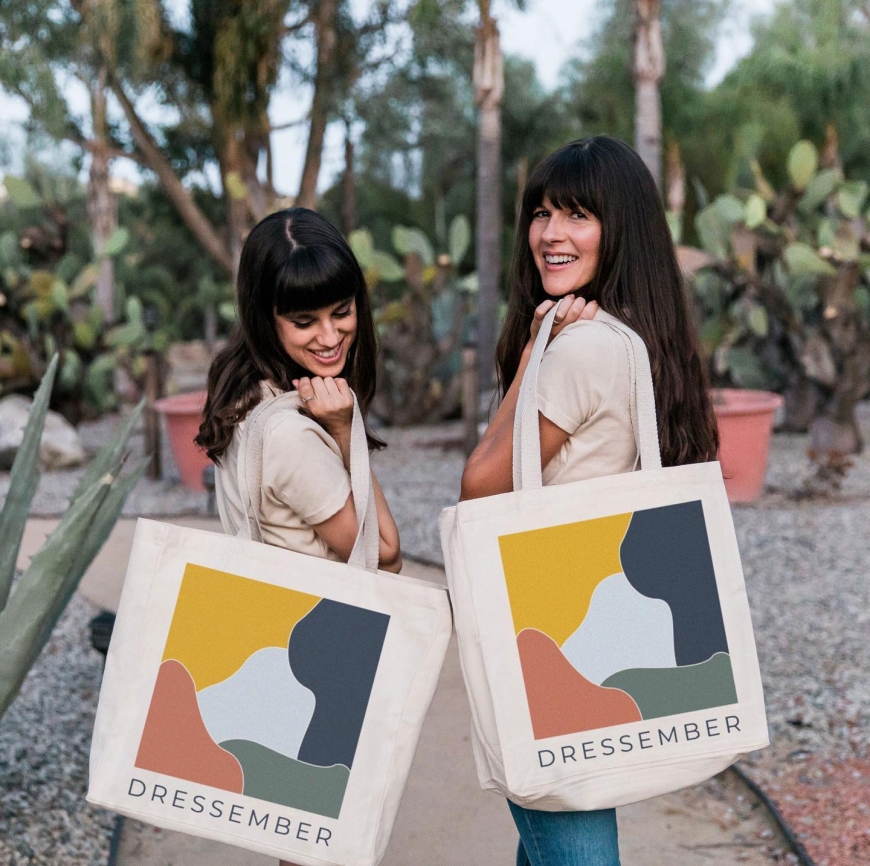 Fay Grant and her best friend Michelle Fergason co-founded a fair trade tote bag company in 2013 with the intent on making the difference they both dreamed of — giving hope and providing healing to the millions of people worldwide who are victims of human trafficking, a modern-day form of slavery. Rumble checked in with the founders to see how their company and their cause faired during the pandemic and what people should know about trafficking.
The last time we checked in with The Tote Project was in 2015 when you appeared on the cover of SMN, how have things been going since then? How has the business grown? What major milestones have you both experienced?
Michelle & Fay: When we first appeared on the cover of SMN, we were in the beginning stages and weren't sure where our business venture with The Tote Project would take us. We had big dreams and little knowledge of what we were about to take on, but our passion for fighting human trafficking has been our driving force. Our mission is to end human trafficking through ethical manufacturing, giving back and spreading awareness, and we've accomplished more than we ever thought possible since starting our journey in 2013. For us, our biggest milestones are always the ones that have positively impacted the brave women and children we support. Since we last connected, we've donated over $30K to support sex trafficking survivors and those at risk as they pursue their dream jobs. We've had the honor of organizing art classes for minors who have been trafficked to promote healing and self-expression, and taught classes to survivors in topics such as entrepreneurship and technology training. Through speaking engagements and social media we've spread awareness about human trafficking to tens of thousands. In 2018, we were recognized by Congress for our work in the fight against human trafficking, and have been featured in Forbes, USA Today and The Huffington Post. We are so grateful to SMN for giving us a voice in our early days and helping us spread the word about human trafficking.
What impact (if any) has the pandemic had on the business? Has it impacted The Tote Project's ability to get the totes made in India?
Michelle & Fay: COVID-19 has had a big impact on our business. Over the years it's been exciting to see our wholesale business surpass our direct to consumer sales, but so many of our retailers were hit hard during this time. Many of the shops ended up closing for good, while many others made it through but had to decrease their orders. In January we stocked up on totes anticipating our biggest year in sales & donations, so it shook us a little when we realized that we were going to see a lot less orders. Luckily we were able to get the PPP, and we had just enough to make sure our artisans in India were still paid on time. That was super important to us.
Since we stocked up early, we didn't have any supply issues in the beginning of 2020. Moving into the end of the year we planned ahead for the holidays and placed a big reorder, knowing that we had some exciting press and partnership opportunities coming up, but COVID caused lots of shipping logistical issues and our bags got stuck at sea for weeks. It's been a wild ride navigating all of the changes that the pandemic brought, but we are ultimately grateful to have so much support from our customers and stores despite the difficulties affecting us all.
How has the issue of human trafficking evolved in the last few years? There seems to have been more attention on it in the U.S. — has that impacted the cause?
Michelle & Fay: In the last few years we've seen awareness about human trafficking grow and grow. It's been helpful that ending trafficking is a rare bipartisan goal that we can all rally around, and that's so important because we all play a part in eradicating it. However, this last year we saw a huge leap in social media attention on trafficking. As people became aware that this is a crime that takes place in their own neighborhoods, we witnessed many have the same reaction that we both initially had — that of heartbreak and asking what can immediately be done to help. This was really impactful for the movement. The increased interest led to more people getting involved in the fight, whether it be donating to a non-profit, volunteering their time or buying products like ours that give back to support survivors. Unfortunately, at the same time we've seen a huge increase in misinformation and conspiracy theories about trafficking. This had a largely negative impact on the cause, and hurt survivors, victims, and advocates alike. Since part of our mission is to raise awareness, we've focused our communications for the past year on spreading accurate information and narratives. Now that so many people are aware and passionate, we need to make sure they're equipped to actually make a difference.
Has the pandemic hindered efforts to fundraise for the cause? Has it increased the number of people being trafficked? At risk of being trafficked?
Michelle & Fay: We have seen a tragic increase in human trafficking during COVID-19. Trafficking is all about supply and demand, and as people became more isolated in their homes, the demand for cyber-sex and remote interactive sex acts increased. While we don't have concrete numbers to share on what percent was trafficking and what wasn't, Polaris Project reported that calls to the National Human Trafficking Hotline more than doubled from pre-COVID times. Children weren't in school, which increased the vulnerability of those at-risk even more, and generally, people who were already at-risk for being trafficked became more at-risk as they faced new economic struggles.
Alternatively, we didn't see efforts to fundraise hindered at all. People who were able to give gave even more than we saw before. Thanks to the support from our wonderful customers we were able to expand our give back initiatives. Not only were we able to donate 10% of our gross profits, but we were able to send COVID-19 care packages to survivors in high impact cities, fund a breakout session at a conference geared toward preventing foster youth from being trafficked, provide art supplies to underage survivors needing creative outlets, and we were able to make sure that the survivors in our network received every Christmas gift on their wish lists. We saw moments of light in the midst of a dark year.
What misinformation/misunderstanding still exists surrounding the issue of trafficking?
Michelle & Fay: When people think of human trafficking, they think of women and children being stolen from their homes or kidnapped while abroad. You'll find that the majority of conspiracies going viral today are swirling with misinformation about countless children being abducted and sex trafficked, but this is a remarkably small percentage of the statistics. Such cases do exist, but the majority of cases of human trafficking are by someone they know, and many victims are in the foster care system or runaways from abusive and/or broken homes. Research also shows that those faced with hardships, like poverty, are more likely to be vulnerable to traffickers. African Americans and people of color are more likely to get trafficked, due in part to policies that limit economic opportunities and attitudes or stereotypes that make them less likely to be seen as victims.
False narratives have started to spread alongside conspiracy theories around human trafficking, and as those gained momentum it hurt the cause. We saw precious survivor resources wasted on false reports, increased confusion for victims who already have a hard time self-identifying, menacing threats directed towards really impactful organizations, and rampant misinformation about who is victimized. It's so important to spread awareness, but it's absolutely crucial to share the vetted facts, because not doing so is resulting in fewer people being freed.
Several southern states are in the top 10 for human trafficking, which I think would surprise many people here — what signs should we be on the look out for here in WNC?
Michelle & Fay: We always direct people to our trusted source for human trafficking information, Polaris Project, and have shared their list of signs below. They have a wide variety of resources that we recommend to anyone interested in learning more about human trafficking.
A person may be trafficked if they:
Cannot leave their work environment or cannot quit to find another job
Do not have control over their wages, money, or finances
Show signs of physical abuse or injury
Are accompanied everywhere by someone who speaks for them or allows others to speak for them when addressed directly
Appear to be fearful of or under the control of another person
Have health issues that have not been attended to
Owe money to an employer or another person whom they feel bound to repay
Describe moving or changing jobs suddenly and often
Are unfamiliar with the neighborhood where they live or work
Are not working in the job originally promised to them
Are traveling with minimal or inappropriate luggage/belongings
Lack identification, passport or other travel documents or do not have control over their documentation
Provide sexual services in a strip club, massage parlor, brothel or other locations and have a manager or pimp
Are a laborer, domestic servant or caretaker but never leave the home or workplace
Are unable to freely contact friends or family
Are not allowed to socialize or attend religious services
Have restricted freedom of movement
Are a juvenile engaged in a commercial sex act
Are threatened or afraid of being handed over to the authorities
Are forced to work under certain conditions
Work excessively long hours over long periods
Trafficked persons may be reluctant to report or seek services because they:
Do not know or understand that they are being exploited, or "trafficked"
Are threatened that if they tell anyone, they or their families will be hurt
Have complex relationships with their traffickers that involve deep levels of psychological conditioning based on fear or misplaced feelings of love
Are unfamiliar with their surroundings and do not know whom to trust
Do not know help exists, how to access it, or where to go for it
Are unfamiliar with the laws, cultures, and languages of the destination location or country
Fear retribution and forcible removal or deportation
Fear law enforcement and other authorities
Are addicted to drugs
Are in debt to their traffickers
Are sending much needed money back 'home' and worry about not being able to do this.
If you recognize any of these signs, please call 1-888-373-7888 to report a situation to the National Human Trafficking Hotline.
What does the next year hold for The Tote Project?
Michelle & Fay: We are always working hard to find more ways to make an impact, and this year we are furthering our give-back initiatives to human trafficking prevention among foster youth. We recently teamed up with actress Torrey DeVitto (Vampire Diaries, Pretty Little Liars) and nonprofit SafeBAE to prevent children in our foster care system from being trafficked. According to the National Foster Youth Institute, 60% of all child sex trafficking victims have histories in the child welfare system. As some of the most vulnerable, we wanted to find a way to provide them with the resources they need to protect themselves from traffickers. At SafeBAE's 2021 Summit (February 25-27, 2021) we will be sponsoring a breakout session to provide foster youth with important information about consent, bystander intervention and safe relationships.
We're also working locally to create an entirely USA-made, high-end tote and pouch set for those looking to expand their Tote Project collection. We are endlessly inspired by the brave women and children we support and can't wait to see where 2021 takes us.