Archived Rumble
Tips for hiking through the winter
Wednesday, January 13, 2021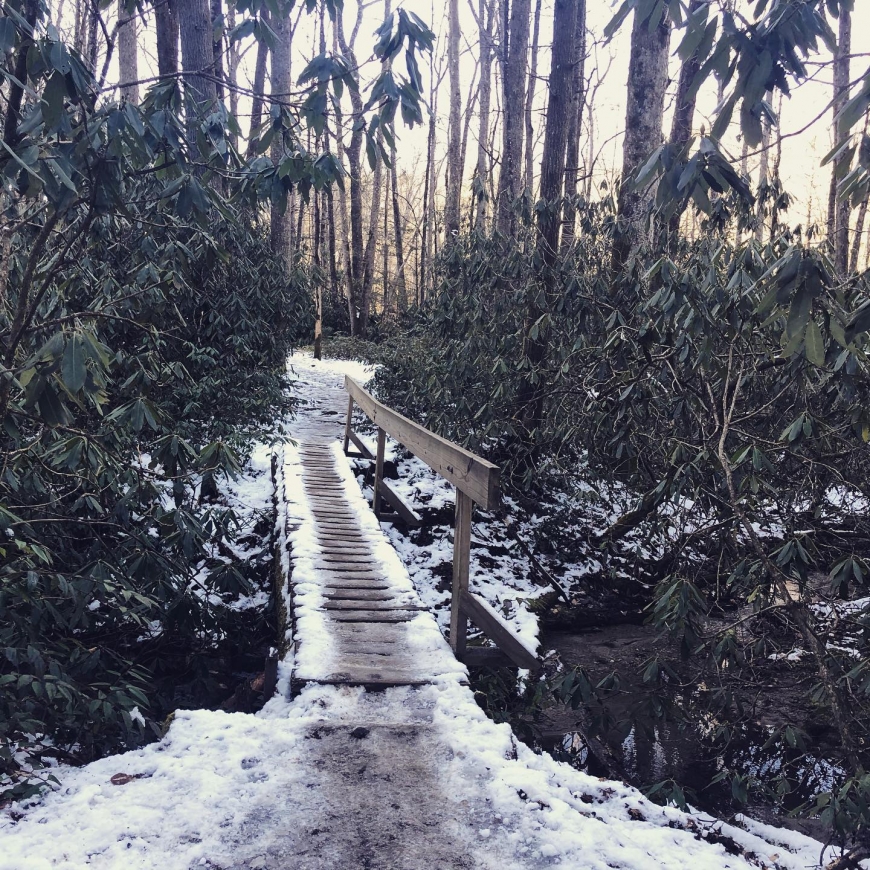 I hiked 50 trails in 2020, a majority of them in Western North Carolina. It's not an easy feat, and many of those hikes were done during the winter months when road and trail conditions are wet, cold and icy.
I wasn't sure how much hiking I'd actually want to do through the winter because of the weather, but the truth is hiking in the winter is still better — in my mind — than being cooped up at home, going to the gym or doing a cardio video in front of my TV. There's just something beautiful and serene about the trails this time of year.
There's no better silence than when you're on the trail in the dead of winter with the sun shining through the bare trees or reflecting on the water. When it's that quiet, you can really hear the earth talking back to you.
Winter hiking is an adventure, but it can also be more dangerous than it is during the other seasons and you should be prepared for the worst at all times whether you embark on a 2-mile hike or 10 miles because anything can happen.
Just last week I was hiking Cat Gap Trail to John Rock with my sister and brother-in-law. There was still snow on the ground and black ice on the trail you had to look closely for or you couldn't see it. Just about the time my brother-in-law made a comment about how surely all of us were bound to bust our ass at least once that day, I placed my foot on a big rock that had a thin but solid layer of ice on top of it. Foot when out from under me and I felt on my back on the rock. I caught myself with my left wrist and luckily my backpack with an internal bladder broke my fall. Otherwise, I might have seriously injured my back.
Adrenaline got me back up pretty quickly and I continued on the trail until the shock wore off and then I had to sit down because I was really dizzy and out of breath. I was thankful for wearing fleece leggings under my hiking pants or my ass would have been freezing from the wet ground I fell on and I was thankful for the extra jacket I'd brought with me to give me a good place to sit down when I needed a break.
After a few minutes of catching my breath and drinking some water, I was able to continue on and we completed the 6-mile loop, but it could have been worse. Given how clumsy I am, my husband says it's a miracle I haven't injured myself more in the last year of hiking.
Here are a few tips I've learned along the way that I hope can help you stay safe on the trails this winter:
Take a hydropack and a snack — I absolutely love my hydro backpack. I probably paid $30 for it on Amazon and it's been a lifesafer. It's lightweight, carries plenty of water and also has room for a sandwich or other snacks and anything else you need to bring with you. Even if you don't feel as thirsty in the winter, it's still important to bring plenty of water to drink plus food.

Wear plenty of layers — When you start a winter hike, it may only be 35 degrees outside so I always have plenty of layers I can start shedding when it starts to warm up. Either wear two pairs of socks or pack an extra pair in case your feet get wet. Thermal underwear (or I like my fleece lined leggings) is good to wear under your regular hiking pants and a thermal or fleece shirt is a good starting place. Then layer in another shirt, hoodie and/or heavy jacket. Gloves, scarves and hats also help keep you warm.

Good shoes — For the love of God, make sure you have the proper shoes for winter hiking. They need to have a good tread and need to be waterproof. Also, it's important to pay closer attention to where you are stepping in the winter to look out for black ice or mushy ground.

Trekking poles — Be sure to have trekking poles for winter hiking. Even if it's not a difficult or steep trail, poles can help so much in snow or ice. It's also good for a full body workout instead of putting all the strain on your legs.

Don't hike alone — Don't get me wrong, I love solo hikes, but I try to reserve them for warmer weather because it's just too dangerous in the winter when you have less daylight and freezing temps at night. If you injure yourself, there are fewer people on the trail who may come to your aid or you could get lost and have to spend the night in the woods. If you do embark out by yourself, tell someone what trail you'll be on and when you should be expected back. Have a battery powered charger for your phone so you can reach 911 if needed.

Plan ahead — Make sure you look at the weather forecast for the day and plan your hike accordingly. I always assume I can hike about 2 miles in one hour and go by that. Since the sun goes down so early in the winter, it's important to give yourself plenty of time to make it out of the woods before 5 p.m. Even at 3 p.m. on Cat Gap, the snow was already beginning to refreeze and getting off the trail even on the flat part became more slippery and difficult.

Plan for the worst — You may think you're going for a short hike and don't need to bring much, but please bring something to start a fire with, a first aid kit, a multi-use tool or knife and a warm blanket that fits in your pack. Things can go wrong and escalate quickly and you'll be glad you came prepared.

Aftercare — Hiking in snow or ice is strenuous on the body. I find that my entire body hurts after an icy hike because my whole body tends to tense up along the way as I try to avoid ice or pull myself through the snow. So when you get home, take a couple of pain relievers or take an epsom salt bath before putting on your warmest pajamas and warming up with a hot cup or coffee or tea.