Archived Rumble
7 Conversations to Have Before Marriage
Tuesday, January 05, 2021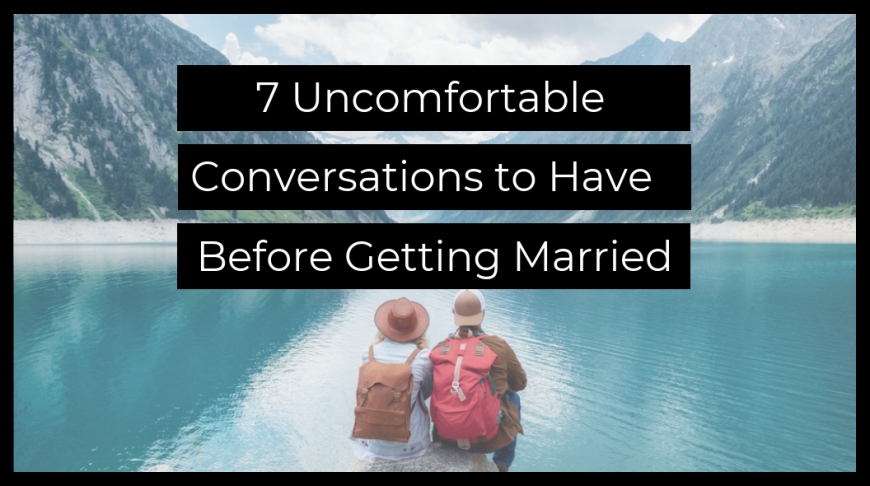 When you get to the point of marriage in a relationship, it's important to establish a strong foundation beforehand. Part of that strong foundation involves getting to know your partner on a deep level. It's time to push past the surface and get to know your partner's thoughts and opinions on a wide variety of "what-ifs" that could happen in the course of your relationship.
You might be surprised to learn that many people don't talk about important subjects until after getting married. For certain topics, it's much easier to ignore them or sweep them under the rug. But, if you want to give your marriage the best possible chance at success, you'll need to ask questions that get to the heart of what matters to you and your partner.
Not sure where to start? We've compiled some questions below to help act as a kind of relationship checklist before you tie the knot. Each section of questions is organized by a different category you should consider discussing before making a huge commitment like marriage.
Family life questions
How many kids do you want?
How do you want to approach discipline for our children?
What if our children didn't want to go to college?
Do you want our kids to go to public, private, or homeschool?
How far apart do you want children?
Do you want one of us to stay home with the kids or do you want to pay for childcare?
How do we handle parental decisions?
Medical and end-of-life questions
If you are severely mentally or physically incapacitated, what are your end-of-life preferences?
Do you have a will?
What is your medical family history?
Are you willing to stay active with me to improve our health?
If I had to modify my diet for health reasons, would you change your diet with me?
Are you against treatment for mental health?
Financial questions
What are your general thoughts on money?
Are you in any debt?
Do you have good credit?
What's our budget and how will we establish it?
What are your opinions on a joint checking account?
Who will be in charge of our household finances?
Are you saving for retirement?
What are your views on saving versus spending money?
Entertainment questions
Do you like traveling?
How often do you want to travel or go on vacation?
What's your dream vacation?
Do you have a bucket list?
Are you more of a homebody or traveler?
How would you feel if I traveled by myself?
What if we both had the same time period off from work, but weboth had different ideas for how to spend it?
How important is spending time with friends to you?
What does an ideal weekend look like to you?
Extended family questions
How often do you want to visit your family and my family?
How do we handle the holidays between our families?
What would happen ifone of our parents became ill and we had to take care of them?
Would you take in a sick parent?
What would you do if a family member told you that he/she disliked me?
How often do youwant your family/my family to visit us?
General questions
Would you be willing to move somewhere else if I got a different job?
Where do you ultimately want to live?
Do you want to retire somewhere else?
Do you want pets? How many and what kind?
Do you believe in divorce?
What age do you want to retire?
What do you want to do in retirement?
Would you rather be in charge of cooking, laundry or dishes?
What are your home design preferences?
What are your relationship deal-breakers?
Communication questions
What's your communication style?
How would you like me to treat you when you're stressed? Space? Pep talk? Reassurance?
What are you most passionate about?
What can I do to support you?
Who is the first person you call for advice or when you're in trouble?
What do you consider infidelity?
What makes you mad?
What is your biggest fear?
What do you need to feel fulfilled and satisfied in life?
Do you value eating meals together after work or would you rather eat on your own schedule?
Tips on how to approach a serious conversation with your partner
When you're attempting to have a serious discussion with your loved one, it can be a little nerve-wracking figuring out how to approach the subject. Luckily, we've outlined some ways to ease into the conversations so nobody is overwhelmed. Keep reading to explore our tips for broaching these sometimes difficult subjects.
Tip #1: Don't interrogate.
Nobody wants to feel like he or she is in an interrogation with a police officer. It's important to talk seriously about these questions but from a place of genuine interest and honesty.
Tip #2: Break these questions up into multiple conversations.
Don't feel like you need to get answers to all these questions in one single conversation.
It's best for all parties if you have continued conversations that address these questions instead of all at once, which can be seriously overwhelming.
Tip #3: Be patient with your partner.
Remember to be patient. Don't ask or answer these questions when under the influence, you'll need to be of sober mind and body to get to the heart of the matter.
Tip #4: Set aside adequate time to have these conversations.
It's also important to set aside for these kinds of conversations. Turn off your phone and computer and make eye contact. Show that your priority is the other person, your partner.
Conclusion: Hard conversations are sometimes the most important
In order to establish a strong communication channel before making the jump into marriage, it's critical to get to know your partner on profoundly deep levels. Remember, avoidance of these topics doesn't mean the issue at hand is solved. It just means you're pushing off a topic until it becomes a problem in your marriage – which isn't a healthy or mature way to deal with hard questions. So, face these questions head on and build a healthier, happier relationship.
Samantha Rupp holds a Bachelor of Science in Business Administration and is the managing editor for 365businesstips.com. She lives in San Diego, California and enjoys spending time on the beach, reading up on current industry trends, and traveling.