Archived Rumble
Oh My Yurt!
Wednesday, December 30, 2020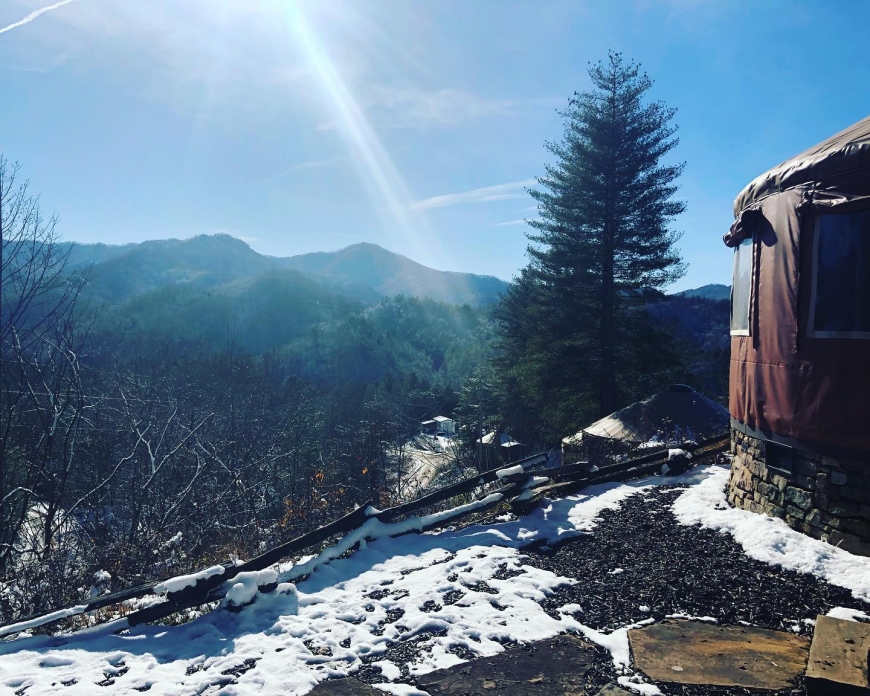 The view from outside the Nantahala yurt at Sky Ridge Yurts.
Solitude is extremely underrated. It's something I don't get enough of but for whatever this year has had me craving more of it.
As 2020 is coming to a close, I kept coming back to the desire to escape, recharge and find quiet so I could evaluate my progress this year and make plans for 2021. Then one of my friends posted a picture on Instagram of their view from Sky Ridge Yurts outside of Bryson City. It was beautiful and serene and I knew this was my answer. I could be surrounded by these amazing mountains but with heating, a king size comfy bed and a hot shower.
I reached out to Melissa Little at Sky Ridge and lucky enough, she had a yurt available the night of Dec. 26. Perfect! I packed my overnight bag, my hiking gear and stopped by the store for all my favorite munchies and a bottle of champagne. Determined to make the most of my one night of solitude, I got to the yurt at 3 p.m. It was only 35 degrees and still snow on the ground, but the road was salted and I had no problems getting there. The sun was out on top of the mountain and shining through all the windows in the yurt. It was just what I wanted. I made myself at home. Popped the champagne, set out my snacks, listened to some music, burned some relaxing essential oils and read a book. No dogs to distract me, no husband playing guitar, no to-do list, no dishes or clothes to be washed — just sunshine, acoustic tunes and solitude.
As the sun went down over the mountains, families staying in the other yurts built a fire in the outdoor fire pit. I was tempted to join them because I love a good campfire and meeting new people, but I had to remind myself that I was there to be alone. Otherwise, I know myself — I probably would have sat out there for hours talking and drinking with these fun folks being the social butterfly I am.
So I took a hot shower instead, put on my pajamas and a face mask and pulled out my 2021 planner I purchased. I reflected on 2020 — my accomplishments as well as my disappointments — and I made goals for 2021.
I think there's a myth that only introverted people enjoy solitude, but actually it's the extraverts that probably need it more than anybody. So many of us don't even know what to do with ourselves if we don't have an itinerary. We over schedule and busy ourselves with things we don't really care about because we're afraid to be bored. We're afraid to be still. We're afraid to be left alone with nothing but our own thoughts — so much so that many of us don't even know what we believe, how we feel or what we want to accomplishment in our lives.
But if there was ever a time we need to find solitude, it's now! Contrary to popular belief, things aren't going to magically get better when we get to Jan. 1, 2021. As Dr. Dara says in her column this week, nothing will change if we don't change. She nailed it. We have to be willing to take a look inside to analyze what's working in your life and what you need to let go of to move forward if we want anything to change in 2021.
It starts with us as individuals taking care of our own physical, emotional and mental health. Solitude is a great place to start because it allows you to be able to listen to your own thoughts and feelings. It helps you clear your mind, build confidence in yourself, sparks creativity and makes you more productive in the future. It reduces stress and anxiety. It gives you more perspective and empathy. The list of benefits goes on, but solitude is something you have to consciously plan for or it won't happen.
My friend Margaret said she goes on vacation by herself for one week a year to recharge. I hope to make it a weekend priority once every quarter. There are plenty of ways to find it, use what works best for you.
All you working moms out there are probably rolling your eyes at me wondering when the hell you'd ever be able to find one quiet moment let alone a day or a week! It's definitely more of a challenge when you have children and work all the time, but that just means it's even more important for you to do it. Let your spouse/parent/sibling/babysitter take the kids for the night. That way, you don't even have to leave your house for your night of R&R. However, I will say that getting away from your normal surroundings helps you let go of every day stresses much faster. Being at home, you may still be tempted to complete tasks.
That's why I loved staying in the yurt. I had clean surroundings with plenty of sunlight coming through the windows, I had the mountain ranges surrounding me, the full moon shining bright overhead through the sky dome, and a warm and comfy king size bed all to myself. The next morning I woke up with the sun, brewed some coffee (provided by Sky Ridge) and had time to meditate, do a yoga video and get ready for a solo hike before checking out at 10 a.m.
We're so fortunate to live in this part of the world and have so many natural resources and outdoor adventures in our backyard. Even though I was only an hour from home, I was able to completely disconnect for 24 hours. So if you're looking for somewhere to escape while staying close to home in Western North Carolina, I highly recommend Sky Ridge Yurts just off Highway 19 before you get to Nantahala Outdoor Center. During COVID-19, they offer a no-contact check in process and you literally don't have to talk to see anyone else on your trip.
Matt and I have already decided we plan to escape there together in the spring for our anniversary. This time we'll get the yurt with the hot tub! Visit their website to see more pictures of all their accommodations.