Archived Rumble
Let's Rumble - Ask Us Anything
Tuesday, December 29, 2020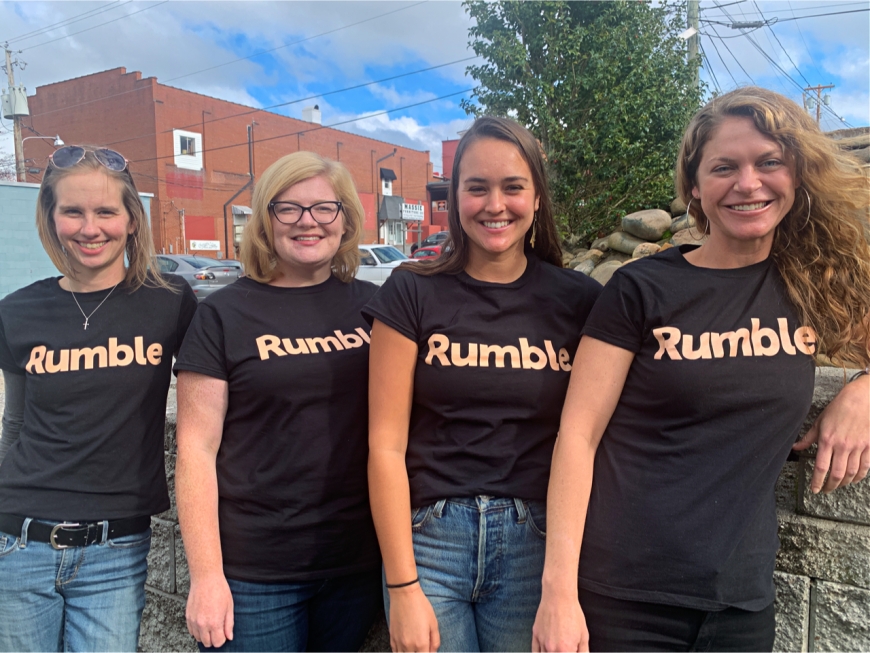 Part of our goal here at Rumble is to start and continue conversations among women. We want to know what's important to you, what's weighing heavy on your mind? What problems can we help each other solve? What questions can we help you answer?
So this is where you can ask us anything and you'll get answers from several different members of our staff, which is surely to bring different perspectives. To submit your questions to us, email This email address is being protected from spambots. You need JavaScript enabled to view it..
My husband and I chose to stay at home this Christmas instead of traveling to another state to gather with our families. It was a difficult decision because we don't get to see them enough anyway, but we knew it was the right decision as we are both still working and don't want to risk transmitting the virus unknowingly to our families, especially those who have chronic and serious underlying conditions. This decision was made more difficult by relatives who don't understand and have laid heavy guilt trips on us, claiming we don't love them. We are so hurt by their comments. How do we make them understand? How do we repair these hurt feelings on both sides now?
Susanna Shetley: It's been said that COVID-19 takes advantage of our humanity. As human beings, it's a natural desire to be with those we love, especially over the holidays. Many super spreader events have been the result of weddings, funerals, birthday parties and other family gatherings. It's during these times when the virus rears its ugly head and takes hold. I say all of that to make you feel better because you did the right thing, in terms of what was safest. Maybe it wasn't the right thing in terms of everyone's feelings, but it was still the wisest choice. Also, it's looking hopeful that herd immunity will combat COVID-19, just as it has other powerful viruses. History has shown us we can overcome a pandemic. In the grand scheme of things, one year isn't that long of a time, especially if it means saving someone's life. I'm sorry your family doesn't understand, but if they truly love you, they will move past this and when life feels safer, we can go back to more intimate holiday experiences.
Amanda Singletary: For starters, you made the right call in steering clear of family gatherings during the Holidays. We continue to see rising cases in our area and across the country due, in large part, to families joining together to celebrate. There's a natural tendency to let our guards down around those we love, but love can come at a potentially high cost during a global pandemic. I don't want to kill grandma, do you? To make matters worse, it's been difficult for many of us to get our family members all on the same page in handling how to celebrate safely. Lots of bridges have been burned and feelings have been hurt along the way. I know I've hurt some feelings myself. Rest assured this is not just a "you" thing.
Scrolling through my Facebook during the days following Christmas, I saw an assortment of photos documenting holiday gatherings – some appeared much safer than others. We'll have to see what comes of them. I hope they all stay well, but admittedly many were doing things I would never do at this point in the pandemic. At the end of the day, the safest choice, whether for a holiday or any other time, is to gather in person only with the people you live with. Even with masks being worn, folks have a tendency to forget the distance portion of the equation. Masks are great, but they aren't perfect, especially when gathering indoors. There needs to be distance and ventilation as well.
In the case of disgruntled family, the best thing to do is to acknowledge their reaction is one of hurt. As the saying goes, hurt people hurt people. That nasty message came from someone hurting. However, it's not up to you to fix that hurt by risking your own safety or theirs. Instead, let them know you hear them and you understand they are upset and that you love them. You love them so much that you want to ensure you're able to gather with them again when it's safe. It's going to be difficult for them to remain defensive and angry if you approach from a place of love and stay in that place during the conversation. Step away if you find yourself getting heated. Return when you are calm. Most importantly, keep doing what you're doing because you're helping to keep yourself as well as others safe.
Jessi Stone: You are not alone in this — so many families are dealing with this same problem. It's disappointing when others, especially family members, can't respect and honor personal boundaries and understand personal choices. Everyone has different comfort levels during this pandemic, and we should respect that. I don't require my sister to wear a mask in my house, but I respect the fact that she wants me to wear one in her house. Unfortunately, people also have different coping mechanisms to deal with pain, disappointment and anger — often that mechanism is to lash out and place blame onto others. It's important to keep that in mind as you process your feelings around it, so you don't in turn lash out in return. Remind yourself that their behavior says way more about them then it does about you. I think it's also important to remember you don't have control over other people's emotions or behavior, but you do have a right to express your thoughts to them in hopes of mending the hurt feeling so you can all look forward to seeing each other next year.