Archived Rumble
Kids in the Kitchen
Wednesday, December 23, 2020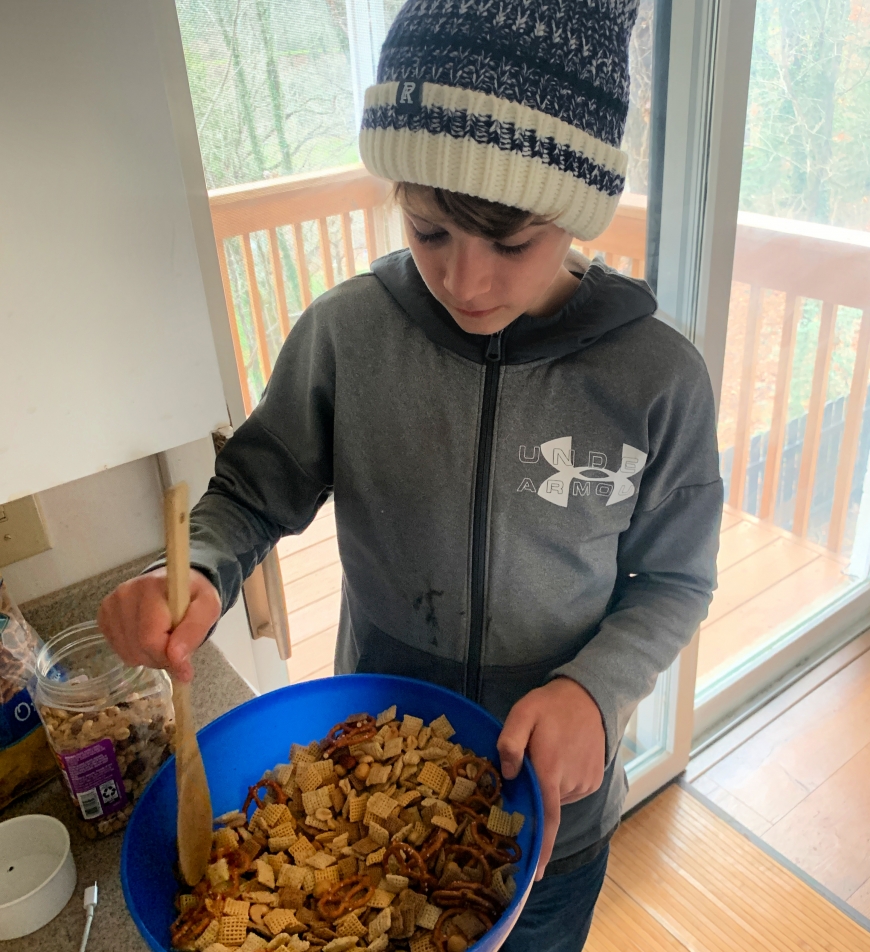 Every year I have high hopes to be in the kitchen more over the holidays, baking and making savory treats. I especially want my kids to remember being in the kitchen with me when they are older and look back on their childhood Christmases. Though I didn't bake sweet stuff as much as I wanted, I achieved my goal in the way of savory dishes.
Growing up there were two appetizers readily available during the holiday season. One was my dad's homemade Chex Mix and the other was my mom's cheese ball. Both were woven into the fabric of my Christmas experience. I decided that 2020 was the year I would make my own versions of Chex Mix and a cheese ball.
My eleven-year old son loves to help in the kitchen. This year he helped me mix up and bake the Chex Mix. The cheese ball is a little more complicated. Traditional Chex Mix also makes a great New Year's Eve snack. If you have little chefs in your kitchen, tie on those aprons and try out this yummy recipe. We've already made three batches this year.
Ingredients:
3 cups wheat Chex cereal
3 cups rice Chex cereal
3 cups corn Chex cereal
1 ½ cups mixed nuts
1 cup pretzel sticks
1 stick of butter
3 tbs. Worchestershire sauce
1 ½ tsp. seasoning salt
¾ tsp. garlic powder
½ tsp. onion powder
Directions:
Preheat the oven to 250 degrees
Mix all dry ingredients (cereal, nuts, pretzels) and set aside
Melt butter in microwave
Whisk in Worchestershire, seasoning salt, garlic powder and onion powder
Pour wet mixture over dry mixture and blend well
Spray large cookie sheet with cooking spray
Spread Chex mixture evenly on the cookie sheet
Bake for one hour, stirring every 15 min.
Store in airtight container.
Enjoy!