Archived Rumble
Seed cycling
Thursday, November 12, 2020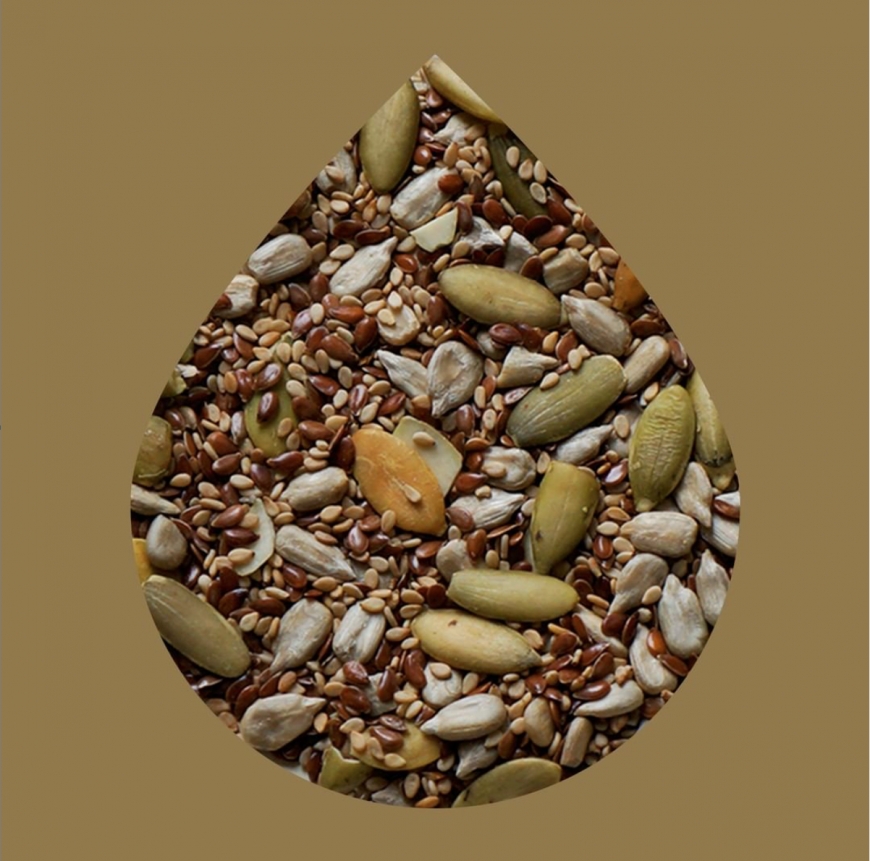 We all know that what we eat is directly linked to our health. Filling our bodies with a plant based, whole food diet is one of the easiest ways to guard against all sorts of ailments, diseases and the strains of time. Seed cycling is no exception.
Seed cycling is the practice of eating certain types of seeds during certain phases of the menstrual cycle. The seeds for each phase are packed with nutrients that assist the female body in hormone regualtion. But the benefits of seed cycling do end with the onset of menopause. Continuing to incorporate this into a post-menopausal diet can help alleviate symptoms associated with lower levels of estrogen and progesterone that are common during and after menopause.
Eating nuts and seeds has always been an important part of a healthy diet. This trendy, relatively new idea of seed cycling isn't actually new at all. The system does, however, target the specific needs of the female body as it cycles through hormone production.
The menstrual cycle is split into two main phases, the Follicular phase and the Luteal phase. For a 28 day cycle (cycle durations vary, and each person should adjust seed cycling to fit their own cycle), each phase lasts about 14 days. During the first 14 days, it is recommended to consume a tablespoon each of pumpkin seeds and flax seeds. During the 14 days, a tablespoon each of sesame and sunflower seeds.
Follicular Phase: this is the time between the first day of the period and ovulation. It is called the Follicular phase because the pituitary gland releases a hormone that stimulates the follicle, and each follicle holds an immature egg. The follicles are also responsible for thickening the uterus lining in preparation for pregnancy.
Luteal Phase: time between ovulation and the start of the next period. This phase is considered the second half of a cycle. Progesterone levels are going through fluctuations, and there may also be unwanted PMS symptoms like bloating, mood swings, and difficulty sleeping. If you tend to experience these symptoms during this phase, consider using both sunflower seeds and sesame seeds.
Sesame seeds

Sunflower seeds
Flax seeds are incredibly rich in lignans which can help alleviate period related breast pain and detoxify the body of excess hormone production. They are also a great source of Magnesium, Zinc and Vitamin B1.
Pumpkin seeds are providers of Magnesium and Zinc.
Supplementation of Magnesium is linked to a statistically significant decrease in the severity and duration of PMS symptoms. Zinc, in addition to helping alleviate symptoms of PMS, also supports progesterone production in the body and helps with cell growth and turnover, which is essential for women's bodies while moving through their cycles.
Sesame seeds, like flax, are also high in lignans which, in addition to their other benefits, help maintain regular, healthy bleeding. They also contain Magnesium, Vitamin B1, Vitamin B6 and Zinc.
Sunflower seeds provide us with Magnesium, Vitamin B1, Vitamin B6, Vitamin E and Zinc.
Zinc levels drop significantly during the Luteal Phase in women suffering from PMS, making replenishing Zinc an important step in managing PMS symptoms. Vitamin B6 has been shown to help reduce breast pain associated with menstruation, as well as the severity of psychiatric PMS symptoms such as depression, tiredness and irritability. Vitamin E serves as an anti-inflammatory agent and fights the painful effects of prostaglandin lipid compounds. Vitamin B1(Thiamine) has been shown to help reduce cramping during the menstrual cycle.
There are a ton of easy ways to include flax, pumpkin, sesame and sunflower seeds into your diet. Here are a few of our favorites:
Salads

are one of the easiest ways to include nuts, seeds and herbs into your diet. You can quickly sprinkle your daily tablespoon onto a salad as a yummy garnish, or get creative and blend them into a salad dressing. The possibilities don't end with leafy green salads either. Pumpkin, flax, sesame and sunflower seeds are a great addition to pasta salad, potato salad, tuna salad, or chicken/chickpea salad.
Breads.

There are few things better than a nutty, seedy whole grain loaf. If you are making your own breads, don't skimp on nuts and seeds, they add big flavor and texture to each loaf. One easy way to incorporate them is to knead them into the dough after it has risen, just before you shape it to go in the oven. You can also add flaxseed meal to your flour mixture. Don't forget to sprinkle some seeds on top for an aesthetically pleasing final product.
Roasted Veggies

are an easy, healthy side dish that goes with just about any meal. Adding seeds will not only give more texture, it will also build heartiness. If you are making a stir fry with veggies, try adding in fresh or toasted seeds to figure out what you like best.
Smoothies

. Everyone loves a good smoothie. Whether you're making a fruit smoothie or packing in your greens, adding your seeds to the mix is an easy way to get them in without much effort. If you're making a smoothie bowl, just sprinkle them on top.
Butters.

Nut and seed butters are incredibly easy to make. It's as simple as putting them in the food processor and blending until you have your desired consistency. Making your own seed butter from sunflower, pumpkin or sesame is an easy way to have quick, snackable access to your seeds. Remember, after you've made a puree of your seeds you can add a scoop into sauces, soups, or bases for sautees.
We hope you enjoy your seed cycling journey, and reep the benefits mother nature has to offer. Check out this recipe for seed cycling energy bites!