Archived Rumble
6 menstrual products that can change your life
Wednesday, November 11, 2020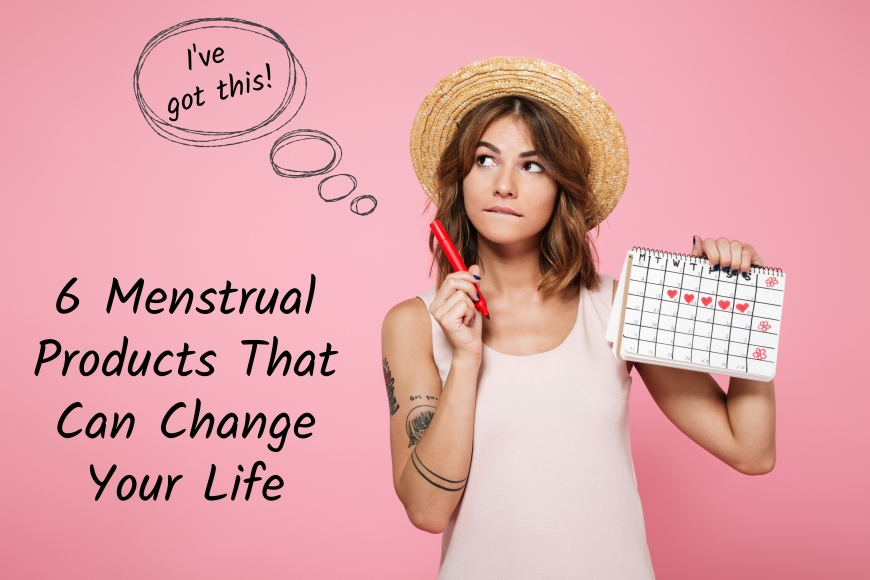 Try out these products to make your monthly menstration more managable.
Menstrual cup: A menstrual cup is a bell shaped reusable cup made of medical grade silicone. It is inserted into the vagina at the start of menstruation. It is removed every 3-5 hours to empty and rinse and is cleaned between cycles. Cups are an alternative to pads and tampons. They catch blood from the uterus, as opposed to absorbing it. Though the first patent for a menstrual cup took place in the 1930s, the first commercially viable cup did not arise until the late 1980s and the popularity of the cup did not emerge until the early 2000s. With concern for the environment at an all-time high and people's desire for less toxic bodily products, menstrual cups are becoming more and more mainstream by the year.
Period panties: These undergarments are intended to use during menstruation in place of disposable feminine products such as tampons and pads. Women with a heavy flow may use these as a backup method while other women use them as the sole absorption source. Period underwear are made with an absorbent material that holds two tampons worth of flow. Not only are these products comfortable and effective, but they make sense economically and environmentally. Over time, you save significant money by not having to purchase pads and tampons. You also support the environment by using reusable items.
Magnesium: Research has linked magnesium deficiency to more significant premenstrual syndrome (PMS) and premenstrual dysphoric disorder (PMDD) symptoms. Magnesium, an anti-inflammatory, reduces pain-inducing prostaglandins by relaxing uterine muscles and decreasing swelling. Magnesium also helps with mood swings, bloating, fatigue, migraines and insomnia. There are a variety of ways to get magnesium into your body. Some women like to take supplements. Others like to use a magnesium spray, which can be spritzed on the abdomen and bottom of the feet. Because magnesium helps with things like sleep and fatigue, many women find it helpful throughout the entire month, not merely during the PMS phase.
Essential oil rub: Essential oils have been used for centuries to treat numerous ills and ailments. Specific oils target certain pains and body parts. The oils suggested for PMS and PMDD include lavender, cinnamon, clove and rose. These oils support good sleep and work to ease anxiety. When mixed with a carrier oil and massaged into the abdomen, they can also help with cramping. Carrier oils include olive oil, almond oil or fractionated coconut oil. Massaging the essential oil rub onto your abdomen will lessen bloating by increasing circulation. The action of massaging can also reduce pain by stimulating endorphins. Perform the massage at least once a day for a week leading up to your period and the first four days of your menstrual cycle.
Various supplements: The severity of PMS and PMDD symptoms vary from person to person. Not every woman needs a vitamin and mineral regimen but for some women, this can be a game changer. Along with magnesium, other supplements that help with an array of symptoms include chasteberry, calcium, B-6, essential fatty acids, ginkgo biloba and St. John's wort. Speak to your midwife or family physician to determine which supplements will work best for your physiological make-up. Also, some of these supplements can interfere with other herbs, vitamins, minerals or medications you may be taking. Lastly, a slew of vitamins and minerals needed to support a healthy human ecosystem can be found naturally in foods. Many women see an improvement in PMS/PMDD symptoms by eating strategically, but other women need the added boost offered by supplements.
32 oz. water bottle: This should be a no-brainer, but many women still do not drink enough water. As your estrogen and progesterone levels ebb and flow during the menstrual cycle, your body retains more water, which affects your digestive system and can cause constipation, gas, and bloating. Drinking at least 9 to 10 glasses of water a day the week before and during your period helps flush the system and keep the bloatedness at bay. Water is a much better choice than a diuretic because while a diuretic may help relieve some of the water retention, it will also make you dehydrated and expel needed nutrients. Having a 32 oz. water bottle will help you track how much water you are drinking per day. If you're not a huge fan of water, add some fresh lemon or lime juice to make it more palatable.