Archived Rumble
Speaking the truth is hard, but necessary
Wednesday, October 21, 2020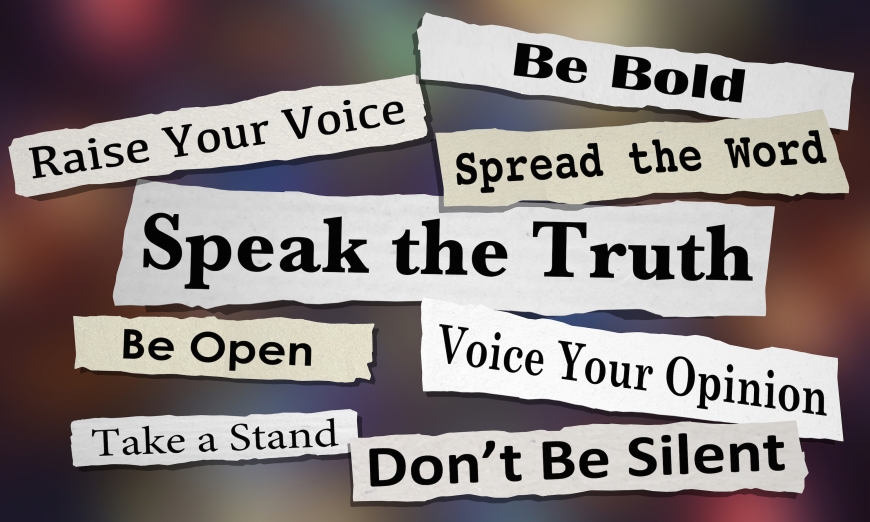 By Leigh-Ann Renz
You know those moments when you had something to say but kept your mouth shut? You let the truth get lodged in your throat and stopped yourself: in order to keep the peace, because you were legitimately afraid, or maybe you just felt too tired to "get into it."
But for years, the memory lingers; it's almost as if those words are still stuck in your craw.
We were out on the lake, on the pontoon boat. Before COVID, it was an annual pilgrimage: the drive down to Georgia in the blistering July heat… peach ice cream and blueberries… going out on the water as a family, taking turns getting flung around behind the boat in an inflatable under the scorching white hot summer sun.
The joy of watching my nephews and niece and daughter grow up just a little more each summer, as the babies became toddlers and then little kids, chasing each other around the yard for hours, lighting sparklers and fireworks after dark, screaming with joy out on the lake.
The pontoon boat belongs to Uncle Bill, who made that peach ice cream by hand for everyone, who is incredibly generous, and who was so tender with his infant son it made my heart ache. But that son is no longer an infant; he's now 7, and afraid to jump off the side of the boat like his cousins.
After several supportive, gentle attempts by his aunt and uncle to get him to join the other kids, Uncle Bill jumps in, not supportive or gentle. He seems embarrassed that his son — his only child — is afraid, and he tries several times to apply pressure, to make him jump. When the pressure doesn't work, he finishes with shame.
"Then you can just sit over there in the girls section, since you're too scared." He gestures to the area where his mother-in-law is sitting. "You just sit over there, with the girls…" The venomous sneer in his voice and mocking posture of his body make my heart hurt as much as his tenderness did when this boy was still a baby.
The kid is scared. He's cautious by nature. He doesn't want to leap off the side of the boat. Leave him alone. This is where the words get stuck.
I wish I had been able to speak: "What are you trying to say, Uncle Bill? That girls aren't brave or strong? Your wife runs into burning buildings for a living and saves people's lives every day. She's one of the bravest, strongest people I know. Being a girl isn't what makes you weak or scared!"
But I was scared, in that moment. Bill is drunk, and belligerent, and enraged, and I'm afraid of him turning on me. My own child is asleep in my arms, and this makes me feel both more vulnerable and more protective of my nephew at the same time.
Why can't these kids be themselves? Why must they be pressured or shamed into taking risks to soothe their parents' egos? And why is no one speaking up to protect my nephew, defend my mother-in-law against this insult, or call out Uncle Bill's misogyny?!
I was one of the six adults who stayed silent, and I've regretted it since.
On the 100th anniversary year of women's right to vote, I have many hopes for the future of our nation. One of them is every adult will advocate for children… that I would not have been the lone wolf to confront drunk, enraged Uncle Bill on my own, but that the other five adults there would also have spoken up.
That we would have shut down his sexism, the shaming of his son, and the insult to our family: four women, all of whom are strong, brave, smart, capable, and deserving of respect… and two other men, with mothers, wives, and daughters.
I hope that we the people — men and women — will find our voices to speak out against racism, injustice, and misogyny, especially within our families & communities. And that our sons and daughters will inherit a world in which women aren't discounted as weak and scared, but are instead celebrated as brave and strong.
Leigh-Ann Renz lives in Waynesville. She is a massage therapist and yoga instructor with Waynesville Yoga Center.